Having spent countless hours testing and reading about various remote control vibrators, Bluetooth vibrators, and wireless vibrators, I have come to a realization. The Lovense Lush is still the very best remote control vibrator you can find on the market. Why is that so? Well, I am glad you asked! (Okay, maybe you never asked that, but I will explain anyway…)
#1. Lelo Lyla 2 – Best Remote Control Vibrator
---
This remote controlled bullet vibrator from the famous Lelo is fantastic in-and-out. It's silky smooth, quiet and powerful. Also, as it's not an app controlled vibrator, it does not suffer from Bluetooth vibrator connectivity issues.

Price: $159 on Lelo
No matter which category or features I tested, the Lelo Lyla 2 always seemed to come out on top as the best remote-controlled vibrator. The remote works perfectly even from long distances, the vibrator itself is built beautifully, and the whole product feels very premium. It is absolutely the best remote control vibrator in terms of quality-to-price ratio.
It works wonders both as a solo masturbation vibrator and as a couples vibrator. You can pop this vibrator inside of you during sex. and trust me when I say… you have not experienced true sexual pleasure until you have experienced intercourse together with the Lelo Lyla 2.
It's built like an egg vibrator, meaning that it mainly stimulates from the inside. If you combine this internal stimulation with some external massaging (either with hands, another vibrator, or even better – a tongue), you will be shown a world of true pleasure. Every time I experience this feeling, it leaves me begging for more, it's crazy…
If you have the money for it, then I absolutely recommend the Lelo Lyla 2 as the best remote vibrator. If, however, you are on a tighter budget, then you should check out number two best remote control vibrator, the Lovense Lush…
#2. Lovense Lush – Fantastic Remote Control Vibrator for Solo Use
---
The Lovense Lush is a powerful, easy to use and very enjoyable remote control vibrator. It solves the Bluetooth connectivity issues of most Bluetooth vibrators in a simple but effective way, and its price is reasonable. An excellent value pick for solo masturbatrion.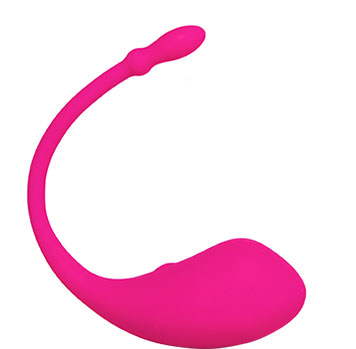 Price: $99 on Lovense
The Lovense Lush is an app controlled vibrator, meaning that you can control its functions on any smartphone. It doesn't use any batteries and it can be recharged with the included USB cable. The design of this remote control vibrator is curved in such a way that it will hit your G-spot perfectly. If you've never experienced a G-spot orgasm before, then you totally need to check this toy out. They are absolutely amazing!
Unlike other Bluetooth vibrators which I tested and researched, the Lovense Lush has sort of taken care of Bluetooth connectivity problems. All too often I see remote control vibrators which disconnect from your phone constantly during use. I am not saying that the connectivity issue doesn't exist at all with the Lush. But, when it does happen, the automatic reconnect feature helps make this less of an issue.
The Lovense Lush is the best remote control vibrator for you if you want to use it mostly for solo use. While the Lush can be controlled by another person through the app very effectively, it cannot be used during intercourse, like the We-Vibe Nova.
#3. We-Vibe Nova – Premium Remote Controlled Vibrator
---
The latest wireless vibrator from We-Vibe performs well in almost all categories. It is comfortable, easy to use and powerful. It is probably the best remote control for couples out there. But, it's pricey.

Price: $198.99 on Lovehoney or Check Price on We-Vibe
Next up, we have the flagship product of the We-Vibe company. They specialize in wireless vibrators for couples, and the Nova is their best wireless vibrator. Just like the Lovense Lush, this is an app-controlled vibrator. The Nova utilizes the free We-Connect app, which was developed by We-Vibe themselves.The We-Connect app is probably the best vibrator app I have come across. It's very easy to get started with it, and the interface is very simple from a user experience standpoint.
The choice of vibrations is very varied and impressive, and the overall design of this remote control vibrator is both comfortable and eye-catching. You can use the We-Vibe Nova very effectively for both masturbation and regular sexual intercourse. This gives it fantastic value over time, as the wishes and needs of you and your partner could change over time.
However, I should also mention the negative aspects of the Nova. The first and foremost being the Bluetooth connectivity issues. This was much more prevalent with the We-Vibe Nova, rather than with the Lovense Lush, especially in public places. When I used the We-Vibe Nova inside my house, it had no connectivity issues whatsoever. But, whenever I wanted to use it with thicker pants or from another room, it did occasionally disconnect from the app.
Despite the connectivity issues, however, I found this to be a very high-quality and powerful remote control vibrator. In terms of pure performance, it's likely the best remote control vibrator I have used. But, as I said, the Bluetooth connectivity can be fiddly, and the price tag is rather high, so I decided to give the number one spot to the Lovense Lush.
#4. Tracey Cox Supersex – Best Budget Remote Control Vibrator
---
This is the best remote-controlled vibrator for those of you on a tight budget. It's not spectacular, but it certainly gets the job done. The vibrations are powerful and enjoyable, but the design is too big and not meant to be used outside the bedroom.

Price: $49.99 on Lovehoney
The Tracey Cox is a Bluetooth egg vibrator. Unlike the first two picks, it is not an app controlled vibrator. As this egg vibrator can only be controlled with a physical remote, using it in public is complicated.
Now, on to the performance. It certainly performed adequately during my testing. The design fits comfortably and feels enjoyable. The motor feels nice against the clitoris and the overall look of it is nice. But, it drains its battery quickly and the motor can be a little too noisy for my liking. It's a bit different from the other vibrators on this list, as it's a Bluetooth egg vibrator.
If you're on a tight budget, the Tracey Cox Supersex might be the best remote control vibrator. You can buy for a fraction of the price of the other vibrators on this list. It does, however, lack many of the features which I see in other, more expensive vibrators, such as a rechargeable remote (this one needs batteries), a smartphone app, and long-distance sex usability. I also found that the motor was louder than those on high-end vibrators. This remote control vibrator achieves a very specific purpose well, but don't expect anything groundbreaking or innovative.
All in all, this remote control egg vibrator is a good choice for shoppers on a tight budget and those who are looking to use their remote control vibrator mostly for foreplay, in the bedroom.
#5. Vibease Remote Vibrator – An Honourable Mention
---

Price: $99 on Vibease (Get a discount with this link)
An external vibrator with a sleek design which fits snugly into your panties. This wireless vibrator has a quiet motor and endless vibration settings which will never leave you bored. However, it's pricier than the Lovense Lush and in my opinion, not as effective.
The Vibease is an innovative wireless vibrator – it was the world's first hands-free and wearable vibrator of its kind and it opened the way to a whole new category of vibrators. Like the other high-end remote vibrators on this list, it has a USB-rechargeable battery, a specially designed smartphone app. It also has an effective design which does not pop out when you are walking and going about your daily deeds.
In my opinion, however, the wireless vibrators which came after the Vibease have learned from the mistakes which it made, and thus being better products overall. One of the flaws is the all-too-common connectivity issue with the app, and another one is that it's just not as strong as the Lovense Lush or We-Vibe Nova. I found the vibrations to be enjoyable, on par with the Tracey Cox Supersex remote vibrator, but not intense enough to justify the price tag.
Why you should trust us
---
I have reviewed sex toys of all kinds for over a year now on multiple different websites, and I am no stranger to doing in-depth research and analysis to determine the true best-performing products in different categories. I have done tests and comparisons together with other reviewers on a very wide selection of adult products, everything from silicone vaginas to blowjob machines. I love the process of comparing even the tiniest of details in products and matching them against one another, in order to find out the top performing products and filter out scammers. This remote vibrator review was compiled with the same enthusiasm, and as usual, I made detailed research and side-by-side tests of the vibrators and their sellers to find out how you can find the best value on the market from your sex toy shopping.
Why get a remote control vibrator?
A remote control vibrator is a fantastic tool to spice up your sex life. Whether you are single or in a long distance relationship, you will find many different uses for these vibrators. You can use them alone in your bedroom for powerful hands-free orgasms, you can give the control to your partner, or you can use them in any public place of your liking for that extra excitement.
I use it during sex with my partner, I use it when I am watching Netflix, I have even used it in clubs and restaurants! I love finding out creative new ways of using my sex toys and remote control vibrators are some of the most fun toys out there for creative and naughty people like myself.
Do any of these situations sound fun to you?
Enjoying powerful hands-free orgasms, without any effort of your own and just laying back
Listening to your favorite music tracks, while your vibrator moves in rhythm with the pace and rhythm of the tracks
Watching erotic movies or reading erotic novels, while the remote control vibrator brings you closer and closer to the wonderful climax
Going to the club or restaurant with your man, while your vibrator is inserted and tucked away discreetly, and completely giving him control of your body on the dancefloor
Letting your man bring you intense sexual pleasure and satisfaction, even when he is thousands of miles away from you – actual long-distance sex!
Bringing extra intense sensations during sex for you and your man by using the remote control vibrators together with regular sexual intercourse
Giving one remote control vibrator to your girlfriend and the other to yourself, thus giving each other control of your orgasms – intense girl-on-girl action!
If yes, then wireless remote vibrators are for you! Besides the reasons I listed here, there are endless more creative ways of using the best remote control vibrators on this list, so don't be shy and let your imagination run wild!

What makes a remote control vibrator the best?
---
When you're shopping around for the best remote-controlled vibrator, you will see lots of different models, each with very specific features and specifications. Here are some of the most important things to be considered before buying any vibrator.
Comfort: It is very difficult to judge the comfortability of a vibrator just from pictures, specifications and based on materials from the manufacturers themselves. Any sex toy manufacturer will tell you that their product is the most comfortable in existence, so instead, you should consider things such as the material and shape of the vibrator. Do you like silicone vibrators or TPE vibrators, or maybe even ABS vibrators? There is no right or wrong answer here, but generally, high-quality silicone works the best for me personally. You also need to consider the size and design of the vibrator. If you are inexperienced with vibrators you don't want something massive as your very first vibrator.
All of my top picks in this review are comfortable, both in terms of the material used and the design. Beginners and experienced shoppers alike will find these remote control vibrators comfortable, as this was one of my top priorities when determining the top picks in this review.
Ease of use: Any sex toy, and especially a sex toy with different control functions such as these wireless remote vibrators, has to be easy and straightforward to use. Nothing will pull you away from a sexual rush faster than having to consult the instructions manual in order to get your vibrator to start working. Throughout the years I have seen some ridiculously complicated designs in sex toys and it's a flaw which can easily be a "deal breaker" for me. The most effective vibrators all have very simple, easy to understand controls. This is especially crucial in the case of remote control vibrators. The remote controls which control these vibrators should be very simple so that they can be used without being glanced at (in case you want to use them in public). The remote control for a vibrator should never look like a television remote.
Besides controls, a wireless vibrator also has to be easy to insert, as long as you have some water-based lube. All of the top picks in this review are very comfortable and easy to insert into the right place, so don't be too worried about this point. However, in the future when you are looking at new sex toys, you should definitely ask yourself the question: Is the design of this sex toy simple enough for me to use in any situation, any state of mind?
Price: This is naturally the first thing shoppers look at. However, it is not always as simple as "this vibrator is the cheapest, and if I want to save money I should buy this one". There are often many hidden costs which come with cheaper vibrators, the most common example being the need to replace batteries. If you need to change the batteries of your vibrator after every use, your total expenditure on the vibrator will rise dramatically over time, compared to a USB-rechargeable model. Cheaper vibrators also tend to be much less durable and they often break before one year of active use. High-end vibrators, however, can last you for dozens of years if you clean and maintain them properly.
Motor (Sound): Are you planning to use any of these remote control vibrators in public areas? If yes, then fantastic (otherwise you are missing out on something very fun and exciting), but in this case, you will want a vibrator which has a quiet motor. High-end remote control vibrator manufacturers have already taken this into consideration, but some of the cheaper models I have come across are almost as loud as a lawnmower, completely killing any chances of using them outside your house (or even inside your house, if you don't live alone). Out of the remote control vibrators on this list, I found the We-Vibe Nova to be the quietest and the Tracey Cox Supersex to be the loudest of the bunch.
Battery life: Personally, I will never buy another vibrator which isn't USB-rechargeable. I am tired to death of feeling horny in my bedroom, taking out my vibrator, and then hearing that disappointing "meep" sound which electronics make when they are dying. By the time you have driven to the nearest supermarket, found your specific batteries, and driven back home, any sexual desires or horny feelings you had before will have long disappeared and the whole experience will be a disappointment.
When it comes USB-rechargeable vibrators, another important point to consider is the actual battery life of the remote control vibrator. Depending on your situation, you might want to use it for extended amounts of time without recharging in between (for example, when you are using it in public), so a long battery life will help you immensely.
Lelo Lyla 2 – 120 minutes (charges fully in 1 hour)
Lovense Lush: 100 – 120 minutes ( charges fully in 1.5 hours)
We-Vibe Nova: 140 – 180 minutes (charges fully in 4 hours)
Tracey Cox Supersex: 80 – 90 minutes (charges fully in 2 hours)
Vibease: 180 – 220 minutes (charges fully in 3 hours)
Although my Lovense Lush originally had good battery life (lasting for 2 hours), I found that within 2 years of use the battery life had started to decrease. Now the battery drains even during the time it's not being used and it lasts around 80 – 90 minutes.
Wired & Wireless: It's fairly obvious to make the statement that wireless vibrators are better than wired ones. Wires can get awkwardly tangled between your legs during use and they tend to break easily, as you always tend to be in an excited mood when you are near these wires 😉
However, I would not consider wired models to be "deal breakers" at all. For example, one of my absolute favorite vibrating panties, the Venus Butterfly, is wired, but I love it to death! Another reason why you might even prefer wired remote control vibrators is, that the remote controls don't always work the way they are designed to. After all, what use is a wireless vibrator when you can't use it properly? More on this in the next paragraph.
Some common flaws in wireless vibrators
---
The one common flaws which all Bluetooth vibrators seem to have are connectivity issues. I was expecting the We-Vibe Nova to have taken care of this problem, but what I found was that it had exactly the same issues which I had seen a million times before. Bluetooth vibrators perform well in your bedroom, where you are wearing minimal clothes.
The best Bluetooth vibrators all perform well in your bedroom, where you are wearing a small amount clothes or no clothes at all. They have excellent range and no matter which position you use, they will stay connected without any issues. However, as soon as you put on some jeans, the range always seems to drop dramatically and the vibrators constantly disconnect. Sometimes they work flawlessly, but other times you are wondering whether you have bought bulletproof skinny jeans full of metal from H&M, as the apps just refuse to connect to the toy!
This is utterly frustrating, especially when you have just gotten into the swing of things and were ready to start climaxing.
The Lovense Lush takes care of this problem somewhat by reconnecting the app to the remote control vibrator automatically each time it disconnects. It is still annoying to have it disconnected, but at least the problem fixes itself each time it happens.
This is definitely a problem which manufacturers need to address though. Whoever figures out a Bluetooth vibrator design which has no connection issues, will have my money!
Why I named the Lelo Lyla 2 as the best wireless vibrator
---
A powerful motor with intense vibration patterns, a comfortable and easy to insert design, a good battery life, a reasonable price and the fact that it's a wireless vibrator are just some of the reasons why I put the Lelo Lyla 2 above all other in my list and named it the best wireless vibrator.
Whether you want a remote control vibrator for naughty solo pleasure in the public park or for long-distance sex, I recommend the Lelo Lyla 2. It can be used in a variety of different ways and I found that it performs well in almost every category.
The reason why I originally bought the Lelo Lyla 2 was the long-distance sex feature. I wanted to try something new while my man was hundreds of miles away from me, and letting him control my vibrator from his hotel seemed like a very interesting concept. I found that it performed very well in long-distance use, and I also grew to love it as a solo toy.
The Lelo Lyla 2 is designed to be used as an internal vibrator, but if you are not a fan of G-spot massaging and internal vibrations in general, then the external clitoral stimulation from the We-Vibe Tango might just float your boat. For me, the Lelo Lyla 2 fits very comfortably in almost every sitting angle and it fits against my G-spot very snugly, just like an internal vibrator should.
The Lelo Lyla 2 also works wonders from the outside. If you press it against the clitoris and put it on full power it's just fantastic. It's funny that although this remote control vibrator is designed to be an internal vibrator, one of my favorite ways of using it became external use instead. For me, this is actually not that surprising, as I have found that the best wireless vibrators can all be used in very different ways depending on your mood.
The Lelo Lyla 2 is a remote control vibrator which should please every woman in the world looking for naughty pleasure, which is why it's my #1 pick for the position of the best remote control vibrator ever!