Wand vibrators are the most powerful categories of sex toys for external stimulation of the clitoris. There is no question about it. The best wand vibrator on this list, the Hitachi Magic Wand, is so crazy-strong that it will make the knees of absolutely every woman on this planet tremble. Seriously, if you are a power-freak of a girl (like myself), then you have come to exactly the right place.
No matter who you are or where you're coming from, if you're a woman, you will absolutely love wand vibrators. Or, at least, THE wand vibrator. The Hitachi Magic Wand. The Hitachi completely revolutionized a new category of sex toys, and it's still the best wand vibrator in the world. Ohh, did I just spoil the first place prize? Oh, well… whatever, you knew it was coming anyway. After all, who or what could ever beat the Hitachi. Nothing, that's what!
---
My Picks for Best Wand Vibrators
I have split this wand vibrator review into several sections. Skip to a specific section with the help of the table of contents:
---
Best High-End Wand Vibrators ( Over $80)
---
1. Hitachi Magic Wand (USB-rechargeable)
Here it is. The Hitachi Magic Wand 2.0. Without a doubt, it's currently the most powerful wand vibrator out there. Seriously, I can't stress enough the power of this thing. It's unbelievable.

This is the critically acclaimed Hitachi Magic Wand. Or, rather, the upgraded version of it. Although the original Magic Wand was a fantastic product for its time, I still have to go with the upgraded version as my top pick. A USB-rechargeable battery, silicone head, wireless build and stronger, more varied vibrations are just some of the reasons why the newer version is the best wand vibrator out of the two. The only drawback I should mention is rather obvious to anyone. It's the price.
But, for the money, you do get the absolute best wand vibrator ever made. Which is a pretty good deal if you ask me. There are more expensive wand vibrators on this list, but they don't even come close to the power and performance of the Hitachi Magic Wand.
However, I should mention the fact that the power of the Hitachi makes it unsuitable for first-timers. Wand vibrators are amongst the most powerful types of vibrators, and the Hitachi Magic Wand is the most powerful out of all of them. It goes without saying that this bad-boy will make anyone knees tremble, so if you are expecting a mild ride, then you should definitely look elsewhere. This is the best vibrating wand for power-freaks, not the faint-hearted.
---
2. Lelo Smart Wand (Large)
The biggest wand vibrator on this list in terms of size. It's quieter than the Hitachi, and it's vibrations are very rumbly and powerful. However, I consider the Hitachi to be better value for the money.

$149.99 on Lovehoney or $199 on Lelo
The Smart Wand from Lelo is, without a doubt, another one of the best wand vibrator products out there. It's made from high-quality silicone, and the overall build quality feels very luxurious. It comes in two different sizes – Medium and Large, but I found the Medium sized Smart Wand to be considerably weaker than its Large counterpart, so I featured only the bigger model in this wand vibrator review.
The size can be considered both an advantage and a disadvantage. The good thing about it is that the big body takes control of all the rumbly vibrations inside the vibrator. Your hand will not be shaking along with the toy, so in this regard, the big size works great. However, when it comes to hiding this elephant, the size most certainly doesn't help. I don't have any real big complaints about the Smart Wand though, as the product itself works fantastically. It's easily one of the best wand vibrators I have tried, because of its deep and strong vibration patterns.
It's easy to compare the Lelo Smart Wand to the Hitachi Magic Wand, as they are both designed for a very similar purpose – to be the biggest and most powerful wand vibrator. However, I still I consider the Hitachi to be the best wand vibrator out of the two. And, it has a $10 cheaper price, so I still had to give Hitachi the number one spot of the best wand vibrator.
---
3. Lovense Domi
A small but powerful app-controlled wand vibrator. While it does not have as much pure power as the Hitachi, it certainly compensates for it with its unique features. It's a good budget pick for high-end users.

The Lovense Domi is a relatively unknown magic wand vibrator, compared to the Hitachi. Initially funded by an IndieGoGo campaign, the Lovense brand quickly started to take off, and now they have a very solid line-up of long-distance sex toys. The Lovense Domi being one of them. If you don't own a smartphone, I would definitely advise against buying any of their products, because this is the most special aspect about all of them. Being able to control your significant others masturbation session from long-distance is a truly unique feeling.
As far as the Lovense Domi wand vibrator is concerned, it's a very solid product. It's not as powerful as the Hitachi or the Lelo Smart Wand, but considering the small size, it's a very impressive wand vibrator. It certainly packs plenty of punch inside of its small shell, so if you are not an absolute power-freak, then this is an excellent mid-range choice. Personally, though, I was a bit disappointed by its vibration strength (probably because I bought it AFTER the Hitachi). For first-timers, though, it's a good choice.
---
4. Doxy Wand Vibrator
A good wand vibrator in its own right, but it's outshined by the other (and better) vibrators on this list. It's too noisy, it's not cordless, it's too flimsy and not powerful enough for its high price tag.

Next up, we have the Doxy wand vibrator. If I didn't know any better, I would call it a fantastic product. After all, at first glance, it has nice strong vibrations, great stimulation, and a strong build quality. However, as I have tried close to a dozen different wand vibrators at this point, I can compare it to its alternatives. And, when I did this, I realized that the Doxy wand vibrator is just not worth your money when there are so much better choices out there.
The motor is super noisy, and not exactly powerful. I am okay with a noisy motor, as long as there is a good excuse for the noise. The best wand vibrator, the Hitachi, can also get pretty noisy, but I don't mind because it's super powerful on the highest settings. It's natural that with great power comes a bit of extra noise. However, when it comes to the Doxy wand vibrator, it has even more noise than the Hitachi, but only a fraction of the power. Their price point is basically the same, so I don't really see any reason to buy the Doxy instead of the Hitachi. Just get the Hitachi Magic Wand if you really want the best wand vibrator in this price range.
---
Best Budget Wand Vibrators (<$80)
---
1. Hitachi Magic Wand (Original)
The Hitachi Magic Wand Original is and has been for a while, the golden standard for the best wand vibrators. The original version has a cord and is less powerful than the newer model, but it's still the best budget wand vibrator in the world.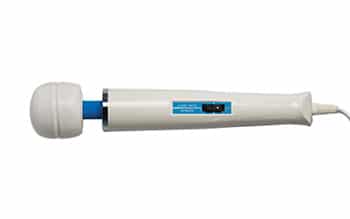 The Hitachi Magic Wand needs no introductions. After all, it's the most famous vibrator in the world. I actually got my first Hitachi Magic Wand as a birthday gift from one of my male friends. I don't know how he figured out that the Hitachi was the best gift anyone could ever give me, but I am glad he did. Needless to say, that boy has a special place in my heart, even though I have not seen him in 3 years.
The Hitachi opened a whole new world to me. I had experimented with a few dildos and two smaller vibrators already, but none of them particularly impressed me. They felt too weak, and I could never really orgasm just from them. However, after I turned on the Hitachi for the first time, I realized what vibrators are really capable of. I was so excited that I probably orgasmed about 10 times a day on average during those first few weeks with the Hitachi. It truly is the best wand vibrator ever made, and although the newer USB-rechargeable version brings some upgrades to the table, the original is still the better pick, as far as value for the money is concerned.
---
2. Lovehoney Mini Massage Wand Vibrator
A great mini wand vibrator which packs plenty of power for first-timers. For experienced users, it will be a bit on the weaker side. But, as a first step into the world of vibrating wands, it's a great choice.

Here we have the second best budget wand vibrator, the Lovehoney Mini Massage Wand Vibrator. It was created by the biggest online sex toy store, Lovehoney, themselves. You might be thinking that a sex toy store couldn't possibly release a toy on the same level as huge brands like Hitachi and Lelo. Admittedly, even I was skeptical at first. But, as it turns out, my skepticism was uncalled for, as this is a fantastic product.
This mini wand vibrator has a premium build quality, a great range of vibrations, and a quiet motor. In addition, the small size makes it an easily accessible wand vibrator for beginners, because it's very comfortable to hold in place. Also, the motor is not so intimidating as something like the Hitachi, which is enough to bring down a lioness.
I would recommend this vibrating wand from Lovehoney to first-timers who want a cheap, reliable and enjoyable wand. It's not the most powerful, but it's thoroughly enjoyable nonetheless.
---
3. Bodywand Aqua Wand Massager
A powerful body wand vibrator with only one major disadvantage – it requires separate batteries.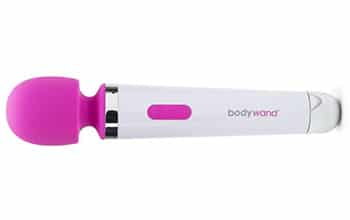 The Bodywand Aqua is one of the best wand vibrators on this list in terms of power and performance. The 8 different intensity settings range from very mild buzzing to rumbly earthquakes, so the variance between intensities is great as well.
But, as I mentioned in the summary, it has a rather major disadvantage which is impossible to overlook. It has no rechargeability and because of its power, the Bodywand Aqua Wand Massager drains its batteries in a few short hours. There is nothing more frustrating than wanting to play with your magic wand massager, getting undressed, and… finding out your toy has run out of battery juice. With a USB-rechargeable toy, you can plug it in and still use the wand vibrator. But, in the case of non-rechargeable wand vibrators, the only option is to go buy batteries from the store. A complete mood-destroyer, if you ask me.
---
4. Tracey Cox Supersex Wand Vibrator
Super tight budget pick – the cheapest wand vibrator on this list. While it works great, I have to point out that it's not rechargeable and it requires new batteries rather often.

This magic wand from Tracey Cox is certainly cheap, but does it actually have any value?
Well, sorta yes, sorta no. It has very impressive amounts of power, considering it's super small size. I would say the vibrations are definitely on par with the Lovehoney Mini Massage Wand Vibrator. Also, it has a whopping 10 different intensity settings. It also has a much cheaper price tag, so this vibrating wand certainly has its advantages.
However, I should also mention the disadvantages, the main of which is the lack of rechargeability. This wand vibrator drains its batteries astonishingly quickly if you put the vibrator to good use, and it's a major disadvantage, especially for the budget-oriented customers this wand vibrator was designed to be the best for. Having to buy new batteries every week increases the long-term cost of this toy radically, so keep it in mind if you are looking at cheap wand vibrators. A rechargeable wand vibrator will always be a better long-term budget option.
---
5. Adam & Eve Magic Wand Massager
A good wand massager, but it needs more intensity settings and a quieter motor.

While the magic wand massager from the sex store Adam & Eve is an all-around good product, it sadly can't compare with the real best wand vibrators. It only has two different intensity settings – one rather mild and one super strong setting. There is no in-between.
This ended up being my main complaint with this vibrating wand. I love the feeling of slowly moving up between the different settings, getting more and more intense as the masturbation session progresses. However, with the Adam & Eve Magic Wand Massager, it's just impossible to achieve this progress. You jump from mild vibrations straight to an earthquake sensation. You go 0-100 real quick with this thing, way too quick…
---
6. Pure Enrichment Peak Wand Massager
A wand massager which performs well when it works. But, it has sort of a history of being faulty and not wanting to work.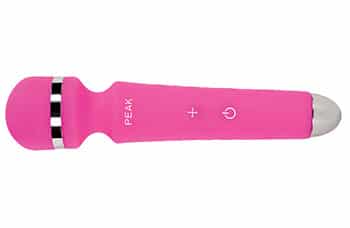 The Pure Enrichment is a rather ambitious wand vibrator, with its 7 intensity settings, rechargeable battery, and body made from medical-grade silicone.
However, it has some flaws which are difficult to ignore. Firstly, tons of people have had problems with its charger tip. It breaks very easily, and if it does happen, all you can do is return it to the manufacturer. Also, because the only way to change the intensity is the large "+" button in the middle, you will find yourself getting frustrated because you can only go higher, and never lower. If you want to change the intensity settings lower, then all you can do is cycle through the most powerful settings, and that's ridiculous. I can't exactly recommend the Pure Enrichment as the best wand vibrator for anyone, but because of the rather good overall rating it has, I still decided to feature it in this wand vibrator review.
---
Choosing the Best Wand Vibrator
Choosing the best wand vibrator for yourself is really not rocket science. All you need to do is ask yourself these three main questions:
What is my budget?
Obviously, this will be the first thing which you will take attention towards. Everyone loves a good deal, and no one likes to waste more money than necessary. Therefore, pick a price point which you are comfortable with, and move on from there. If you don't have enough money to even buy food, then buying yourself a $160 wand vibrator isn't obviously the smartest idea
2. How powerful do I want my wand vibrator to be?
For me, the more power a vibrator has, the better. Simple as that. However, wand vibrators are an especially strong category of vibrators, so if you have never owned a sex toy before, then you should start with something more accessible, like the Lovehoney Mini Massager. If you jump right into the very best wand vibrator, the Hitachi, you might be so shocked by the power that you will never buy a sex toy again.
3. Do I want a USB-rechargeable wand vibrator or a battery-powered one?
For me, the choice is fairly obvious – USB-rechargeable is the way to go. However, battery-powered vibrators are often cheaper, and they are almost always cordless. These are two great advantages, but honestly, I would still recommend USB-rechargeable wand vibrators as the best choice for most of you.
---
How to Use a Wand Vibrator
Using a wand vibrator is relatively straightforward. All you need is your vibrating wand, a bit of water-based lubrication, and a naughty mood!
After applying lube and getting into a comfortable position (try laying on your back, putting your legs at a 90-degree angle and relaxing your muscles), you are all set to go.
Try starting off with the very lowest intensity setting on your vibrator, and slowly moving the vibrator against your clit. Move the wand up and down, while the head of the wand rotates around itself. See what sensations you enjoy the most and go on from there, by moving up into the higher intensity settings.
You shouldn't really try to insert the wand vibrator, as this is not what it's meant for. Wand vibrators are meant for external stimulation, and they are absolutely amazing at it.
If you start off quickly with the higher intensity settings, you should be able to orgasm in less than one minute. Seriously, that's how powerful these things are. Try finding yourself any man who can achieve the same. It's impossible!
---
Where to Buy a Wand Vibrator
As you might have guessed from this wand vibrator review, my top recommendations on where to buy a wand vibrator are Lovehoney and Adam & Eve. They usually have the best prices anywhere, and they are always trustworthy. Also, if you order from them, you will always get your package within 1-2 working days, without exception.
You might be tempted to buy one of the cheap wand vibrators from Amazon, but I would advise you against this. Amazon is full of fake and faulty copies of sex toy brands. They will not be nearly as powerful as the real thing, and in some cases, they are outright dangerous to use.
Even if I see a toy being offered for a cheaper price on Amazon, I always end up going with an actual sex toy online store in the end. You might call me paranoid, but I call it being protective of my sexual health. After all, I don't want a faulty Chinese vibrator exploding inside my vagina…