The top-rated finger vibrators on this list will help you achieve powerful orgasms. Not only that, but but they will also make for a super-fun and spicy addition to your sex life. Check out which finger vibrators I consider the best and make your choice!
Masturbation is a lot of fun, there's no denying that. But, did you know that masturbating is actually good for you? Not only does it increase blood flow throughout your entire body, but it also releases endorphins that make you feel great, and can improve your sex life! Even if you're not able to achieve an orgasm while masturbating, the best finger vibrator can still make you feel pretty damn good.
What I like most about finger vibrators is that it's not just for women. Men can use these bad boys on their partners (a whopping 45% of men have used some type of vibrator when having sex with their partner, but they can also use them on themselves! Yes, you read that correctly, men can (and should, in my opinion) enjoy the scintillating vibrations these vibrators offer.

What Is a Finger Vibrator?
You've seen vibrators, clitoris vibrators, and bullet vibrators before and you might be wondering what makes a finger vibrator different than those other vibes. As the name implies, a finger vibrator is a small vibrator that you (or your partner) can wear on the fingertip to send vibrations directly to your clitoris and other external pleasure zones such as the vulva, nipples, perineum and around the anus. You can also use these vibes to tantalize a man's pleasure zones too such as his perineum, frenulum, and around the head of his penis. 
Although these mini finger vibrators look small, you shouldn't underestimate their power or effectiveness! When you have the best finger vibrator with a full charge or has fresh batteries, you'll be able to orgasm with very little effort.
How to Use a Finger Vibrator
You'd be surprised by how many people don't even consider picking up a finger vibrator because they don't know one. This is because people are usually more comfortable playing with a regular sex toy because they know how to hold it so that it's comfortable and effective.
Fortunately, learning how to use a finger vibrator is very easy. Just follow these tips and you'll start recommending them to your closest friends.
Experiment on your body first. When you first take your vibe for a spin, don't go directly to the clitoris – especially if you're not familiar with a powerful vibrator stimulating your pleasure zones. I recommend that you start using the vibe on other areas of your body like your inner thighs, your nipples, and your rear end first. This way you'll be able to get used to the strength of the vibrator and how it moves across the skin.
Lubrication is key. Even though you're using a vibrator on your finger for external stimulation, you should still use a water-based or natural lubricant. The reason why lubrication is so important is that many finger vibrators feature some form of texture which can feel rough on the sensitive areas. The lubricant will help the texturized vibe to glide on your skin, giving you the pleasurable sensations you're looking for.
Start off slow. After you've experimented with the fingertip vibrator on other areas of your body and it's nice and slick with lubrication, you may not want to put the tip of the vibrator directly on your clitoris because it could be too powerful right off the bat. I suggest that you run the body of the vibe along your vulva and clitoris until you've come accustomed to the sensation.
Adjust the placement until it feels right. Like anything else, playing with a new sex toy will take some practice to find the perfect position that sets you over the edge. If you find that your finger vibrator doesn't stay where you want it, consider repositioning it so that it is further down on your fingertip.
Now that you know what a finger vibrator is and how to use one, let's take a look at my top picks that deserves to be called one of the best finger vibrators currently on the market.
How We Chose the Best Finger Vibrator
With so many great options out there, choosing which ones would appear on this list was no easy task. When making my decision, I looked at the size and shape of the vibrator, how much it cost, the type of material it was made from and if it had texture.
I also took into consideration its a power source, how it's controlled and how enjoyable my experience using the toy was – after all, isn't that what really matters? I think so!
Best Rechargeable Finger Vibrators
Let's kick things right off with the most luxurious type of finger vibrators out there – rechargeable ones. These come included with a charging port, meaning that you will never have to go out and buy separate batteries.
There is no bigger turn-off than having to go to the supermarket for batteries while you are in the mood to get yourself off. Rechargeable finger vibrators are a personal favorite for this very reason.
Best Finger Vibrator Overall: Pave Liz Rechargeable Finger Vibrator
The Pave Liz Rechargeable Finger Vibrator is one of those vibrators that'll make you feel like you're treating yourself to a bit of luxury while satisfying yourself.

Price: $59.99 on Betty's Toy Box
Design: Most vibrators you find come in a variety of bold, in-your-face colors like bright pink, purple, blue and black, but this waterproof vibe is a sophisticated soft teal color. Not only is the color demure and understated (a plus in my book), it features a sparkling crystal that you'll push to operate the toy. The curved vibrator slides over the tip of your finger, allowing the rippled stimulating pad to really hug your clitoris.
Performance: This rechargeable vibrator is made from a luxurious satin-finish silicone, which feels absolutely incredible against the skin with ample lubrication. There are seven vibration, pulsating and escalation settings you can cycle through simply by pressing on the jewel on top of the vibe. 
Verdict: I absolutely adore the look and feel of this vibrator. For me, it's a perfect size and the ripples feel pretty nice, although the vibration variations are truly the star of the show. I wish I could use this vibrator longer than 30 minutes before it needs to be recharged, but that's not a big deal because it gives my boyfriend and I time to do other things in the meantime.  
Only 30 minutes of play time on a full charge
Discreet and Rechargeable: Fingo's Tingly Finger Vibrator
For those who don't really care about a sleek design or the color of your mini finger vibrator, the Fingo's Tingly Finger Vibrator is a great option. This discreet little vibe gets the job done in no time.

Price: $19.95 on Adam & Eve
Design: This rechargeable finger vibrator is available in two colors (pink or blue) and is made from a soft silicone material. You'll find that the ring on the back of the vibe is pretty flexible, meaning it can fit any finger you prefer – it can even fit a man's finger! There are small nubs on the vibrator that feels like tiny little fingers are massaging your sensitive zones. 
Performance: It doesn't matter what kind of vibrations you like, you can bet that this fingertip vibrator will satisfy even those who love powerful vibrations. You can cycle through the ten (yes, ten!) vibration settings that range from a gentle vibration to a function called "Jubilee."  If you don't like the silicone nubs or if you want a different feeling altogether, the silicone sleeve can be removed and you can enjoy the bullet on its own.
Verdict: I really liked this finger vibrator. It was easy to use, it didn't require a long time to charge, and I loved that it's waterproof. I only have two complaints: the vibe wouldn't stay in place when I used a lubricant and the nubs didn't feel that great on my clitoris. Thankfully the sleeve is removable and I was able to use the bullet on its own.
Removable silicone sleeve
60 minutes of play on a full charge
Difficult to keep in position when lubed up
A Truly Unique Finger Vibrator: GLUVR
The unique design of the GLUVR Rechargeable Finger Vibrator may look intimidating, but don't let the look of it make you pass over this little powerhouse.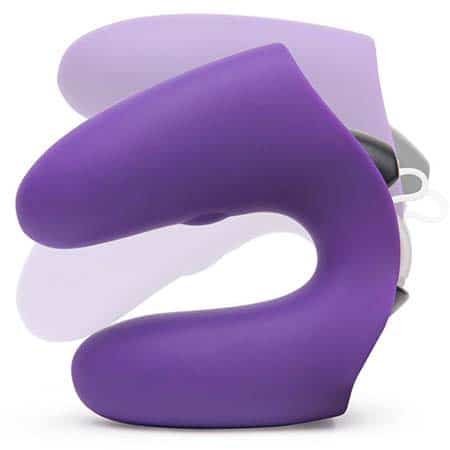 Price: $49.99 on Lovehoney
Design: Let's address the elephant in the room – this thing looks like one of those silicone oven mitts you'd use to grab a cookie tray out of the oven with! However, unlike the oven mitt, this finger vibrator slips over your thumb and forefinger to create two vibrating massagers. 
Performance: This vibrator features two motors that work together to give you an incredible experience. There are three speeds and three patterns you can cycle through until you find the perfect setting that gets your juices flowing. The soft silicone is body safe, which means you can use one of the fingers for penetration while the other rubs on the clitoris. This is a great toy for solo play, foreplay, and even couple play.
Verdict: Of all the toys I've played with in the past, this toy, by far, is the most unique. It takes a little bit of a learning curve because it is so different. However, once I figured out what works best for me, it's a decent toy. I just wish the button placement wasn't so awkward and the fingertip was a little thicker for penetration. But, of course, it's personal preference and not a design flaw. 
Built-in Push button controls
3 speeds and 3 patterns to choose from
Takes some getting used to
Button placement is awkward
Best Battery-Operated Finger Vibrators
Unlike their rechargeable counterparts, the following finger vibrators require batteries in order to function. This does not make them any worse or weaker, however – these things pack a powerful punch, as long as you keep them juiced up!
Some of my absolutely top favorite finger vibrators are in this category, so I would recommend you don't give up on them just for their batteries reason.
Best Overall Battery-Operated Finger Vibrator: Fingo Nubby
When you get that "itch" when you're out and about and can't charge your other vibrators, the Fingo Nubby Finger Vibrator is my favorite go-to. Once you try it, I bet it'll be your favorite too.

Price: $19.95 on Adam & Eve
Design: The Fingo Nubby Finger Vibrator is a small, unassuming finger vibrator that you could tuck away in your purse, as it only measures 2-inches! There are tiny bumps on the vibrator that gives the experience of using this vibrator a little oomph. There's a loop that you can slip your finger through to help keep the vibe exactly where you want it.
Performance: The silicone sleeve on this vibrator can be uncomfortable for some if it's used without lubrication. The tiny nubs stimulate your erogenous zones to bring impressive orgasms for such a small device. There is only one setting, which is pretty strong. Some may not appreciate the strength of the vibrations while others may absolutely love it. 
Verdict: I love traveling with this little guy. When my boyfriend and I go on long day trips, I like to tuck this bad boy in my purse for a little fun on the road. I like that the power button is easy to get to and that the vibrations are pretty strong. Like I said in a previous review, I enjoy powerful vibrations so I didn't mind the single speed setting. However, this may not be everyone's cup of tea, which is why this gets a 4.5 rating instead of a full 5 stars.
Easy to access the power button
Best Finger Vibrator for Beginners: PicoBong Ipo 2
The PicoBong Ipo 2 Vibrator is one of the best finger vibrators if you want something basic and doesn't have a texturized surface. However, just because it looks basic doesn't mean its underwhelming!

Price: $49.95 on Lelo
Design: At first glance, this vibrator may not look like anything special. It's a sleek bullet vibrator with a stretchy silicone ring so you can side it onto your finger while you play. You can choose between three colors: pink, purple, and black. You will need a single AAA battery to operate this toy, which isn't included with purchase.
Performance: When you're using this vibrator, you can choose between 12 different patterns and strengths. The velvety silicone material feels absolutely divine on the skin and the clitoris – especially when you use enough lubrication or you play with it in water. 
Verdict: What can I say? PicoBong sex toys are becoming one of my favorite brands because each product I've tried is pretty impressive. I like that there aren't any nubs on this one and when it's nice and slick, it glides over the skin beautifully. I wish the button placement was a little more user-friendly because I couldn't change the patterns without stopping in the middle of my play time. 
1-year warranty + 10-year guarantee
Gradually increase vibrations
12 different modes to experiment with
Buttons are a little tricky to operate
Best Cheap Finger Vibrator: Triple Ripple
The Triple Ripple Silicone Finger Vibrator is a cute little vibe that is pretty straightforward and easy to use. If you're looking for an affordable mini-finger vibrator, this may be what you're looking for.

Price: $19.99 on Betty's Toy Box
Design: This finger vibrator is made from medical-grade silicone and while it's firm to the touch (specifically the ring), it's smooth and enjoyable on the skin. The size is standard for fingertip vibrators, and it features three ripples that increase the pleasure when used with a water-based lubricant. For those who have thin fingers, you may need to slip two (the index and middle finger) through the ring to keep it from sliding around when you don't want it to.
Performance: If you're looking for a strong clitoris vibrator, I'll tell you now that this isn't it. While the vibrations and the ripples are enjoyable, you may not be able to achieve an orgasm with it alone. This vibrator is intended to enhance your normal masturbation techniques. With that in mind, this isn't just a finger vibrator for women. You can easily use this vibe to stimulate a man's erogenous zones as well.
Verdict: This is a hard one because the vibrator isn't strong enough to send you over the edge but it's still a good little vibrator. When I used this during sex, I was able to orgasm, but if I use it alone with nothing else going on, it's a tease… A good tease, but a tease, nonetheless. 
Good for both men and women
Intended for added stimulation, not orgasms
Top Finger Vibrator for BDSM Fans: Fifty Shades of Grey Secret Touching Finger Vibrator
If you're a fan of the Fifty Shades books and movies, then the Fifty Shades of Grey Secret Touching Finger Vibrator would be a great addition to your bedside drawer, right next to the G-Spot Rabbit Vibrator.

Price: $18.99 on Lovehoney
Design: There's nothing fancy about this slim finger vibe. The silicone has a matte finish and features a textured tip to increase the sensations. The loop is large enough to slip your index finger through, but it can stretch a bit if you have larger fingers. 
Performance: When you apply lubrication to the vibrator or wherever you intend to use it (it's great for clitoral stimulation but can also be pleasurable when used on the nipples, penis, labia, and perineum), it feels luxurious. While there is only one speed to this vibe, you do have the option of removing the bullet if you so choose.
Verdict: Of all the finger vibrators on this list, this is my least favorite. I'm still able to have an orgasm with it, but it feels like it's lacking something. I appreciate that the vibrations are strong and you can remove the bullet if you're not keen on the textured tip.
Slim design for dexterity
Thick loop to hold the vibe on your finger
Submersible, not waterproof
Requires LR41 watch batteries which can be hard to find
Final Thoughts on the Top-Rated Finger Vibrators
Although I had a lot of fun trying to see which of these was worthy of being called the best finger vibrator, it's important to keep in mind that what I enjoy may not be what you enjoy. Perhaps you like a subtle vibration the Triple Ripple Silicone Finger Vibrator provides. Maybe you like a vibrator with plenty of modes to cycle through. It's all about personal preference – and lube. Lots of lube.