Who doesn't love a good romp in the hay with their partner – especially when you're able to get off? Unfortunately, only 75% of women are able to reach orgasm just from sex. Many women need clitoral stimulation, mental stimulation, and sometimes even require the use of a sex toy to help set them off.
If you're one of the women who aren't able to have an orgasm by penetration alone and you've never tried a vibrator, then you're missing out! With the help of the best vibrators for beginners, you can make the Big O happen a lot easier and quicker than if you were to use manual stimulation.
Today, we're going to introduce you to seven entry-level vibrators that are sure to help you go weak in the knees and yearning for more.
Want the "too long – didn't read" version? Here are our top three picks for each type of beginner's vibrators:
Want to see what experiencing a vibrator for the first time as a beginner looks like? Check out this video from As/Is:
Your experience might be different, but it's a fun video nonetheless!
Now, let's keep going and have a closer look at the different types of beginner's vibrators which I covered for this review.
Which Type of Vibrators are Best for Beginners?
Buying your first vibrator can be a little overwhelming, especially because there are so many great options available on the market. So, how do you know which types are the best vibrators for beginners? In my opinion, they are all pretty awesome! However, I think women who are just starting out should stick with simple and well-known vibrator types.
The following are the best types of vibrators for beginners:
Clitoral Vibrators: With clitoral stimulators, you can get incredible orgasms with minimal effort since it targets your pleasure button. All of the stimulation will be directed to your clitoris, and no insertion will be necessary. This makes it absolutely prefect for beginner's who wish to avoid inserting their toys.
G-Spot Vibrators: The gentle curve and the (usually) rounded head of these vibrators make finding and stimulating the G-spot that much easier. Insertion will be crucial in getting full effect from your g-spot vibrator. Therefore, if you are not comfortable with insertion, I recommend you go with one of the best beginner's clitoral vibrators on this list.
Vibrating Dildos: Vibrating dildos are great for beginners because you get the fullness of an actual penis, but the added vibrations make the whole experience more enjoyable. However, they do require insertion, so take it into consideration before making a final decision.
I have split this beginner's dildo review into three parts – one for each type. Therefore, I recommend you take a moment to think about which type you would enjoy the most. If you can't decide, then a clitoral vibrator for beginners is always a solid choice.
How I Chose the Top Beginner's Vibrators
In order to choose the best beginner vibrator,  I took into consideration the price, the vibration strength and different vibration patterns, the material of the vibe, and of course, how well it's able to get the job done. 
I have covered my dildo review process in numerous reviews in the past, so I will not stay on this topic for too long. All you need to know is that I am highly critical of my vibrators, and I take the utmost attention to all details which truly matter when choosing the top beginner's vibrators for this article.
Best Clitoral Vibrators For Beginners

Price: $139.99 on Lovehoney
The Look: At first glance, this vibrator may look like a pore vacuum, a little device that uses suction to remove dead skin cells and other clogging debris from under your skin, but it's meant to stimulate your clitoris. The design of this vibe is sleek and sophisticated, which really helps you feel like you're pampering yourself. The Swarovski crystal button is also a lovely touch!
The Feel: Unlike regular vibrators, this entry-level vibrator features a soft silicone cup that circles your clitoris and gently sucks on the delicate nerve endings. You have eight speeds you can cycle through to give you different sensations for each. When you're using this vibe, it fits comfortably in the hand and the button placement is easily accessible so you don't have to worry about disrupting your "you-time" trying to figure out how to change the speed.
Verdict: I really like that the cup is really soft and flexible, which can be a problem with similar devices. This is the perfect beginner vibrator because you can control the intensity (the highest setting is pretty darn powerful. I liked the powerful vibrations, but others may not) and it's comfortable to hold. The price is a little steep for a sex toy, but I can't complain too much as it was a gift from my partner. 
8 different intensity levels 
A full charge lasts 4 hours
Only takes 2 hours to fully charge
Includes storage bag and replacement cup
Cleaning can be laborious
If the previous vibrator was intimidating because of its size, the Womanizer Starlet is another excellent option.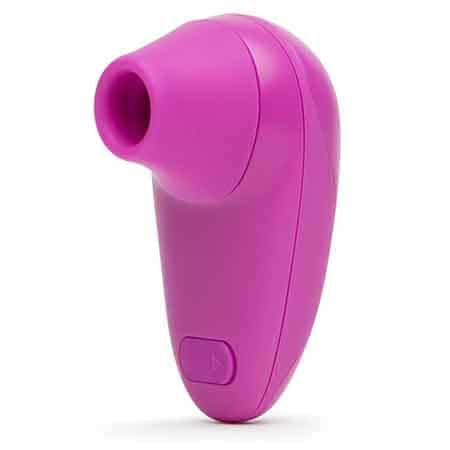 Price: $69.99 on Lovehoney
The Look: This cute little purple vibrator fits comfortably in the hand, thanks to its improved ergonomic design. The push button controls are conveniently placed so you can find the buttons to adjust your pleasure. There is a USB charging port on the back so you can plug it in, charge it up, and get back to the fun in no time. 
The Feel: When you use this rechargeable vibrator, you will get to experience patented "Pleasure Air Technology" that provides you with an impressive amount of stimulation to your pleasure zone – just remember to apply water-based lube to the soft silicone nozzle for the best experience. There are eight different suction intensities that you can adjust via the three button controls. Since this unit is 100% waterproof, you can bring this with you in the bath or shower. 
Verdict: It's rare to have two vibrators on the same list with five stars, but here it is. I like the feel of this vibe when I'm holding it. The appreciate the button placement and the easy controls because when I'm in the zone, I don't want to have to stop and fiddle with awkward dials, buttons and so forth. I wish this was a little less expensive, but for the orgasms it gives me, it's money well spent.
Removable head for easy cleaning
Only needs 90 minutes for a full charge
No vibration patterns to choose from

Price: $25 on Lovehoney
The Look: Unlike the larger wand vibrators, this little guy fits comfortably in the hand when you're using it. The sleek black design is both elegant and modern and the button controls are placed perfectly. The domed head is made from soft silicone that feels incredible on the clitoris. 
The Feel: If this is going to be your wife's first vibrator, I highly recommend sticking to the lower settings for the first 20 minutes or so because the higher the settings are, the more intense the sensations get. There are ten speeds and seven different patterns to choose from so you can experiment with what feels best to you. 
Verdict: I am pleasantly surprised by how powerful this compact wand massager is. I like a lot of power from my toys and this doesn't disappoint. I like that its cordless and rechargeable via USB. That means I don't have to worry about having batteries on hand and I can just plug it into my phone charger. I wish it was waterproof because who doesn't love a little rub down while soaking in the tub? It is splash-proof, so it can be used in the shower. 
Love the numerous speed and patterns
Splash proof, not waterproof
Grooves on the neck can be difficult to clean
Control button could be larger
Best G-Spot Vibrators for Beginners
Oh, the rabbit vibrator… These little devils stimulate not only your clitoris, but you get internal stimulation too. The Happy Rabbit Beaded G-Spot Rechargeable Rabbit Vibrator is a favorite of mine and since this is your first time using a vibrator, I feel like I need to warn you that you're in for quite the treat!

Price: $119.99 on Lovehoney
The Look: Upon first glance, this vibrator may seem intimidating because not only does it curve at the tip to allow the rounded head to massage the G-spot, it features a cute little bunny to tickle your clitoris. The base of the vibe is flat so that you can stand it up if you so choose. 
The Feel: When you're using this vibrator, you can choose between 9 vibration speeds for the rabbit and three speeds of rotation for the shaft. You read that correctly, the shaft moves too, thanks to the dual motors and the push button control. Not only does the shaft vibrate, but it also features beads on the inside that add to the overall pleasurable experience. 
Verdict: In the world of vibrators, the rabbit vibrator is king in my book. I love the feeling that rushes over me when the bunny ears are tickling my clitoris while the shaft and rounded head are working their magic from the inside. If you ever wanted to have intensely blended (clitoral and g-spot) orgasms, GET. THIS. VIBRATOR.
Two powerful, independent motors
2 hours of playtime on a full charge
In the realm of G-spot vibrators for beginners, the Moka by PicoBong, the sister company to the Lelo Brand, has a different look in comparison to others on the market, but that doesn't mean it's any less amazing!

Price: $54.95 on Lelo
The Look: This vibe is available in three different colors: cerise (pink), purple, and blue (which looks more like aqua or turquoise) and it feature a sleek design. The head of the vibrator is flattened to cover as much surface area on the G-spot. The controls are located on the side which may or may not be a problem depending on your dominant hand. 
The Feel: When you first start playing with the Moka, the flat tip and oval head are great for finding the G-spot and the extra length, as it measures 8.25-inches in length – 5.25-inches of which are used for penetration. There are 12 different vibration modes that you can cycle through to find your favorite setting. Even on the highest setting, this vibe is virtually silent.
Verdict: I really enjoyed this vibrator! I was a little hesitant at first because I never tried one with a flat tip, but I was surprised by how much more intense the vibrations were on my G-spot. I love that this is waterproof because I like using it when I'm pampering myself with a spa day at home. The ONLY reason why this gets 4.5 stars is that the cap pops off during the most inopportune time, but thankfully not when I'm in the bath.
Made from food-grade silicone
Flat, oval head for G-spot stimulation
1-year warranty – 10-year guarantee
Backend cap pops off during playtime
The Zizo by PicoBong is similar to the Moka, as it has a similar curve and a sleek matte finish. The difference is this vibrator doesn't feature a flat tip. If you're put off by the lines of the Moka, this will be your best choice.

Price: $44.95 on Lelo
The Look: This is what most women think of when they're talking about a G-spot vibrator. It features a gentle curve that narrows in the middle and increases in size to a wider, more filling width at the end. These vibes come in three fun colors: purple, pink and blue (same colors as the Moka). The button placement is on the side of the vibe, which may or may not be a problem depending on your dominant hand (like the Moka).
The Feel: The vibrations on this is a lot like the Moka, except since it doesn't have the flat tip, it just kind of… buzzes inside of you. The gentle curve does feel good, as it measures 7.5-inches in length, with 6-inches of which are for penetration. It's important to use a lot of lube with this vibe because of the velvety matte finish. 
Verdict: I wanted to enjoy this vibe as much as I enjoyed the Moka, but this one didn't really do it for me. It didn't hit my G-spot as it should and its girth just left me wanting… More? While it doesn't work for me internally, it DOES work amazingly well as a clitoral vibrator – even though it wasn't designed to be one. The vibrations are strong and the patterns are pretty great.
12 vibration and pattern settings
Smooth shaft perfect for penetration
The decent motor that delivers a decent punch
1-year warranty – 10-year guarantee
Best Dildo Vibrators for Beginners
1. Lifelike Lover Classic

Price: $38.99 on Lovehoney
The Look: This realistic vibrating dildo has everything you love about a man's penis: tight balls, veiny, slightly curved shaft, and a perfectly shaped tip. There's a suction cup that allows you to ride the vibrator for a pleasurable hands-free experience.
The Feel: The firm silicone dildo measures 7-inches in length, with 5-inches of which are for penetration. The width of the dildo measures 5-inches around, which may be a little large for some, so don't skimp on the water-based lube and go slow. The wired controller allows you to cycle through 10 strong settings until you find the one that sets you over the edge.
Verdict: You may not think that this is a vibrator for beginners just by the sheer size of this thing, but I think it's an excellent option for learning to use a vibrator. I love the feel of it when it's inside, but I also like that the suction cup on the bottom allows women to perfect their riding technique while getting off. I thoroughly enjoyed this vibe and can't recommend it enough.
Gentle curves on the body
The texture needs lube to feel good
Some Final Thoughts on Beginner's Vibrators
Shopping for a vibrator as a newbie can be a little intimidating because you don't necessarily know how your body will react to the sensations. I recommend first exploring your body and understanding what feels good, then you'll be able to decide which type of vibe is right for you.
We hope you found this guide informative and helpful! After exploring and learning what feels good to you, you won't need the best vibrators for beginners – you may want to consider trying something more adventurous, like one of our top three vibrators for anal play.