Pegging is a truly unique way of experiencing sexual pleasure with you and your partner. After all, it completely changes the dynamic of sex. It allows a woman to take control of her man, by strapping on a best pegging dildo and being on the "giving" side of anal sex. Pegging is becoming an increasingly common sexual practice.
Why? Well, because it's freaking awesome!
All you ladies out there, I have to tell you… you have not truly experienced sex until you have seen your partner bent over on all fours, waiting for you to take him from behind. It's an indescribable feeling and I somehow feel it is my duty to help as many couples experience this as possible. Therefore, I made this comprehensive review by ranking all of the best pegging dildos, strap-on harnesses and all other toys meant for pegging. Don't pay attention to any social stigmas, or the opinions of random people who say pegging is "gay". Pegging has nothing to do with homosexuality. The first time you strap yourself into a pegging dildo, you and your partner will experience a brave new world, and incredible sexual pleasure, trust me!
Quick guide:
Best pegging dildos for beginners
Best pegging dildos for intermediate users
Best pegging dildos for experts
Choosing the best pegging dildo
Here are our picks for the best pegging dildos for beginners
---
1. Unisex Strap-On Harness Kit with 5 Inch Pegging Dildo
---
This pegging harness and dildo are an excellent choice for beginners. The dildo is small, the harness is steady, comfortable and secure, and the price is fantastic, considering the fact that the overall quality of this strap-on is excellent. Get this if it's your first time with pegging or any kind of anal play.

Price: $36.99 on Lovehoney
This pegging dildo From Lovehoney is small, unintimidating, and very effective at what it does. It comes with three different O-rings, which means that you can use pegging dildos of multiple sizes with the harness. This is good for moving up in size, but if you don't own any dildos of your own already, it's no problem either. There is a strap-on dildo included in the package, but it is rather small, measuring at 5 inches in length. Experienced users might find it small and boring, but for those couples who are just now looking to get into the naughty world of pegging, it's perfect. Starting off with an overly huge pegging dildo will scare you off right from the bat, and it would be a very unfortunate thing to happen. Therefore, I recommend this as the best pegging dildo for beginners, thanks to the ease of use, the size, and the price. It's an overall fantastic product.
2. Sportsheets Newcomers Unisex Strap-On Starter Kit
---
The best strap-on dildo harness for beginners on a tight budget. It's small, unintimidating, and effective. The harness is comfortable to wear, and the straps are very easily adjustable. It's a cheap and overall good strapon dildo for beginners.

Price: $32.99 on Lovehoney
This is the first strap-on dildo set I ever purchased. It turns out that by accident I had made the best decision in choosing the best pegging toy for my situation, as it was incredibly easy to figure out from the start. The harness stays in place perfectly, the straps never comes loose, and the curved tip on the pegging dildo massaged my prostate in exactly the way I love it. Although the size and length of the pegging dildo is rather small, I was overall very happy with this product and it's another excellent choice for beginners.
3. New Comers Strap-On and Dildo Set
---
A good pegging dildo set for absolute beginners. It's rather tiny, but for those of you who have no previous anal experience whatsoever, it can be a good beginning point. The harness is well-designed and comfortable, and the pegging dildo is nice and soft. Don't expect anything overwhelming from this pegging dildo though, as it really is tiny.

Price: $39.95 on Adam & Eve
The New Comers strap on set is the smallest pegging dildo on this list. It's about the size of your index finger, which is so, so small! The pegging dildo is very easy and effortless to insert, and the harness itself is comfortable to wear and stays securely in place during sex. It's a good dildo for pegging if you are a complete beginner to anal play, but personally, I found it way too small to get any enjoyment out of it. However, you should keep in mind that I have years of experience with anal sex toys behind my back. While I personally found it too small, there are many out there who will find the size ideal. It's a great first step into pegging, but it should definitely not be your final step.
Best pegging dildos for intermediate users
---
1. Adam & Eve Scarlet Strap-On Starter Set
---
An excellent strap-on harness for both beginners and intermediate users. The panty-like design looks incredibly sexy and the harness fits most body types perfectly. Although it's pricey for an intermediate model, it's also the most effective. It's the best pegging dildo under $60.

Price: $49.95 on Adam & Eve
My favorite part of this strap-on harness is the design. Just look at it! It looks a pair of panties, not like a bulky chastity belt which some strapons for pegging tend to look like. Most pegging enthusiasts would agree that seeing your woman with a strap-on is the sexiest thing in the universe, and having a sexily designed strap-on dildo like this will definitely help spice up your foreplay. The size of the first pegging dildo in the set is rather small, but the second one is big enough to pleasure even those with plenty of anal playing experience. Even though I have experience with large pegging toys, I still found it very smooth and enjoyable. Because of all these reasons, and the fact that it's just a very high-quality product overall, I consider this one of the best best strap-on dildos for both beginners and intermediates. It's incredibly sexy, and it's incredibly pleasurable.. need I say anything else?
2. Tantus Bend Over Unisex Beginner Vibrating Strap-On Harness with 2 Dildos
---
A simple, easy to use and effective strapon dildo set. It comes with two different pegging dildos, so it's perfect if you want to start small and go big later, without needing to make a second purchase. It's pricey, though.

Price: $69.99 on Lovehoney
This is a pegging dildo from one of my all-time favorite sex toy manufacturers – Tantus! They always release incredible dildos and vibrators, so when I saw this strap-on dildo set from them I knew I had to get my hands on it. I have to say, I was not disappointed at all. The quality you get for the price is excellent, and I consider this the best strap-on dildo for intermediates. The harness is very comfortable to wear, the dildo has a soft and smooth finish, and the choice of two pegging dildo sizes makes it perfect for experimenting with sizes. It's pricey, but you will not get this much enjoyment from spending your 70 bucks anywhere else. I highly recommend this set.
3. Lovehoney Advanced Unisex Strap-On Harness Kit with 7 Inch
---
A good unisex and fully adjustable strap-on dildo set, designed for advanced users. However, I found that the harness was not very comfortable and looked ugly. It's effective, but I would love something sexier. Overall, however, it's a good pegging dildo for the price.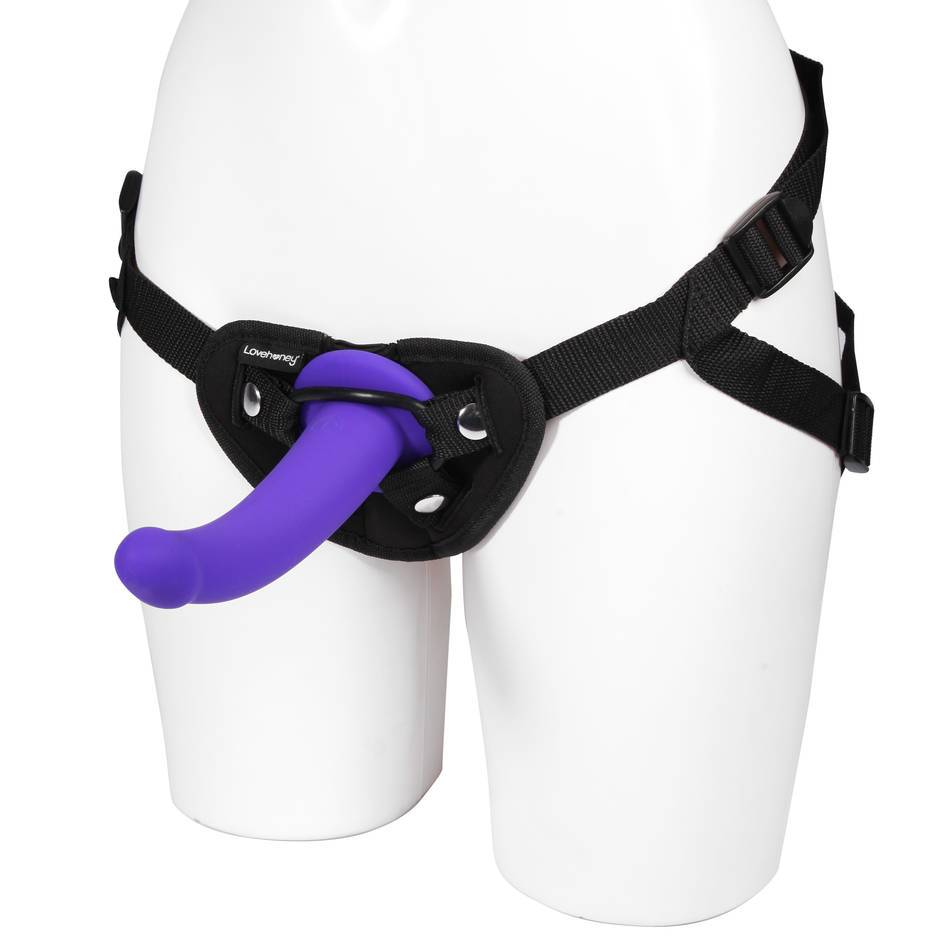 Price: $39.99 on Lovehoney
This toy for pegging is very simple to use, thanks to the practically designed harness, which lets you just jump into it, tighten up, and get into the action. The silicone pegging dildo feels nice and smooth, and the size is nothing huge, so if you have no experience in anal play, you will still find it comfortable to insert. However, I can't get around the fact how ugly the harness is. My favorite part of pegging is actually looking at my wife with her strap-on strapped on, as a form of roleplay. With this pegging toy, however, I preferred to look away and let her do her things. It's not necessarily a bad thing, but the design of a harness is rather important for me. Mainly for this reason, I did not move it higher up in the ranking of the best pegging dildos.
4. Bound By Diamonds Harness
---
A high-quality pegging dildo designed for intermediate users. It's not too big and not too small, and with enough lube it inserts perfectly and comfortably, thanks to the smooth and flexible material. However, I did not consider this the best strap-on design. It's too bulky for my liking.

Price: $42.95 on Adam & Eve 
This is the number one top-rated pegging dildo on Adam & Eve, and it's not hard to see why. The harness is strong and stays in place well, the pegging dildo is a great middle-ground between huge and tiny, and it just works great overall. Not to mention, it looks sexier than most pegging dildos out there. All the men I know who I have discussed this pegging dildo with have loved the transparent finish on the dildo, because it does not look and feel overly realistic. Perhaps it's due to the social stigma, but most men (including myself) don't love it when a pegging dildo is very life-like and realistic. Thanks to this transparent design, users have said that they don't feel as much stigma and embarassment from using this pegging dildo, as it does not resemble a real penis. However, although the harness was well designed overall, I found the material a little too bulky and rough, and not as comfortable as the Vac-U-Lock Leather Ultra Harness or the Adam & Eve Scarlet Strap-On Starter Set, for example. For the price, though, it performs very well.
Best pegging dildos for experts
---
1. American Whopper Vibrating Dong with Harness
---
The American Whopper is the best pegging dildo for experts. It's cheaper than the Vac-U-Lock, but it performs just as great. The curvy tip on the pegging dildo massages the prostate perfectly, and the overall design of this strap on is very sexy. It's rather big though, so I would consider this the best pegging dildo only for experienced users.

Price: $69.95 on Adam & Eve
This is by far the best pegging dildo in terms of quality-to-price ratio. The strap on for pegging feels very comfortable and it's very easy to put on. You can just jump into it, secure the straps, and you are all set to go in less than one minute. The pegging dildo stays in place perfectly even during your most energetic sex sessions, and the curved tip on the end of it is guaranteed to bring any man incredible prostate orgasms. It's more expensive than the beginner's picks on this list, but the quality makes it totally worth the money, in my opinion. The harness is small and never gets in the way of the action, so you will always feel very close to your partner. Another advantage this pegging dildo has is the vibrating feature. It's an effective little extra feature, and when you turn it on while it's pushed against the prostate, the power of the orgasms achieved with this effect is unbelievable.  This is overall the most effective and best pegging dildo you will ever find, if you are willing to spend a little premium for quality.
2. Doc Johnson Unisex Vac-U-Lock Ultra Harness Kit with Ultraskyn 8 Inch Dildo
---
Big pegging dildo which is a good choice for anyone looking to upgrade to a high-end model. It's thick, it's girthy, and it's very pleasurable, but the large size should not be underestimated.

Price: $74.99 on Lovehoney
The Doc Johnson is rated the second best strap-on dildo on Lovehoney. It features a pegging dildo made from incredibly realistic Ultraskyn, and it has an impressive size of 8 inches. The pegging dildo feels very soft and flexible, which makes insertion fairly comfortable, despite the large size. However, the huge size still makes it unsuitable for complete beginners. No amount of flexibility and softness will help you if you can't handle the girth! In addition, I found that the straps come loose rather easily, so in terms of overall quality, I had to give the top places to the Vac-U-Lock and the American Whopper strap-on harnesses. They have a similar price tag and I consider them a better deal overall. The  Doc Johnson is a good pegging dildo, but it is outshined by its competitors on the market.
Choosing the best pegging dildo
---
As you have seen, there are an infinite number of different pegging dildos and strap on dildos out there. They range in sizes, appearances, price, and making the choice of which one to purchase can be rather intimidating at first. However, the choice is more simple. than you might think, and with my help you can choose the best pegging dildo for yourself in no time at all. To help you in deciding, I will list some of the main points of consideration when choosing the best dildo for pegging.
Firstly, you should consider the price. The best pegging dildos start out around the $30 mark, and I advise you not go below this price range, even if you are on a tight budget. While you may save some bucks in doing this, you will not experience what toys for pegging are truly capable of. If you want the best cheap pegging dildo, try the Sportsheets, it's effective and the price is affordable. If you are willing to pay a little premium to get the absolute best pegging dildo, then go for something like the Vac-U-Lock or the American Whopper. They are both fantastic, and they will show you what pegging toys feel like at their absolute best.
Secondly, you should think about the size. Going with a huge pegging dildo from the very start may seem intriguing at first, but trust me when I tell you that shoving a massive dildo up your butt when you are not ready for it is everything but enjoyable (no pun intended). If you have no experience, go with something simple and small, like the New Comers pegging dildo set , or the Sportsheets. They are both small, but effective pegging dildos which are an excellent starting point for you and your partner. If you already have some pegging experience, or experience with anal play in general, then go ahead and go BIG! Something like the Vac-U-Lock will definitely impress even the naughtiest of you readers. There are plenty of great pegging dildo picks created for intermediate users as well, so check the list for good recommendations from me.
Finally, check out the strap-on harness design. A harness for a strap-on dildo should be comfortable most of all. There is nothing worse than a harness which feels like a chastity belt, grinding into your soft skin and leaving burning marks. To avoid this, check out the product descriptions in the links, as they have recommended sizes written out for all of the models. A good fitting strap-on harness is one which fits your individual body, so take into consideration your body size and shape, and you will have nothing to worry about. I also like to look at the design or "sexiness" of the harness, as one of my biggest turn-ons during pegging is looking at my wife with her strap-on dildo on. It's an incredible sight! In my opinion, the sexiest strap-on harnesses are the Adam & Eve Scarlet Strap-On Starter Set and the Vac-U-Lock pegging harnesses.
All in all, if you keep these three points in mind, you have nothing to worry about. Get yourself one of the best pegging dildos on this list, a bottle of water-based lube and you are all good to go. Pegging is fantastic, and you have to experience it to truly understand why it's so amazing. Leave a shout-out in the comments if you tried any of the models in this list out, I would love to hear your experiences.