A person would be hard pressed to find a woman who didn't enjoy a good orgasm. When you have an orgasm, your skin improves, you're less stressed, and you'll even feel pretty darn awesome. Unfortunately, only 18 percent of women are able to get off just with vaginal penetration without the use of toys, her partner's mouth or hands.  Most women are able to achieve orgasm during sex with the help of clitoral stimulation.
There are many people who believe that the key to having a vaginal orgasm is by stimulating the ever elusive G-spot, although there are some researchers who insist that the G-spot is more of a myth than an actual thing even though there are countless women who insist they've been able to achieve orgasm, with the help of one of the best G-spot dildos. 
We aren't going to speculate about the legitimacy of the G-spot; but, if there are women who are able to get off by stimulating it and there's an entire market vying to be the best sex toy for the G-spot, then it's proof enough for us!
If you're interested in trying to find that patch of sensitive flesh hidden away in your vagina, keep reading this list as we give you our thoughts on what are some of my favorite G-spot sex toys.
Before we can get into the real reason why you're here, let's first explain what a G-spot dildo is and how it differs from a regular dildo, shall we?
A regular dildo is a phallic object that can be used for vaginal (or anal) penetration. A G-spot dildo, on the other hand, is a dildo that is designed with a curved head so that it can hit that sweet spot and give you an intense orgasm.
How We Chose the Best G-Spot Dildo
I love sex toys as much as the next gal and choosing which toys should make it onto these lists is pretty hard. In creating this guide, I looked at the material used, the functions and features, the price and the overall approval ratings from customers – I don't want to give a bad review of a well-loved product simply because it didn't work for me. 
With that out of the way, on to the good stuff!
Best G-Spot Dildo for Those Who Like Nice Things

Price: $49.99 on Lovehoney
The Look: The first thing you'll notice about this exquisite dildo is that it's made from hand-blown glass that features raised swirls (or waves) all around the shaft. The flat base allows you to stand the toy upright so that you can proudly display it in your boudoir. Oh, and when the light hits it just right, the blue and clear glass glimmers beautifully. It truly is a work of art.
The Feel: While this dildo is absolutely stunning, it gets more impressive each time I use it. This dildo measures 7-inches in length that can be fully inserted for penetration (the flat base will prevent it from going in completely). The gentle curve and the 1.5-inch bulbous head makes stimulating the G-spot incredibly easy and more importantly, pleasurable. What's even better is you can submerge the dildo in warm or cold water to make your playtime more exciting.
Verdict:  In case you couldn't tell by the review portion, I absolutely love this dildo. Not only was I impressed by the look of the dildo, but I enjoyed being able to play with the temperature. It's a lot of fun using it when it was warm, but when it was cold, it made things a little more exciting. 
Long enough for ladies with deep vaginas
Large bulbous head for G-spot stimulation
Can be used for temperature play
The shaft could be a little thicker
Best G-Spot Dildo for Those Who Are New to G-Spot Dildos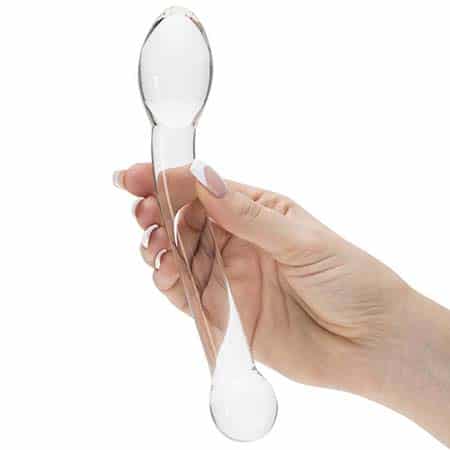 Price: $26.99 on Lovehoney
The Look: When you first look at this piece, you may not be impressed because it's just clear glass. However, that clear glass dildo features a nicely sized head, gentle curve, and the round base that isn't intimidating for women new to playing with dildos. 
The Feel: Glass dildos like this one are amazing for helping you achieve orgasm with minimal effort. Simply apply a good amount of water-based lube and have fun. The dildo measures 8-inches in length, 7-inches of which are for penetration. The rounded head and gentle curve are perfect for rubbing the G-spot in all the right ways. Also, like the previous product, this can be used for temperature play.
Verdict: I believe I am a glass dildo fan. Not only is this simple glass G-spot dildo sized perfectly for G-spot stimulation, but it also comes with a velvet storage bag. This may not be a big concern for some, but if you have curious children who like to get into things, you can store it in its bag and tuck it away without worry. 
Check out some more glass dildos we have reviewed.
The simple design is perfect for beginners
A heavy dildo that gives you a "full" feeling
Difficult to hold when lubed up
Have to apply lube more frequently
Best G-Spot Dildo for Those Who Like to Use a Strap-On
The Tantus Charmer Silicone G-Spot Dildo is the perfect dildo for those who like to use a harness for pegging or strap-on play. The versatility you get with this dildo, combined with its unique shape will be sure to please. 

Price: $39.99 on Lovehoney
The Look: This silicone G-spot dildo looks pretty unique, as it's bright purple and features a flat base and several ridges going down one side of the curved shaft. The tip of this dildo isn't as large as others on this list, but that isn't a deal breaker, as the 7-inch dildo, 6.5-inches of which are for penetration, can bring you to orgasm with no problem.
The Feel: When you use this dildo, the 4 ridges are a unique experience. As each ridge is inserted into the vagina (or anus), the ridges rub up on the sensitive areas for incredible pleasure. The silicone is firm but flexible and when you use enough lube, it's easy to glide in and out of either orifice. 
Verdict: I like this one, but I'm not in love with it. If I'm going to use a silicone dildo, I'd like for it to have a suction cup so that I can switch up how I use it. With that said, the ridges on this dildo feel pretty good. All around this is a good choice for men and women. 
Can be used for vaginal and anal play
Can be used for strap-on play and pegging
Best G-Spot Dildo for Those Who Like to Ride
Ladies, if you like being on top and riding your partner until you finish, you're going to appreciate the X5 Hard On G-Spot Dildo.

Price: $32.95 on Adam & Eve
The Look: This realistic dildo is available in three different colors: pink, blue and purple and it features a suction pad at the base so that you can stick it to any hard surface and enjoy it completely hands-free. 
The Feel: This dildo measures 8-inches in length, 7-inches of which are used for penetration. The dildo features a gradual design where the tip measures 1-inch in diameter and then it gradually increases to 1.5-inches at the base. This tapered design allows for easy insertion, making it great if you like starting off slow or if you want to use it for anal play. 
Verdict: I liked this dildo a lot because I could stick it to a hard surface (I used a dining room chair) and go at it. The gentle curve is perfect for reaching my G-spot, but I also like that it widens as you slide down the shaft, giving you that "full" feeling. 
Can be used with a harness
Suitable for men and women
Suction cup doesn't always stick
Best G-Spot Dildo for Those Who Like Magic Fingers

Price: $19.99 on Betty's Toy Box
The Look: This G-spot sex toy is pretty unique as it isn't your standard dildo. You or your partner can wear the dildo on either hand and get your hands and fingers involved in play time. There's a small texturized patch at the base that's perfect for external stimulation.
The Feel: Instead of relying on a phallic dildo to bring you to orgasm, this little finger extender allows you to be 'hands-on' while massaging all the best spots. The soft silicone material is flexible enough to stroke your G-spot and the tip of the "finger" measures a 1.2-inches to give you a satisfying feeling.
Verdict: I had fun with this finger extender, but it isn't my favorite. I like masturbating and being fingered as the next girl, but this didn't really do it for me. I wish there were more reviews to compare my experience with.
Easy to wear – slips right onto your finger
Flexible silicone makes it easy to reach the sweet spot
Textured base isn't stimulating
Lack of reviews for comparison
Final Thoughts on G-Spot Dildos
If you're a woman who is on the fence about whether or not the G-spot is real, pick up one of the best G-spot dildos and give it a whirl. When you're first getting the hang of one of these bad boys, make sure you start off slow and ease your way into it. The curve and the large tip on some can be a strange (but amazing!) experience for beginners. 
If you're an experienced G-spot tickler and want something with a little more oomph than a dildo, check out our top picks for the best G-spot vibrator!