Coming in endless different sizes, shapes, curves, and colors, dildos are still the most popular sex toys on the planet. Dildos have existed since the dawn of womankind. But, until recent years, they were basically just bulky and rigid sticks vaguely shaped like a penis. Nowadays, however, the best realistic dildos out there look and feel completely genuine. Men are starting to face some real competition, as their dicks are not the only players in the game now!
To find and evaluate all the best realistic dildos out there, I did dozens of hours of research into online reviews, sex toy forums, and of course, my personal experience with the various realistic dildos I have used myself. I myself am an owner of several of the top-rated realistic dildos on this list, so I know which ones to recommend and which ones you should stay away from. So, without further introduction, let's get right into it…
The most realistic dildos
---
These dildos are the best in terms of realism, performance, and design. Not only do they look real, but they also perform, bend and feel astonishingly realistic. They may be pricier than the budget realistic dildos, but the price does bring you absolute quality and performance.
1. Dirk by RealCock 2 – The RealDoll Dildo
---
The best realistic dildo you will ever find – but, it's pricey.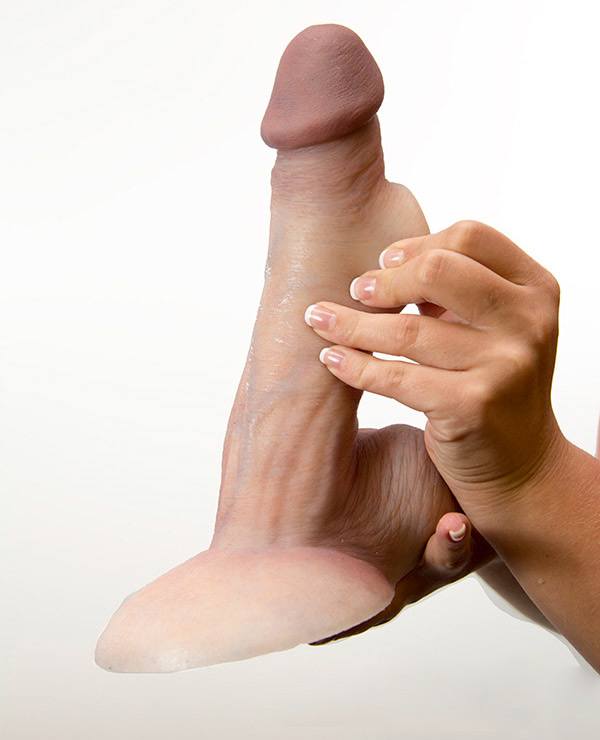 Price: $499 on RealDoll 
The RealCock 2 is another incredible product from the leaders of the sex doll industry – Abyss Creations. This dildo has triple layering, a moving shaft, and incredible attention to detail. Hand-painted and made of platinum-cured-silicone, it is, without a doubt, the very best realistic dildo in the world.
Shortly after beginning my review of realistic dildos, I realized that the title of the best realistic dildo has to go to the RealCock 2. The feel of the shaft, the head, the testicles, the skin… it's all just perfect. The shaft is flexible, but it has an inner core so when you are fucking your dildo, you will feel good resistance, just like you would from a penis.
The material of the RealCock 2 is as good as it gets. The platinum-cured silicone it's made from is easily cleanable, very durable and most importantly, it feels incredible. I have tried many realistic dildos throughout my life, but none of them has even gotten close to the RealCock 2 in terms of performance and realism.
2. King Cock Ultra Realistic Dildo
---
Great realistic dildo – best alternative to the RealCock 2

Price: $49.99 on Lovehoney 
This King Cock is another stunningly realistic silicone dildo. It's very smooth, it has a soft skin texture which acts exactly like real skin, and it just feels fantastic overall. It comes equipped with a suction cup and natural-looking raised veins. Insertion is fantastic, it bends and rotates in every angle and it really looks and feels like the most realistic dildo in the world.
As I am reviewing the best realistic dildos, I considered "realism" in these dildos to be my top priority, and in this factor, this dildo is fantastic. Although it looks shiny on the photo, it's not noticeable at all in real life. It looks fantastic, it feels great, and it's a considerably cheaper realistic dildo than the RealCock 2. If you want a smaller realistic dildo, you might want to look at the next option instead, because this one is not for beginners. If you are a naughty girl, though, you can go with this 8-inch big realistic dildo, which is pictured here.
3. Doc Johnson Realistic Vac-U-Lock Cock
---
Girthy realistic dildo, great value for the money

Price: $59.99 on Lovehoney
The Doc Johnson is the thickest realistic dildo on this list, and the third best in the "most realistic dildo" category. A complete beginner might find it uncomfortable and difficult to insert. But, once you do manage to get this bad boy inside, it's fantastic. The head is slightly soft, so it's not painful at all. The feeling of being stretched inside feels super pleasurable and it's a great training tool for regular sex. If you love big realistic dildos, then this is one of the best you can find. I would say that when it comes to big dildos which are realistic, it's second only to the RealCock 2. Get the Doc Johnson if you like 'em girthy.
The Best Realistic Dildos For Those on a Budget
---
Although the first three realistic dildos I featured are those which I would consider to be the very best, there are still plenty of excellent budget options available also. This why I put together this category. These realistic dildos will not break the bank, but they feel fantastic nonetheless.
1. Adam's Cock PleasureSkin Dildo
---
Cheap realistic dildo – feels great, but not as realistic as the first three picks

Price: $34.99 on Lovehoney
Adam's Cock is another one of the best realistic dildos in the world for many reasons. Firstly, it looks and feels incredible. It has just the right amount of girth and softness for me and the firm core inside the dildo feels perfect. When you are pinching and bending the dildo, it will do exactly what you please. But when you are pounding away on it, you will feel a nice amount of resistance, so it's not too squishy like some dildos.
Unlike my first picks, this realistic dildo is made from skin-safe rubber. Usually, I have been a fan and supporter of silicone dildos, but after trying this dildo for the first time I realized that the right kind of rubber can feel fantastic also.
The only negative I can say is that cleaning this toy takes much more effort than cleaning the RealCock 2. As the rubber is porous, it will leave small bits of dirt inside and after months and years of use it can become a problem. It's still a fantastic deal, though, as the price on this realistic dildo is very cheap.
2. Lovehoney Lifelike Lover Silicone Realistic Dildo 
---
A light realistic dildo with a very cheap price, good for beginners

Price:  $16.99 on Lovehoney
This is a small realistic dildo with a cheap price, making it perfect for beginners. It measures 6 inches in length and 1.25 inches in diameter.  In my opinion, this the best you can get when it comes to cheap, small and realistic dildos.
The look and feel of this dildo are fantastic, considering it's affordable price point. It feels soft to the touch but when you are pounding it, it has just the right amount of firmness. Usually, I am not a fan of small dildos, but this dildo had an excellent overall performance and it's now my go-to realistic anal dildo! It is rather slim though, so if you think that you have enough experience and you don't mind the feeling of being stretched, then I would suggest getting something a little bigger. If you want something cheap, small and realistic, though, then this dildo is the perfect choice for you!
3. Lovehoney BASICS 7 Inch Extra Girthy Realistic Dildo
---
A fat realistic dildo made from PVC – another good budget pick

Price: $24.99 on Lovehoney
This is the most realistic PVC dildo I have seen- and it's extra girthy. This is an excellent choice for those of you who love the feeling of fullness and you enjoy the sensations of being stretched. The girth on this dildo will take you to your limits, as it enters you.
Beware, though… This realistic silicone dildo is extra thick, more than might seem from photos alone. When I took this bad-boy out of the package for the first time, I was very surprised just by how girthy it was. However, personally, I love big realistic dildos, so my initial shock was quickly met with excitement, and before long I had my bottle of lube in hand and I got to work. Once you get used to the feeling of a large dildo, you will never want to go back to smaller versions, as the feeling of fullness feels absolutely fantastic.
This is one of the most realistic dildos I have ever used, but it's definitely too large for total newcomers. If you want something more easy to use and insert, then take a look at our "beginners picks". You don't need to act like a hero and get this massive piece as your very first dildo. For those of you who already know that you like it big, however, this is an excellent choice!
How to Choose the Best Realistic Dildo
---
I have been writing review articles on various kinds of sex toys for multiple years now. I have learned through personal experience what qualities a good sex toy needs to have in order to perform well, and I have learned how to analyze individual sex toys very accurately, based on performance. Throughout these years of reviewing, I have tested everything from dildos to high-end vibrators, and my body has become accustomed to only the best. I am a very critical person by nature, so if a dildo does not fit my standards, then I will not close my eyes and use it anyway. My sex toy collection is huge at this point and the only toys which see any play from me are the best-performing ones. And since I have a knack for rating the overall performance of sex toys, I went ahead and checked through my entire dildo collection, to remind myself why I stopped using some particular models and why I can't stop using some of these realistic dildos.
As I did not want my list to end with just the realistic dildos I own, I did online research in addition, by consulting sex toy reviewers and sex toy forums for some extra perspective. I compared my own experiences with the experiences of others, and in doing so, I gained a very in-depth understanding of what are the best realistic dildos on the current market.
Who should get a realistic dildo
---
I would argue that dildos would be a fantastic alternative to regular masturbation for every woman (and in some cases, man) in the world. They allow you to experiment with different sizes, different designs, and different material to see what you are comfortable with. They are an excellent first peek into the wonderful world of sex toys and in my opinion, everyone would benefit from a nice and big realistic dildo! It does not matter if you are single or in a relationship, straight or homo/bisexual… they are an incredible addition to any sex toy collection.
You should definitely consider buying yourself one of the best realistic dildos on this list, if:
You crave the feeling of being penetrated by a man, but you want to be able to experience this feeling alone, in the comfort of your own bedroom
You want to try out new exotic positions which men are not capable of… suction cups are your answer! You can fuck these realistic dildos while standing, sitting, having a shower… the possibilities are endless!
You want to experiment with different sizes and shapes inside you, to find what you are comfortable with and what brings you the greatest pleasure. For example, you might find that a curved shape massages your G-spot perfectly. Don't be afraid of experimenting!
You want to push your boundaries, by moving bigger in girth and longer in length. Good luck achieving this with men!
You want to have full control of when you have sex, and how you have sex. Your dildo will always be a good boy!
You want to experience girl-on-girl action with a realistic dildo.
How to pick the best realistic dildo
---
The huge choice of different vibrators out there can make a beginner shopper very intimidated. I experienced this myself as well when I was looking to buy my first realistic dildo. I saw so many different shapes and sizes and I had no idea which designs would suit me and which ones wouldn't. To help you in picking out the best realistic vibrator for yourself, I have highlighted some of the key points of consideration:
Girth: When choosing the size of your dildo, you should first consider your experience level. Have you ever used any sex toys? Which type of sex do you enjoy the most – the feeling of fullness in yourself, or pinpoint accurate massaging of a certain area like the G-spot? If you enjoy the feeling of fullness inside you, then I would suggest dildos with a diameter of 1.5 inches. If you want something more slender, for careful stroking of the vagina, then on the 1.25-inch realistic dildos on this list will be your best bet. A smaller dildo will be unintimidating, comfortable to use and a perfect first step into the world of dildos.
Length:  Besides the girth of a dildo, you should also consider the length. Even if you love the feeling of fullness, I would recommend all of you to start out with shorter dildos. Really long dildos might look very impressive from the outside, but they are often difficult to handle and unless it has a suction cup, you might find that you always need your partner to use your dildo properly and comfortably. However, if you have some experience behind your back and you already know how to work these realistic dildos, then go ahead and go BIG! The biggest dildos can be over 13.5 inches long, but good luck handling those beasts!
Material: Silicone, silicone, silicone! (Ok, in some cases, rubber, rubber, rubber!) In my opinion, silicone usually makes the most realistic dildos, the most smooth to the touch and the most life-like dildos. One of the most important factors in dildos is the material. If a dildo is made from cheap rubber or even plastic, then it just won't feel realistic, no matter how good the design is otherwise. Silicone comes in endless different forms, everything from squishy silicone to rock hard silicone. They all feel different, but they all have one thing in common: they are non-porous. Non-porous dildos are very practical, as they are easy to clean and they don't leave any bacteria inside. It's impossible to clean porous material such as TPE 100%, as they always leave some dirt and bacteria inside, despite even your greatest efforts to scrub and clean them.
Design: While these realistic dildos may look very similar from the outside, they feel very different during use. Even the smallest of curves in the tip of a dildo can completely change your experience, depending on where you are the most sensitive. Some women (including me) love when their G-spot is stroked, and in this case, curved models will go a long way in enhancing the whole experience. Besides curved models, there are also all kinds of twisted, bent and veined dildo designs, but I would recommend all beginners to go with something small and simple, without any crazy textures.
Suction cup: Would you like to use one of these best realistic dildos in the shower? Do you enjoy having sex while standing? If yes, then a dildo with a suction cup at the bottom will help you immensely. These suction cups allow you to mount your dildo against any flat surface, giving you the ability to use these dildos hands-free. I can say from personal experience that using dildos hands-free adds to the realism unlike anything else. I love pounding my dildos in the shower more than anything else in this world!
Price: The price range of realistic dildos is very broad, as you probably saw already. There are cheap realistic dildos, but there are also high-end life-like dildos which cost a premium but bring incredible designs and feelings. If you are a beginner, I would suggest staying around the 40$ price range. For this price, you get a glimpse into what the best realistic dildos are capable of, without losing a big chunk of your salary. However, if you already own some dildos and you want nothing short of the best, then step into the world of the absolute best life-like dildos, starting at the $100 price range.
How I picked and tested
---
In order to complete this list of the best realistic dildos in the world, I took all of the points above and analyzed how each dildo performs in a certain category. I compared over 40 of the most popular realistic vibrators on the Internet, in order to see which dildos perform well, and which ones were under performers. As experience level plays a large role in determining what is a good choice for a dildo and what isn't, I made separate categories. I found the best realistic dildos for beginners, for intermediate users and for advanced users. The best choice for beginners had to be comfortable and easy to use, but without making any sacrifices in the quality of the material and the overall design. I also took the price tag into consideration, as I felt that no total newcomer should spend over $100 on a realistic dildo. For the intermediate and advanced user categories, however, I did place as much emphasis on the price, and focus purely on performance.
After all this careful testing, weighing and discussing (with both myself and other reviewers), I had finally reached an actual ranking table of the best realistic dildos. What surprised me was that my personal choices for the best picks were almost exactly the same as the top picks of other reviewers. It seems that it's no coincidence that a select few dildos are the top picks for all knowledgeable and experienced shoppers. My opinion is one thing, but if it turns out that every sex toy enthusiast thinks in the same way as me, then my opinion becomes more, it becomes fact!