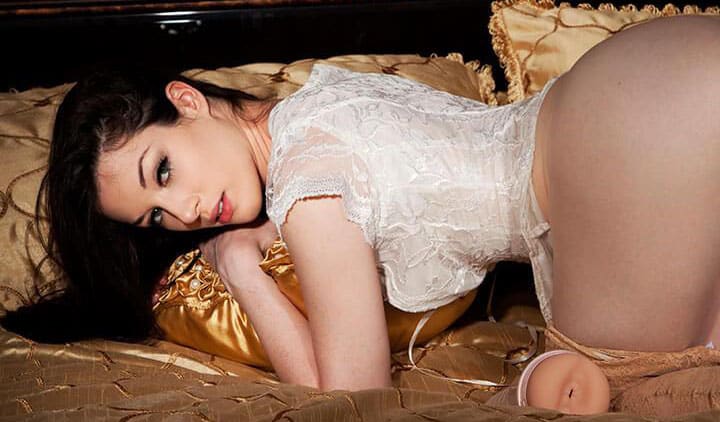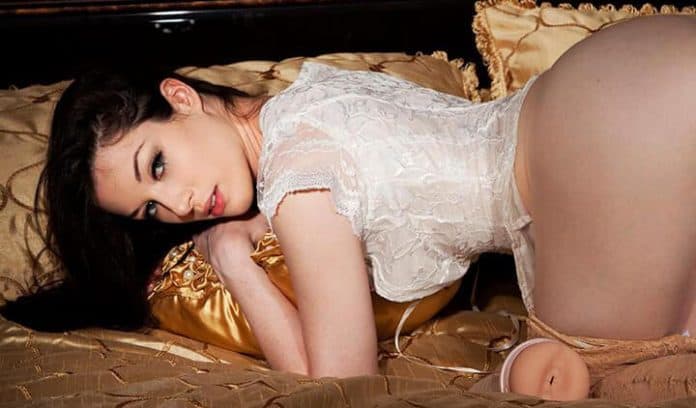 Pornstar Fleshlights are the greatest thing to happen to mankind since the invention of beer and the Internet. Not only will the best Fleshlight girl feel fantastic by itself, but the fact that they are modeled after the vaginas of real pornstars such as Stoya and Riley Reid gives the whole experience a completely new dimension.
If you've never experienced the feeling of lubing up a pornstars pocket pussy, throwing on a video of hers, and moving in rhythm with her moans, then you have not lived! For these people, I decided to write this review of the best Fleshlight girls. So, sit back, relax, and see which pornstars have offered their pussies for sale internationally:
The Best Fleshlight Girls
I have ranked all of the best pornstar Fleshlights in order from best to worst. Here is a list of Fleshlight girls featured in this review:
---
1. Stoya Fleshlight – The Best Fleshlight Girl
When it comes to the best Fleshlight girls, Stoya is my absolute top choice. Not only is she one of my favorite pornstars, but her Destroya sleeve is by far the most intense sleeve ever made for Fleshlights.
Check Price on Fleshlight

Let's kick this Fleshlight girls review right off with a big bang. The Stoya Fleshlight. She is the most popular Fleshlight girl in the world, and also the most intense. I love this sleeve so much that it also got the title of the best Fleshlight sleeve in my previous review.
The power which the Fleshlight Stoya Destroya brings to the table is absolutely unparalleled. The different chambers, together with the spikes and bumps all working together create a masturbation experience unlike anything else I have ever seen. Admittedly, I had not even heard of the pornstar Stoya when I first ordered her Fleshlight. However, after getting my hands on her pocket pussy, I quickly became a fan. In my opinion, she is the absolute best Fleshlight girl.
---
2. Dillon Harper Fleshlight
This Fleshlight girl provides an all-around excellent experience. Wide chambers, combined with tight canals and spikes make this a very versatile sleeve. It's the second best Fleshlight girl, right after the Stoya Destroya.
Check Price on Fleshlight

Next up in our Fleshlight girls review, we have the Dillon Harper Fleshlight. Unless you have been living under a rock without any Internet, you have probably heard of this pornstar. She is cute, she is sexy, and most importantly – she has a high-quality Fleshlight.
Her specialized texture, the Crush, has a very versatile selection of chambers and patterns. It starts and ends with a cone-shaped chamber, but all throughout the middle you are greeted by spirals, knobs and tight entries. This combination feels very intense, almost on par with the Destroya. As a fan of intense stimulation, I was very impressed by the Dillon Harper Fleshlight.
---
3. Riley Reid Fleshlight – The Most Realistic Fleshlight Girl
Fleshlight modeled after the gorgeous Riley Reid. It's the most realistic out of all the Fleshlight girls on this list. As it's Riley's real pussy, I fell in love with this one from the very beginning.
Check Price on Fleshlight

Riley Reid has to be my favorite pornstar in the world right now. Not only is she drop-dead gorgeous, but the sounds she makes while she is being fucked are a godsend. This may sound irrelevant at first. After all, the Fleshlight does not moan, right? However, when you are fucking Riley Reid's Fleshlight and you put one of her videos in the background, the combination of Riley's moans and the realistic feel of the Fleshlight work together perfectly.
Getting this Fleshlight girl is probably the closest I will ever get to fucking Riley Reid, but I have to say – I am totally satisfied. After all, what more can a man ask for? Having my favorite pornstars pussy in my pocket, ready to go at all times is totally unbelievable. If you are a fan of Riley, or you just want a feeling of realism in your Fleshlight, then this is easily one of the best Fleshlight girls you can spend your money on.
---
4. Lisa Ann Fleshlight
This is the best Fleshlight girl for all the milf-men out there. If you want a high-quality milf pussy in your drawer, then here is your chance.
Check Price on Fleshlight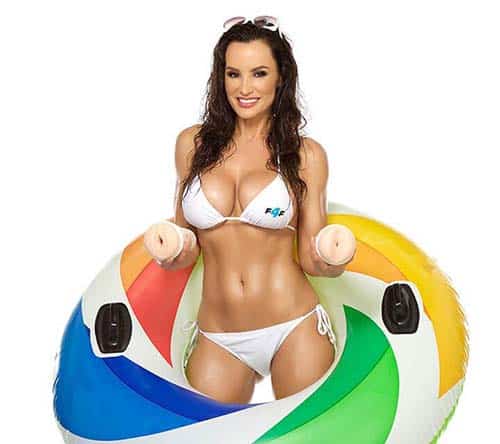 Lisa Ann is a very special pornstar. She has achieved fame not only by taking dozens of cocks inside of herself but also through political parodies and directing. She has this irresistible mature vibe to her, and it's not hard to see why she has won tons of awards in the adult industry.
But, what about her performance as a Fleshlight girl?
She is fantastic, as you would expect from the third best Fleshlight girl in the world. Her special sleeve is the Barracuda, which has two chambers full of ball-shaped bumps. These bumps massage your cock from every possible angle, giving you a totally ecstatic feeling. It does not feel as realistic as something like the Riley Reid Fleshlight, but it's in a league of its own. I can recommend the Lisa Ann Fleshlight to anyone who likes intense-feeling sleeves and milfs!
---
5. Alexis Texas Fleshlight
A realistic-feeling pornstar Fleshlight with plenty of enjoyment to offer. It's not the most intense out there, but the penetration feels great and it's an all-around solid pick.
Check Price on Fleshlight

Alexis Texas has to have the most perfect ass in existence. It's no wonder why she shot off like a rocket instantly when she became a pornstar. Some would argue that she is getting old, but I don't agree one bit. She is just as sexy as ever.
The Alexis Texas Fleshlight comes with an inside texture called the Outlaw. It features two main chambers and a canal which gets tighter and tighter the more you push. Once you reach the end, you will feel like you are pushing through the walls of the tightest of virgins. It goes without saying that this Fleshlight feels great, and it's also one of the most realistic Fleshlight girls I have tested. If you want to feel like you are fucking a real virgin, then the Alexis Texas Fleshlight is a great choice.
---
6. Jenna Haze Fleshlight
Next up in this Fleshlight girls review, we have Jenna Haze and her Obsession texture. It's powerful, nicely stimulating and not overly tight. A very good choice overall.
Check Price on Fleshlight

This is another one of the best Fleshlight pornstars in terms of intensity and stimulation. Circumcised men and all others who seek power and performance out of their Fleshlight girl will undoubtedly like this one.
It is rather heavily textured, though, so if you are a first-timer, I suggest you look at something like Riley Reid's Fleshlight. You might be tempted to go for the high-intensity Fleshlights from the very beginning, but I suggest you move up gradually, beginning with the easier ones.
---
7. Asa Akira Fleshlight
I am sure you've heard of Asa Akira – the internationally famous Asian pornstar. Her Fleshlight, the Dragon, is super intense with its twirls and spirals. Definitely another one of my top choices.
Check Price on Fleshlight

Love her or hate her – you can't deny the influence Asa Akira has had on the world of porn. She lit the fuse of Asian porn in the Western world, and now you can't go to any porn website without seeing her face. Although she is not my favorite pornstar personally, I still have to give credit to her as a Fleshlight girl.
Her sleeve, the Dragon, is very simple but super effective. It spirals around itself over and over, with some knobs between the spirals. As you stick your dick in and out of the sleeve, you will feel continuous waves of pleasure flowing over you and your orgasm spiraling out of control. Admittedly, it's not the most intense texture I have seen, but it's certainly one of the most enjoyable ones. The Asa Akira Fleshlight comes with two texture choices – the Mini Lotus and the Dragon, both of which are great. This is the best Fleshlight girl for those Asian pussy enthusiasts who don't want to get an Onahole or a Japanese sex doll.
---
8. Eva Lovia Fleshlight – The Tightest Fleshlight Girl
This is the tightest Fleshlight girl on this list. If you want to experience anal fucking a mixed girl with Spanish and Japanese roots, then this might just be the best Fleshlight girl for you.
Check Price on Fleshlight

Eva Lovia's Fleshlight is a tight one. Personally, I am not a huge fan of the tightest Fleshlight girls myself, but I know many of my readers are very much in love with them. Therefore, I had to give some credit to this girl right here.
What I enjoyed the most about the Eva Lovia Fleshlight was the middle chamber. In the middle of this Fleshlight girl, you will feel a widened chamber, and it feels very enjoyable as you are just coming out of the super-tight entrance. However, I found that this texture had an overall lack of suction because of the tightness. The suction effect from wider Fleshlights feels fantastic, so when I see a tight Fleshlight girl like this one, it's the first thing I am missing. But, as they say – different folks, different strokes. Maybe your cock will grow to love this Fleshlight girl!
---
9. Nicole Aniston Fleshlight
The pornstar Fleshlight modeled after Nicole Aniston is called the Fit, and it was designed to help you increase your sexual stamina. However, I found it to be just a slightly worse version of the STU.
Check Price on Fleshlight

We have reached a point of this Fleshlight girls review where the textures start going slightly downhill. While they are still amongst the best Fleshlight girls, they are just not on par with the top choices on this list.
The Nicole Aniston Fleshlight is a prime example of this. The design had a very cool idea – to increase sexual stamina, thus boosting your confidence in bed. However, in reality, the texture is understimulating, it's not as effective at stamina+building as the STU, and it's just outshined by the alternatives on this list.
---
10. Tori Black Fleshlight
The Torrid texture, which the Tori Black Fleshlight comes included with, is an underperformer. It has some distinctive bumps inside of it, but the overall performance is lacking.
Check Price on Fleshlight

This pornstar Fleshlight was a major disappointment for me. I am a fan of Tori Black and her videos, so when I saw the new Fleshlight girls advertisement, and Tori Black was in it, I became overjoyed. However, when I actually got my hands on the toy, I found that it did not have enough suction effect, the bumps barely did anything to me, and the Lady entrance was too wide.
In addition, the clean-up process was more annoying than usual, because of the way the chambers are designed. The best pornstar Fleshlights are all designed in such a way that the chambers are easy to access, but when it comes to Torrid, it's not so easy. Lube and cum get stuck everywhere and it's a major problem. If you truly want the best Fleshlight girl for your money, then I suggest you look at the alternatives on this list.