The choice of top-quality masturbators available for men is better than ever before. With some of the best male masturbators, you never even have to use your hands - just lay back, and let the automation work its magic. You will never want to go back to using your hands after reading this article.
When it comes to enjoying an intense jerk-off pleasure, male masturbators can't be ignored. These male sex toys are a necessity for any man who craves for an incredible sexual experience while playing solo. They are also great for stimulation and a man's stamina training in the sack. Nevertheless, with the huge amount of different male toys in the market, it's hard to find the most high-quality masturbators. Even after spending hundreds of dollars you might yourself underwhelmed unless you educate yourself on the topic.
In this article, I will dive deep into the subject of male masturbators and help you find the right jerk-off toy for your needs. The article will not only inform you about the different types of male masturbators out there, but it will also help you purchase them with confidence. However, before we do that, let's first get a clear understanding of what's a male masturbator.
What is a Male Masturbator?
As its name indicates, a male masturbator is a man's sex toy used to increase the jerk-off stimulation. These toys usually feature a soft, pliable sleeve where you insert your penis to start enjoying the stimulation. The toy is designed to help you enjoy an intense masturbation experience, similar to having fun with a partner. But, without all the added extra baggage which comes with human relationships.
Aside from stimulation, male masturbators are a great stress reliever and a lot of men also use them for stamina training. These toys are great tools for practice if you want to last longer in bed, converting you into a beast in the bedroom. Knowing that you can last long during crucial moments not only makes sex way better, but it also increases your confidence and sexual prowess when approaching women.
Also known as a cock sleeve or a pocket pussy, male masturbators range from simple to advanced toys. While some are just sleeves with both ends open, others have ridges or nubs on the inner side to stimulate oral, vaginal, anal and even breast sex. More advanced male masturbators may include vibrators and realistic body parts like buttocks, hips, and hair.
Let's have a closer look at the different types of male masturbators available.
Different Types of Male Masturbators
When it comes to shopping for a male masturbator, there are several types of toys you can choose depending on your needs. These toys come with different shapes, sizes, and characteristics, all featured to make hand-jobs livelier. 
Here are the three main types of male masturbators which I can recommend from personal experience:
Hands-Free Male Masturbators

Realistic Male Masturbators
Vibrating Male Masturbators
1. Hands-Free Male Masturbators
Hands-free male masturbators are built to enhance your masturbation stimulation with little to no effort on your side. These male masturbators come in two different types; automatic male masturbators and blowjob machines. The two toys produce different types of sensations and therefore it's important to understand what each can do.
Hands-free masturbators for men can be further categorized into:
Automatic Male Masturbators – Also known as electric male masturbators, these toys have the power to jack you off without using any manpower. Their canal textures are designed to stimulate anal and vaginal sex or anything else in between.  
Blowjob Machines – While these toys are not always automatic, they feature various canal textures that slurp, twist and tickle your cock to give you a mind-blowing blowjob experience. 
2. Realistic Male Masturbators
If you are looking to have fun with a life-like sex toy for satisfying penetration, you will need to purchase a realistic male masturbator. These toys are modeled to look like a real pussy or an anal opening, with realistic characteristics such as hair and smooth skin for an intense experience. Most of them are molded from top-ranking nude models.
3. Vibrating Male Masturbators
For those who would like to take their masturbation experience to the next level, this is the type of male masturbator that you need. The toy comes with vibrating motors on the inside to increase the stimulation, giving you breath-taking orgasms while masturbating.
Best Overall Male Masturbator: Riley Reid's Utopia & Euphoria
Whether you are a beginner or an advanced user, Riley Reid's pussy is one of the best-feeling out there. I enjoy every thrust inside her orifices thanks to the dozens of pleasure pockets included with its coiled design for maximum pleasure. That said, Riley Reid's Male masturbator gets a 4.8- star rating. It's fantastic!

Price: $69.95 on Fleshlight
Design: Molded to resemble the alluring features of Riley Reid, the Euphoria is a unique male masturbator ideal for both beginners and experienced users. This pocket pussy was launched in 2016 after Riley became a fleshlight girl – making her one of the best-selling girls in history. The masturbator is available in two signature textures, Euphoria and Utopia.
Performance: Featuring a revolutionary coiled design with unique pleasure pockets, the Utopia is the perfect blend between tight stimulation and the ribbed pleasure. The utopia is based on her tight pussy, while the Euphoria is designed to fulfill all your anal fantasies. Even better, these male masturbators give you maximum pleasure with every thrust to give you the ultimate orgasm.
Coiled design with dozens of pleasure pockets
Tight grip for unbelievable orgasms
Discreet flashlight packaging
It will start to smell if not washed properly
Best Male Masturbator for Beginners: Meiko ZXY
If you are looking for a high-quality male masturbator for a beginner, then the ZXY is all you need. The toy is easy enough for any man to use and it features an incredibly textured canal with three stimulation zones. Additionally, its 100% waterproof for easy cleaning and underwater pleasures, earning it a 4.7-star rating.

Price: $119.99 on Lovehoney
Design: Made with the innovative double-layered technology, this sex toy is a realistic male masturbator made from the pussy of a Chinese top-ranking nude model, Zhang Xiao Yu. The masturbator has a skin feel material on the outer side, while its interior layer is built with a special pink material. The Meiko ZZY has also previously eanred the title of the best onahole, so you know it's gotta be good!
Performance:  With a realistic skin feel on its exteriors, Zhang Xiao Yu's masturbator has a deeply textured canal for an incredible penetration. The inner layer gives you higher friction compared to your hand, allowing you to enjoy an amazing suction feeling. For maximum pleasure, I like to coat the toy with a generous amount of a water-based lubricant.
Easy to use for beginners
100% waterproof for easy cleaning
Soft and stretchy material that can accommodate most men
Textured canal with three stimulating zones
Top Masturbator for Experienced Men: TENGA Zero Flip Hole
If you are looking for a high-tech treat that comes with a buzzing surprise up its sleeve, the Zero Flip is all you need. It allows you to discover amazing textures and sensations, giving you full-throttle thrills while masturbating. That said, I can rate the TENGA Zero Flip at 4.7 stars out of 5.

Price: $249.99 on Lovehoney
Design: Built in a stunning design from one of the most trusted brands in the market, the TENGA zero flip is an innovative vibrating masturbator built for experienced users. Its internal textures offer strong, yet a soft stimulation in five vibration settings. Additionally, this vibrating male masturbator is semi-transparent to allow you to watch yourself penetrate.
Performance: With a strong vacuum and up to 5 vibration functions, the Zero Flip Hole offers a spectrum of amazing sensations to enjoy. The Flip Hole also makes cleaning an easy task thanks to its innovative book-like design that also makes it simple to use with your favorite water-based lube. 
Two Vibrating Cores with five settings
Manual pressure pad for easy personalization
Opens up well for easy lubricant application and cleaning
Stunning design with semi-transparent splash-proof exteriors
Could be too intense for beginners
Best Hands-Free Male Masturbator: Apollo Hydro Power Vibrating Male Stroker
Offering 30 intense vibration settings, the Apollo Hydro Vibrating stroker has the widest range of playing possibilities. I like that it comes at a considerably low price and it delivers an awesome hands-free fun thanks to the reliable suction cup at the base. Considering its performance, I can rank the Apollo Stroker at 4.5-star rating.

Price: $69.99 on Lovehoney
Design: If you have ever struggled to find the ideal male sex toy ideal for a hands-free position, then the Apollo Hydro Vibrating stroker is here for you. I like that the toy can easily bend backward to please you in any position, making it simple to discover all its 30 intense vibration settings.
Performance: Lined with numerous gratifying nodules, the Apollo Vibrating male stroker massages your penis with intense pleasure during use. While it offers a wide range of playing possibilities, this electric male vibrator also comes with a high-tech memory chip that resumes your last pleasure setting. Additionally, it's totally waterproof and it has a strong suction cup at the base that helps it stick on any smooth surface. 
Strong suction cup for hands-free performance
100% waterproof for having fun in the shower or bathtub
2-button user-friendly interface
Up to 30 vibration settings
The masturbator is a little noisy while in use
Top Vibrating Male Masturbator: Cobra Libre II
The Cobra Libre II is a top masturbator for any man who wants to take his masturbation adventures to the next level. I would go with the Apollo Male Stroker for the price, but the performance of the Libre II is well worth the price. You can explore several patterns and speeds, giving you playtimes like no other. That considered, the Libre II earns a 4.5-star rating.

Price: $129.99 on Lovehoney
Design: Unlike most male masturbators on our list, the Cobra Libre II is a male luxury vibrator that pinpoints your frenulum and glands for a revolutionary erotic experience. As the best vibrating male masturbator on the market, the Libre II delivers targeted stimulation to enjoy knee-trembling orgasms. Additionally, it rocks an ergonomic design with an innovative push-button interface.
Performance: Differing from other electric male masturbators, the Libre II focuses on pleasuring your sweetest spots, the frenulum, and head. That means the toy is perfect for any man, despite the girth or length of the penis. Moreover, this fully rechargeable masturbator is totally waterproof and super-quiet while in use. Here is what I like about it:
Super-quiet for discretion while using it
Totally waterproof for water sports
Rechargeable and eco-friendly batteries
Powerful motors for an incredible head and frenulum stimulation
No memory card to recall the last setting
Can't be used while plugged to the charger
The Best Blowjob Machine: The Fleshlight Launch
As mentioned in my full review on my blowjob machine page, the first thing you might be thinking is "what is this thing". It looks... like a robot. It is like NO OTHER product you have ever tried. Hooks up to VR, and feels like nothing else you've ever tried.

3-strokes per second (180 per minute)
Your dick will never be the same
Good value all things considered
Might take you a few minutes to figure it out
Most Realistic Male Masturbator: Alana Pro Elite Mega
Though Alana is a little heavy and costly, it's a wonderful investment for both beginners and experienced users. It can be used for role-playing to simulate a threesome and also make all your fantasies come true whether alone or with a partner. All things considered, Alana Pro Elite earns a 4.4-star rating.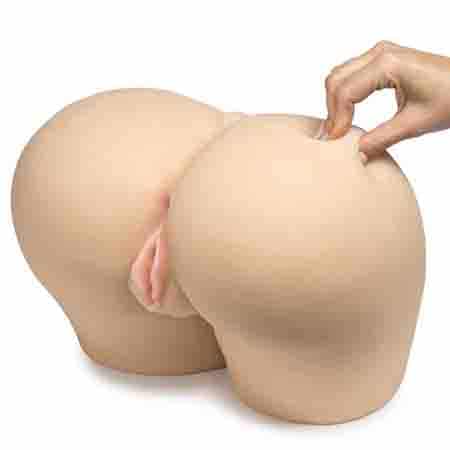 Price: $299.99 on Lovehoney
Design: The Alana pro Elite is a full-scale ass and vagina masturbator that features a luscious rear and a realistic feel. The toy measures 27-30 inches on the waist, while the hip measure about 36-38 inches, making it weighty and stable enough for you to enjoy hands-free use. Even better, Alana can wear medium sized panties for more fetishes.
Performance: Whether you plunge in her plump pussy lips or tight little ass, Alana's two distinct canals offers twice the excitement and stimulation. I like to stroke her soft skin and also spank her ass when sliding my inside her to enjoy a deliciously life-like experience. Additionally, her two canals are well positioned for optimum exposure and access.
Realistic ass and vagina masturbator in doggie style
Sized for an exciting realistic experience
Positioned for maximum exposure and penetration
Stable and weighty enough for hands-free use
It a bit heavy and hard to clean
Male Masturbator which feels like a blowjob: Colt Mighty Mouth
While the insertion hole may not seem to be deep enough at first, the Colt masturbator is designed to locate its vibrations perfectly along your shaft. It comes at a very affordable price and it feels incredible while thrusting. Overall, the Colt Mega Mouth ranks at 4.3-stars.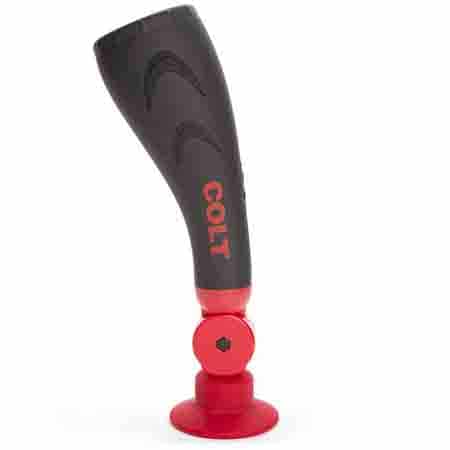 Price: $64.99 on Lovehoney
Design: Do you like getting blow jobs often than it's possible to get? If you are anything like me, then this mighty mouth is the toy for you. This electric male masturbator from Colt boasts of a high-quality sleeve replete on the inner side with licking tongues. 
Performance: With licking tongues, the Colt Mega Mouth flickers against your shaft as you continue to thrust your way to knee-shaking orgasms. As I slid in the masturbator for the first time, I got the most stimulating feeling ever thanks to its tightness and 30 intense vibration patterns. Additionally, the suction cup base comes in handy for couples who want a hands-free masturbator for foreplay.
Mighty mouth vibrations with 30 settings
Strong suction base for hands-free insertion
Easy to remove internal sleeve for cleaning
Full-Scale Male Masturbator: Sujimann Kupa Cocolo
The Kupa Cocolo is a good looking male masturbator that's quite easy to handle with a single hand and also comfortable enough for both hands. It was a bit tricky to clean at first, but after using it several times, it got a lot easier. Overall, the Cocolo male masturbator ranks at 4.4 stars and is highly recommendable for experienced users.

Price: $147.95 on ToyDemon (Updated)
Design: The Kupa Cocolo is one of the most unique male masturbators from the Sujimann series. Its tunnel structure design sets it apart from the rest on the market, making it ideal for beginners and experienced users alike. The toy looks like an ordinary two-hole masturbator, but it actually has a single tunnel fixed in an innovative 'U'-shape.
Performance: Just like other sex toys in the Sujimann series, the Kupa Cocolo boasts of a dual-layered construction with a soft skin on the outside. The inner side of the toy is lined with a hard and stimulating material that gives you a nice and soft feel when penetrating. When I choose the anal path, a flapper exists at the back and closes with the out stroke to maximize the suction.
Innovative tunnel structure (U-shape) design
Dual-layer construction for intense sensation
Its comfortable and easy to use
Cleaning can be a pain for beginners
Most Discreet Male Masturbator: Vibro Pink Lady Masturbator Fleshlight
If you are looking for a realistic pocket pussy with stimulating nubs to give you an amazing orgasm, the Vibro Pink Lady Fleshlight is all you need. It has a tight and realistic vagina opening, giving you a thrilling arousal while masturbating. Everything considered, I can rank the Vibro Fleshlight at 4.1 stars.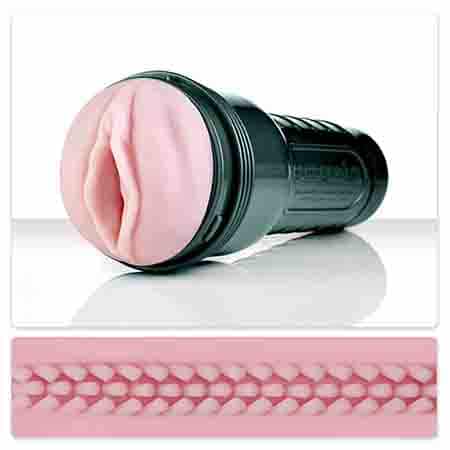 Price: $89.99 on Lovehoney
Design: Do you want a male masturbator that you can use without attracting the attention of your neighbors or family members? If yes, the Vibro Pink Lady Fleshlight is what you need. This male sex toy comes with an ultra-realistic sleeve with tons of stimulating nubs inside its discreet casing.
Performance: This tight and realistic pocket pussy gives you a delicious sensation thanks to the dozens of pleasure nodules surrounding your shaft. The nodules caress your penis to an almighty climax, giving you awesome orgasms while jerking off. Additionally, it looks just like your ordinary flashlight while not in use. 
Tight and temperature responsive vagina opening
3 bullet vibrators for a thrilling arousal
9-inch insertion length to fit most men
Features a discreet package
May smell if not well washed
Most Interactive Male Masturbator: Kiiroo TITAN Vibrating Male Masturbator
The Kiiroo TITAN male masturbator will take your hand jobs to the next level whether you are playing alone or with your partner. The vibrations will increase your sexual stamina and help you last longer in bed, though the expectations shouldn't be set too high. Additionally, I would recommend powdering the toy after cleaning. That said, I can rate the TITAN male masturbator at 4.1 stars.

Price: $149.99 on Lovehoney
Design: With the Kiiroo TITAN masturbator, your Jerking-off fantasies just got a major upgrade. This interactive 9-motor male masturbator synchronizes with your phone to allow you to enjoy the best long-distance experience with your partner.  You can also sync it with your favorite porn video for an immersive experience during solo sessions.
Performance: Functionality-wise, the Kiiroo TITAN male masturbator is both a hit and a miss. It has multiple functions that work well for those looking for an increase in stamina, oral stimulation or the traditional sex simulation. You can control the vibration strengths by using the touch-sensitive buttons, allowing you to personalize the sensation.
Interactive sensual experience
Sync with your phone for couples fun
Features a removable 8.5-inches sleeve
How We Chose the Best

Male Masturbators
To get the best male masturbator, you need to consider several factors including:
Obviously, the first thing you need to consider when buying a male masturbator is the size of your penis. Thankfully, most masturbators on the market are built to fit almost any man, unless you have an extremely large or small penis size. Nevertheless, you will need to buy a small toy if you need to keep it hidden from children, friends or other family members.
While quality is one of the most crucial factors in selecting a male masturbator, it goes hand in hand with the price. However, that's not always the case. In most cases, you will need to read various reviews and check the product for safety to ensure it's not allergic to your skin. Luckily, you don't need to do all that with any of the products on our list below.
Realistic or Fetish Experience
Depending on what turns you on, you should pick the male masturbator with the aesthetics that suits your needs best. You should try something realistic if you are using the masturbator for stamina training, but you are free to get as wild as you want if all you need is pleasure. 
Nevertheless, you can find the best male masturbator for your needs in the next part of this top male masturbator review.
How to use a Male Masturbator
Whether you need a male masturbator for stamina training or just for pleasure sake, it's important to know exactly how to use it. Here is a quick guide to give you exactly what you need:
Get Prepped – Like most sex toys, all male masturbators need to be used with a lubricant to make it easy to insert. That also helps you to enjoy delicious stimulations without having to endure any uncomfortable friction. I like using a water-based lubricant with my toys, but the type of lube you use depends on your masturbator's material.
Using a masturbator for stamina boosting – When it comes to delaying your ejaculation, "edging" is the most popular method used. For that, you can condition your body's responses by stopping the masturbation process moments before climax and continuing the process after a minute. That will help you improve your pleasure tolerance level.
Using a masturbator with a partner – While male masturbators are great for solo jerk-off experience, they are an exciting addition to couples fun. For this, a semi-transparent masturbator such as the TENGA Zero Flip Hole is great for both of you to have an intimate view of the play.