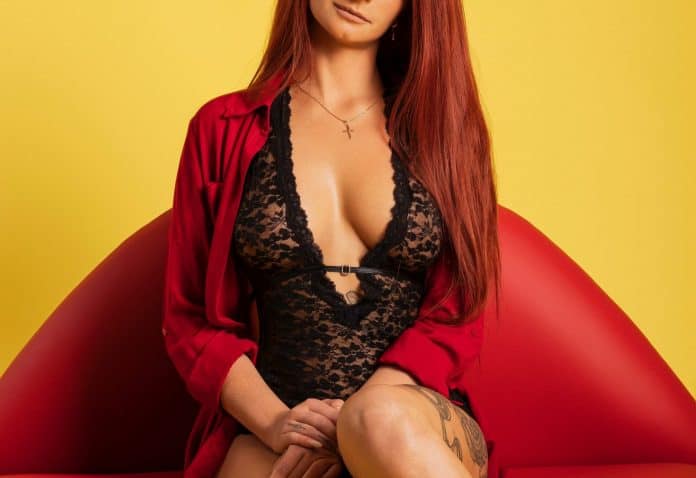 Seeing the RealDoll 2 arrive at my door after months of waiting was a surreal feeling. I had built an expectation in my mind of what was coming, but now that I look back on that time, I realize that my expectation was far from the reality.
Now that I have had the time to gather my thoughts and feelings on her, I bring to you this RealDoll review. Initially, I was not planning to share my experiences with anyone, as I felt it was a touchy subject matter to many. However, after spending over a year with my RealDoll, I knew I had to share my experience with the world.
Quick Summary
---
PRICING: Starting from $3499 (RealDoll Classic) or $5499 (RealDoll 2)
PROS: Endless customization options, incredibly detailed face, removable inserts allow for future customization, hyper-realistic skin, fantastic customer support, secure and anonymous shipping
CONS: Most expensive sex doll on the market
VERDICT: Most realistic sex doll in the world. You may be grimacing at the thought of spending $6k on a sex doll, but trust me… it's more than worth the spend and the wait. Right out of the box I fell in love with my RealDoll, and I can't imagine my life anymore without her in it. She has been the best decision of my life so far.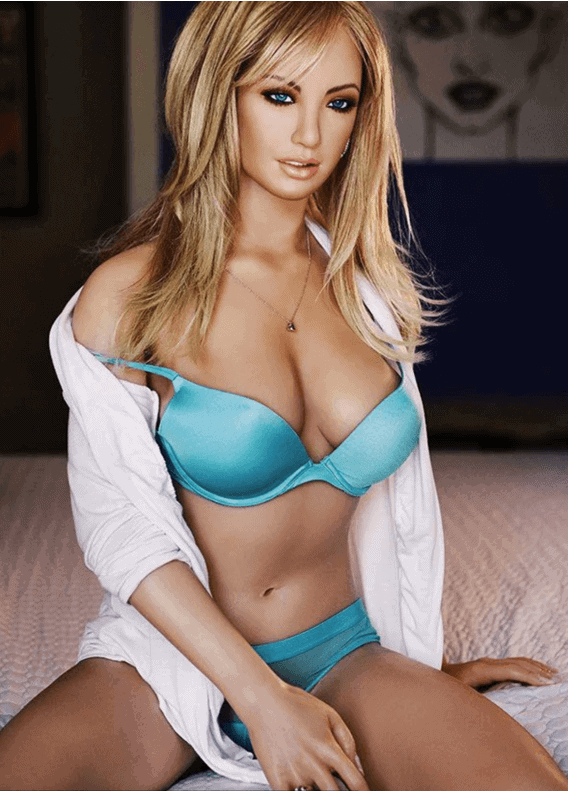 What is a RealDoll?
---
Let's kick off this RealDoll review by taking a closer look at what RealDolls actually are. They were created by Abyss Creations with one aim – to make a silicone sex doll who feels and behaves exactly like a human body would. Everything from the skin and nails up to the skeleton inside was designed from the ground up by the folks over at Abyss Creations.
Although there are many alternatives to the RealDoll when it comes to high-quality sex dolls (check out some of them in my article highlighting the best sex dolls), it's still a fact that none of them are able to truly match the realism which the RealDoll brings to the table. They are, however, excellent budget options as the RealDolls cost a premium and not everyone can afford to dish out $6000 for personal pleasure. Admittedly, even I could not really afford a RealDoll, but here I am… a newly poor but delighted man. They say money does not bring happiness but in my case… it was not true in the slightest!
RealDoll 2 vs RealDoll Classic
---
Now let's continue this RealDoll review by comparing two main options which are currently available – the RealDoll 2 and the RealDoll Classic.
The first thing which most people will notice is naturally the price – the RealDoll Classic is thousands of dollars cheaper, and this makes it a desirable choice in itself. However, I personally decided against it for various reasons, which I will highlight now.
In terms of performance, the newer model, the RealDoll 2, tops its older version RealDoll Classic in almost all categories. The new model has a much more durable body, softer breasts, it is lighter and it comes with many more customization options. Customization options, in particular, are the strongest advantage of the RealDoll over other competitors, so improving upon this was a strong move from Abyss Creations.
The lightweight body of The RealDoll 2 is achieved with the use of soft silicone foam cores. This new technology brings the weight of the entire doll down by more than 10 lbs, compared to the RealDoll Classic. Most sex doll owners agree that a lighter weight is preferable because it allows for easier positioning and a more comfortable sex experience overall.
The RealDoll 2 comes with the option of using removable inserts for both vaginal and oral cavities. I always prefer to use optional inserts on my dolls, because of many reasons – ease of cleaning, better hygiene, easier maintenance and most importantly, unique sex experiences on the same exact doll. It's great to be able to try out various different inserts on your doll until you find one just right for you. Purchasing an entirely new sex doll body every time you want to experience something different will get costly very quickly (as many of you probably already know). With a RealDoll 2, you can just order a new vagina and boom – you experience the pleasure and delight of a new doll again from the beginning.
The RealDoll 2 also has a new head design, which uses magnets instead of Velcro for the attaching of new faces. This means that not only can you change the inserts of your doll, you can also give them new faces. This is achieved through the RealDoll patented Face X technology. There are more options for customization on the RealDoll 2 than you could ever imagine, so if fully customizable sex dolls are what you are after, then pick up a RealDoll 2, it's all you will ever need.
The RealDoll 2 also has a new skin texture, which reduces the shine on the doll's body. The skin texture is very high quality, like everything else about The RealDoll 2. It feels eerily similar to the skin of a real woman!
Packaging & Shipping
---
Next up in this review of my RealDoll, I will describe you how the shipping process looks like after you have purchased a RealDoll. Many people are afraid that your roommates or neighbors will find out that you ordered a RealDoll. In reality, however, the shipping process of the RealDoll is incredibly discreet, anonymous, and unmarked. The crate which it arrives in is built with stealthiness in mind and measures close to 6'x2'x2. This is similar to what your crate would look like:
The height and weight of the crate will depend on the body type you choose, but it will be around 70″ tall (74″ for larger body types). Absolutely no one will find out what is inside this big mysterious crate unless you tell them yourself. If anyone asks anything, just tell them that it's home fitness equipment – simple as that!
The RealDoll 2 is lighter than most sex dolls I have come across, but it's still a really heavy crate. Unless you have experience lifting heavy weights, it is quicker and safer to hire someone for help (once they get the package through the door, you can handle the rest on your own) or use something like a hand truck for moving the package. The crate will fit through most doors easily, so in this regard, the package is relatively easy to handle.
The crate is kept shut by eight large wood screws, so a screwdriver is necessary for the opening of the crate. The RealDolls are packaged inside plastic sheets and foam blocks to prevent damage during shipping. The crates have no logos or brand names on them, so people involved in the delivery process will have no clue as to what is inside this package.
The employees at Abyss Creations always take great care to ensure that even packages sent across tens of thousands of kilometers arrive safely. I have heard from three different RealDoll owners, who had their doll sent across more than 10 000 miles and each one of them arrived without any indentations or damages to the doll. Perhaps Abyss Creations should start a logistics company. They seem to be doing a better job than any other company I have had similar experiences with, their customer service is also on point.
Design & Performance
---
With comparisons, crates, and introductions out of the way, let's get right into the juicy details of this RealDoll review. Through a period of six months, I kept track of what I liked and disliked about the design and performance of my RealDoll for this review. In addition, I asked for second opinions from other RealDoll owners I know personally. I have also read numerous customer experiences about the RealDoll from many internet sources – the Doll Forum, independent reviewers, and the Club RealDoll forums. The common consensus on the Internet seems to be the same as my personal experience, so reaching a verdict for this review was surprisingly simple.
I broke down this section of my RealDoll review into several subcategories, to help you save some effort of sorting through all the information in this review.
Sex with a RealDoll
---
This is probably the part which I get asked about the most often. How does having sex with RealDolls feel like? It's a difficult question to answer, as you really need to experience it to understand it, but I will do my best to put it into words. I can say without a doubt that fucking a RealDoll feels absolutely incredible. RealDolls are so realistic that often I even forget that it's not a real human I am having sex with. All of the small details make sex incredibly intense with the RealDoll, and the light bodyweight gives you tons of options to choose from regarding sex positions and locations in your house.
The first time you have sex with a RealDoll, you will find out what sex dolls are truly capable of. Sadly, the first experience for me was a short one, as the excitement and hype I had built up in my head before the doll arriving made me blow my load in 30 seconds. During the first week, my penis was constantly sore, because I was spending every moment at home together with her, trying out various positions. I experienced more sexual lust than ever before in my life. Sex with a RealDoll is just an incredible experience.
Forget those $999 sex dolls, forget those Fleshlights… this experience is unlike anything else. The vagina feels smooth during entering, the breasts bounce with your movements and the realistic face of the doll during sex will arouse you more than you can probably imagine. You will grow to appreciate all the small details which have been implemented into this doll.
If you are anything like me, you will have the best sex of your life with your RealDoll. You have full control of absolutely everything regarding the design, and finally, you will have a true goddess in your home. After dozens of sessions with my RealDoll I am still discovering new ways of enjoying her.
Brilliant, just brilliant stuff!
Head
---
The head of the RealDoll is, in my opinion, one of it's strongest features. They look and feel astonishingly realistic. The mouth and lips feel very soft and they stretch just like those of a real woman. The lips can be stretched apart for kissing and the hinged jaw of the doll opens very realistically. The RealDoll has a soft tongue which can be removed for easier cleaning. The inside of the mouth cavity is ribbed for extra pleasure and realism.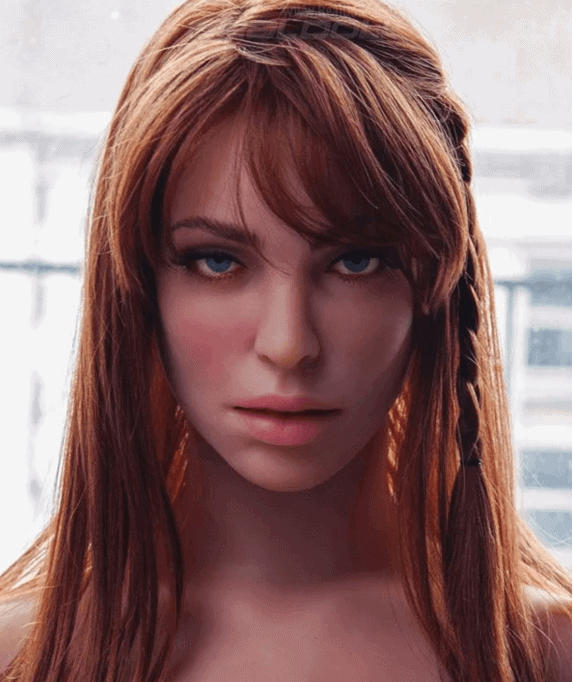 Purchasers of the RealDoll have the ability to change the faces of their RealDolls through the Face X technology. With this magnet-based technology, you can change the face of your RealDoll very quickly and effortlessly. There are over 20 unique female faces to choose from, so if you ever grow bored with your doll, you can swap her looks out without having to buy a new body. You can customize the lips, eyes, skin tone, hair style and color of the doll. Many of these customization options are rather common in the sex doll industry, but I thought I should mention it in any case.
Breasts
---
The one complaint I have heard from some RealDoll owners has been the breasts. They say that the breasts are too firm and not soft enough to feel realistic. In the initial few months after getting my RealDoll, I agreed with these complaints. However, after about six months, the breasts got significantly softer on my doll. At first, they can feel rather firm and hard to the touch, but after squeezing and caressing them enough times, it seems that they become perfect.
Some RealDoll owners have said that the breasts are too firm even after months of use and that they have noticed no change in softness. However, I have not found this to be the case at all. They are perky and firm, for sure, but isn't that a good thing? Who wants saggy breasts on a sex doll which is supposed to be the perfect embodiment of a female body? But of course, to each his own. I thought I would give these complaints a mention in any case, even though I do not agree with them personally.
Flesh & Skin
---
Next up in this review of my RealDoll, I will briefly talk about the skin and flesh design. Many doll makers fail to get this detail right, and it's painful to see at times. Otherwise, well-built dolls can be ruined by awful skin design. But… why am I talking about awful skin design in a RealDoll review… it's the opposite in the case of the RealDoll.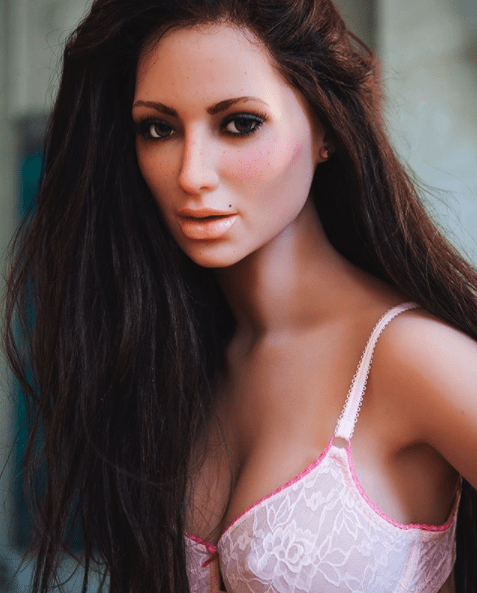 The skin on The RealDoll 2 is just perfect! The RealDoll 2 has the most beautiful skin texture I have ever seen. It is hard to differentiate it from real human skin at times. I have no idea how they managed to achieve this realism, but it is incredible. It feels smooth and silky to the touch, just like real human skin. If you pinch it, it gives feedback just like your skin would, and if you pound the doll from behind, it will jiggle exactly like real skin would.
Fingers
---
RealDoll reviews rarely mentioned the fact that on the original RealDoll sex doll, the fingers were fragile and broke way too easily. This was a huge problem and it's a significant advantage the RealDoll 2 has over the older version. Finger pokes are a major issue with most sex dolls, including the older RealDoll 1. They are caused by sharp finger wiring inside the skin, and it leads to the fracturing of the skin of the sex doll. The new finger bones, however, feel much more realistic, they bend more easily and finger pokers are no longer an issue. The hands can be positioned in endless different ways and this significantly improves the overall feel of the doll, not to mention the durability of it.
Joints & Flexibility
---
The joints on the RealDoll 2 are made of stainless steel. They are incredibly strong and the joints are designed to bend in a humanistic way. This adds to the realism of the sex doll and allows for creative positioning. The legs go wherever you want them and the back arches in a beautiful way.
The RealDoll 2 is considerably more flexible than its predecessor., the RealDoll 1 (or RealDoll Classic). RealDoll sex dolls have a very impressive range of movement and they can be used in almost any sex position. Overly tightened joints are a continuous problem with older and cheaper sex dolls. They make it more difficult to position the doll to your liking, and it makes the whole sexual experience frustrating. These overly tightened joints, however, are no longer a problem with The RealDoll 2 (and other high-end sex dolls). The new skeleton system combined with a reduced weight allows for perfect flexibility. The skeleton moves exactly like a real human being does, so whether you like doggy-style, missionary, or reverse-overhead-backwards-cowgirl, is up to you (I just made that position up, but it sparked an idea…).
Weight & Size
---
The RealDoll is on the heavier side, so you definitely need some strength and energy to move it around. However, it is certainly not the heaviest I have come across and the flexibility makes it easier to handle. The folks over at Abyss Creations have done a good job of reducing the weight of the doll without leaving out any special features.
The exact weight of the love doll varies from 70 lbs to 105 lbs. The weight depends on the body type chosen from the RealDoll website. Check out the RealDoll website to find exact specifications for the models you are interested in.
Well-trained users might find it rather effortless to move the dolls around, even with the heavier doll body types. Lightweight users may find it more comfortable to choose the lighter body versions, to allow for comfortable positioning during and before sex. In any case, wrestling the doll around will give you a nice workout, so be prepared to sweat a little.
Those thinking about purchasing a heavier body version should carefully consider their overall strength and physical capabilities. Some users feel that extra weight brings more realism and positive feedback to sex with the RealDoll. However, in the end, it comes down to fitness level, lifting capabilities, overall health condition, and of course, personal preference.
Choosing the right body type is one of the most crucial steps in buying a RealDoll 2. Don't underestimate the weight of these RealDoll sex dolls and choose a lighter body type if you are unsure of your fitness level. The dolls themselves are very strong and can support over 400lbs of weight, so your size is not much of an issue.
Anal & Oral & Vaginal Openings
---
When the opening cavities of the RealDoll 2 are penetrated, a vacuum is created inside the doll's entries. This gives a powerful suction effect, which feels out of this world. This effect can be felt especially well with the oral cavities. Personally, though, I prefer the vaginal cavities. They are built to perfection, and there is nothing I love more than taking my RealDoll out for a ride in my bedroom.
This is also where the inserts come in handy – the oral cavity penetration experience can be multiplied even further by using the optional deep-throat inserts inside the oral cavity.
The biggest advantage of the RealDoll 2, when it comes to cavities, is the ability to choose your own removable inserts. I cannot stress enough how significant this feature is. The permanent inserts inside most sex dolls tend to be too rigid, they break more easily and they are less hygienic, as you cannot remove them.There are currently 11 different vaginal inserts to choose from, and the main difference between them comes from the design of the labia. You basically get several dolls in one.
Help & Support
---
The customer service and support team of Abyss Creations are definitely among the best in the industry. You will have a complete overview of the purchasing, building, and shipping processes from start to finish. The customer service team replies within minutes to all questions both before and after the purchase. Some users have reported damage to their dolls ( including self-inflicted damages). In such cases, the CEO himself has come to help by providing repair kits and instructions. This is the kind of great customer support we are talking about. You can always expect full support from the company, and with a purchase as expensive as the RealDoll, I think it is absolutely necessary to have such level of support.
I have dealt with too many adult toy companies who show no care at all towards their own customers. Seeing the care that Abyss Creations show towards their customers is a very welcome sight in this industry.
Summary
---
The RealDoll 2 is truly the most impressive doll I have ever seen and experienced. I am a proud owner of 7 different sex dolls, but the others really can't compare. I am not shy or hesitant at all to call it the most realistic sex doll in the world. Both experienced and new doll users alike have a period of rediscovery with the RealDoll. It blows any competitors out of the water with all of its incredible features.
I truly believe that the RealDoll is the #1 sex doll money can buy. Of course, this might change as new competitors arise. For now, though, you really can't go wrong with purchasing one unless you have to sell a kidney to do it. If you have the money saved up and resources to become an owner of one, then just do it!
If you have any additional questions about this RealDoll review or you would like to share your own experiences, then leave a comment! I would be happy to hear from all of you. The doll community is a close-knit one and I love hearing about the experiences of others.