I have to admit it, I am a greedy man at times. I want the best of both worlds all at the same time – cocks, pussies, breasts, asses… After all, how can I choose just one? Maybe I am the only one with this kind of a greedy attitude, but since you are reading this article… I guess I am not the only one! There is nothing sexier in this world than a beautiful ladyboy sex doll, and soon you will see why.
In this article, I wanted to feature the best shemale sex dolls I have ever come across. They combine the feminine and masculine traits of a beautiful human body in a brilliant way. Transgender sex dolls have come a long way in recent years, and you would be a fool not to give them a chance. Although the selection of Japanese futanari dolls is a bit lacking as of right now, I still highlighted some of the better one at the end of this article.
So, without any further introduction, let's get right to it…
#1. Shemale Sex Doll With Transgender Insert
---
The best shemale sex doll in my collection. It's incredibly life-like and it has a removable penis. This kind of quality comes at a premium cost, though.

Price: $2299 on SexyRealSexDolls
I fell in love with this shemale doll from the very beginning. It has a gorgeous face, beautiful hair, and most importantly… the ideal transgender fuck doll qualities. Not only does it have a voluptuous pair of tits, but it also has a super realistic cock, which can be removed to reveal the high-quality vagina inside. Both the cock and the vagina feel fantastic, but mostly I found myself using the penis insert, rather than the vagina.
Another advantage this shemale doll has over all other is a major one. The penis insert can be removed, and used inside other sex dolls. Therefore, if you own any other regular dolls, you can turn them into your very own custom tranny dolls! Isn't that great? I have a huge collection of dolls, so trying out the penis insert on them one-by-one is very, very fun.
If you want the transgender insert separately, then you can also buy it for $150 on SexyRealSexDolls. I totally recommend this insert by itself – it's the perfect tool for anyone interested in shemale sex dolls.
#2. Shemale Real Doll
---
The best shemale sex doll torso out there. Both the penis and the vagina are luxurious quality, as is always the case with the RealDoll.

Price: Starting from $399 on RealDoll
Once again, we have the RealDoll. There is just no way around them – if you want top-notch quality, you have to consider the Realdoll. They release absolutely superb products, and the Insert Facilitator Torso is no exception. The penis insert is the famous RealCock 2, which is the absolute best realistic dildo on the market right now. The testicles, the head, the skin… it's all just perfect. The $399 price does increase, however, if you want both the torso and the shemale sex doll insert. The RealCock 2 by itself costs $499, but it's more than worth the price, if you want the best quality.
I recommend this shemale real doll to anyone who wants a doll which is easy to store, luxurious quality, and super realistic. It's just sad that it does not have any breasts – I would have loved a version which has both big breasts and a large cock.
#3. Tranny Sex Doll 
---
This tranny sex doll is another beautiful life-size transgender sex doll. A beautiful pair of breasts and a realistic cock are just some of the reasons to love it. But, the penis cannot be removed, unlike the #1 pick.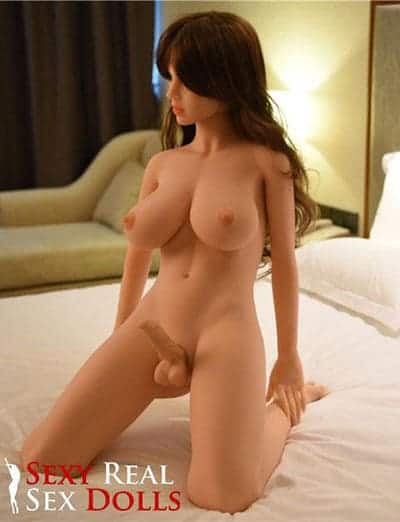 Price: $2099 on SexyRealSexDolls
This is the second of the two life-sized transexual sex dolls I wanted to feature on this list. It should not be difficult to figure out why it deserved a place amongst the best. The big erect cock, the juicy tits, the beautiful face… it's an incredibly sexy shemale doll all throughout.
It's mostly up to personal preference as to whether you prefer the look of this shemale doll or the #1 pick. Personally, I prefer the face design of the number one pick, and it's also worth mentioning that this doll does not have a removable transgender insert. It has, and will always have, a cock erect and ready to go. This can be both a positive and negative depending on your preferences. Personally, though, I like having the option of removing the penis insert.
There is no question about it, though – this tranny love doll will bring you plenty of lovin'. I can recommend it to anyone who wants a fantastic shemale sex doll, and who is not interested in removing the penis of their tranny doll.
#4. Futanari Sex Doll
---
A Japanese futanari sex doll with juicy breasts and a throbbing cock. It's quite cheap and good, but it lacks a vagina, and the skin is not as realistic as the first three picks.

Price: ~$439 on otonaJP or $591 on Kanojo Toys 
Futanari is the Japanese term for someone who possesses both feminine and masculine traits. Therefore, these are the Japanese versions of transgender sex dolls. They serve the same function though, so don't pay too much attention to the futanari doll name, if you are unfamiliar with the term.
Although generally, I am a fan of Japanese sex dolls, I could not help but notice some of the flaws in this futanari sex doll. Firstly, the skin quality is not nearly as realistic as on the shemale Real Doll. They are in a similar price range, so I would definitely recommend going with the shemale Real Doll, if you truly want the best shemale sex doll torso. Also, with the lack of any vaginal cavity, it's not nearly as multifunctional as the Real Doll. Some of you might not care for a vaginal hole, but personally, I like having multiple options, especially in the case of futanari dolls.
#5. Serina Tachibana Futanari Doll
---
The second futanari doll on this list. It's similar to the fourth pick – nothing amazing, but it gets the job done. It's also fairly cheap, so it might be an ok choice for those of you on a very tight budget.

Price: $166 on Kanojo Toys
Here we have another futanari doll from Japan. The cover art on the box is very sexy, but if you take a look at the actual product, then your excitement will most likely quiet down a bit. The penis is not as realistic as you would expect from a $166 shemale fuck doll, and the breasts are nothing to write home about. It's a decent product, but why should you settle for decent, when you have much better options to choose from? The only advantage I can point out is the price, though. It's a very cheap shemale love doll. But, that's about it when it comes to positive things I have to say about it.