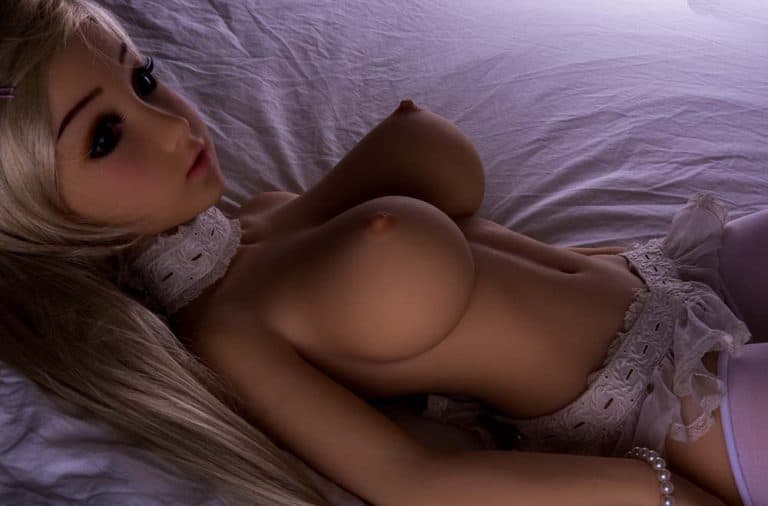 Having bought dozens of sex dolls throughout the years, I have developed an understanding of where and how to buy new dolls. By now my collection of love dolls is worth tens of thousands of dollars, but it has not always been like that. Like many others, I started off with cheap sex dolls – dolls which cost a fraction of the price of something like a RealDoll. In fact, the very first doll I ever bought cost less than $100. While it was crappy, to say the least, it was still worth it because it allowed me to gain more experience in doll shopping.
Nowadays, I am familiar with most of the sex dolls out there, both cheap and high-end. Therefore, I thought I would be in a good position to write an article on the best cheap sex dolls which I think are actually worth the investment. There are loads of cheap love dolls out there which are absolutely worthless, but there are plenty of dolls out there which showcase fantastic features for an inexpensive price. And those are the types of cheap sex dolls I want to feature today. Sit back, relax, and find out what kind of bargains the world of sex dolls has to offer…
Best Cheap Sex Dolls for 2022
Cheap sex dolls are the most affordable and inexpensive types of dolls out there, but they are usually not full-sized. Most of the top cheap sex doll picks on this list are small-sized, or doll torsos, so if you are looking for full-sized dolls, you might want to look at our article on the best sex dolls. If, however, you are in the market for realistic sex with a doll, without breaking your bank, then these cheap sex dolls are the perfect solution.
---
Cheap Sex Dolls Under $500
---
1. Pipedream EFMS 2 – Best Under $500

Price: $374.99 on Lovehoney
To kick things off, I want to introduce you to the Pipedream Extreme Fuck Me Silly 2. While the naming of this torso leaves some room for improvement, the doll itself is fantastic. It's considerably cheaper than most similar alternatives, and sex with the doll feels highly realistic. The breasts are super fun to play around with, and the ass and vagina feel super tight and enjoyable. It's no wonder why the EFMS 2 earned the title of the best sex toy for men from my friend Justin. If the lack of a face and full body don't bother you, then the Pipedream EFMS really is the best cheap sex doll under $500.
---
2. Realistic Silicone Ass and Vagina

Price: $299 on Silicon Wives (10% discount by signing up to their newsletter)
This silicone ass is highly advanced, as it's built from medical-grade silicone. For those of you unfamiliar with high-end sex dolls, let me give you a quick rundown. Silicone is considered the most luxurious material available, and it's used only in the most premium sex dolls in the world. Usually, silicone sex dolls cost upwards of $1500, but in the case of torsos such as this one, you have a real bargain at hand. Experiencing sex with a silicone doll for less than $300 is a wonderful opportunity. The Realistic Silicone Ass and Vagina is one of the best cheap alternatives to high-end sex dolls.
---
3. Realistic Inflatable Sex Doll – Best Under $100

Price: $69 on Amiga Toy
At number two, I chose to feature this Asian blow up doll manufactured in China. As a blow-up doll, it doesn't and can't have the same advanced features and materials which high-end dolls do. However, for the super cheap price of $69, it offers excellent bang-for-the-buck. No other sex doll on this list comes even close to this price range, and I would argue that this doll looks better than many of the $500+ options out there. If you are short on money but want a truly cheap sex doll to play around with, then the Realistic Inflatable Sex Doll from Amiga toy will be your best bet.
---
4. Thrust PRO Elite Alana Ribbed Vagina and Ass

Price: $274.99 on Lovehoney
Next up, we have another silicone ass. It's juicy, it's bent over, and it's waiting for you. The Thrust PRO is made from realistic-feel TPE, which can be considered both a positive and a negative. Check out my article which compares Silicone and TPE sex dolls if you want to find out more. Personally, I prefer Silicone, because of its durability and realistic feel. That is why I rated the other cheap sex doll asses higher than the Thrust PRO. It's one of the highest rated cheap sex dolls on Lovehoney, but personally, I preferred the Pipedream EFMS 2 and the Realistic Silicone Ass and Vagina over this one.
---
5. Luxury Silicone Ass and Vagina

Price: $599 on Silicon Wives
This is another luxurious silicone ass. Similarly to the #2 pick, this cheap sex doll feels very premium, and it seems like a bargain for a price tag of just short of $600. However, comparatively speaking, I did not notice much of a difference when comparing this to the Realistic Silicone Ass and Vagina. Well, except the price tag, that is. It feels great, but for a $200 more expensive price, I would have expected more. Therefore, if you want a silicone ass to get a sense of what high-end dolls feel like, I recommend you go with the Lifelike Silicone Ass and Vagina.
---
Cheap Sex Dolls Under $1000
---
1. Mari – Best Under $1000

Price: $899 on OvDoll (Unfortunately OvDoll is no longer delivering. We recommend RealDoll or SexDollGenie instead)
Mari is, in my opinion, the best cheap sex doll under $1000 for a variety of reasons. Out of all the sex dolls I own, Mari has to be one of my most frequently used girls, and it's not difficult to see why. She is only 100cm tall, which makes positioning her around the house super easy. She is incredibly beautiful considering her cheap price tag, and all three of her usable holes feel vastly different from each other, while all being immensely pleasurable. Sex with her feels highly realistic, despite the fact that she is so small. When it comes to cheap sex dolls, she is the best there is. One look at her should be enough to explain why.
---
2. Ds Doll

Price: $870 on Sex Doll Genie
Similarly to Mari, this doll is 100cm tall, placing her in the "mini" category of cheap sex dolls. She is incredibly cute, with her big manga-style eyes and a small nose. But, what's most important – she has an incredible pair of breasts under that cute face of hers. If you don't fall in love with her cuteness, then you certainly will fall in love with her body, because that thing is a true bombshell. Because of her small size and weight, you can position her in any way you want during sex. You can even hold her in your hands while you fuck her like there's no tomorrow. She is another one of my absolute favorite cheap sex dolls, as you probably already realized.
---
3. Aiko

Price: $899 on OvDoll
SOOO CUTE!
If I ever end up writing an article on the cutest sex dolls in the world, then Aiko will undoubtedly take first place in that article. Her dark eyes, her small lips, her pink hair… it all reminds me of the Hentai chicks I used to masturbate to in high school. While her looks may not be for everyone, I personally found her absolutely beautiful. She does not have oversized tits, and she does not have huge blowjob lips. However, to me, she looks like a small goddess in her own cute way. If you agree with me, then Aiko will be one of the best additions to your cheap sex doll collection. The only reason I did not rank her higher is that she has a rather unconventional body style.
---
4. Joie

Price: $899 on OvDoll (Unfortunately OvDoll is no longer delivering. We recommend RealDoll or SexDollGenie instead)
At number four, we have Josie. Manufactured in Japan, she is a small-sized Geisha waiting to please you in any way she can. Her misty eyes, her cute little vagina, her perky ass – they are all wonderful. However, when compared to the before-mentioned picks, I think she does not have as much going for her as the very best cheap sex dolls under $1000. She is undoubtedly very sexy, but personally, I found more enjoyment from similarly priced love dolls such as Mari and the DS Doll.
---
5. Realistic Silicone Sex Doll Torso

Price: $999 on Silicon Wives
At the last place in this subcategory, we have another cheap love doll torso. This time, however, she also has a head! While I like her head shape and style, I am still a bit creeped out by a doll which has a face but no arms or legs. I don't feel the same way with a silicone ass, but something about this one looks a bit off. Don't get me wrong – I think this torso has an alluring face, but if I'm going to spend $1k on a doll, I would rather get a full package which has arms and legs intact.
---
Cheap Sex Dolls Under $1500
---
Machelle – Best Under $1500

Price: $1275 on SexDollGenie
A true beauty, Machelle is a wonderfully detailed cheap sex doll. She has the perfect sized perky pair of boobs, a juicy ass, and a sweet face that matches it all (including her interestingly spelled name). There really is no way around it – Machelle is by far the best looking cheap sex doll on this list, at least in my opinion. Her hair, her eyes, her vagina… it's all just incredible. For a price of $1275, she really is a bargain. Honestly, I would be willing to pay upwards of $1500 to get my hands on her. In fact, I am not only willing, but I did do exactly that! I bought the very same doll two years ago for a price of $1600, and I couldn't have been happier at the time. This doll has brought me so much pleasure throughout the previous two years, and I can recommend her as the best cheap sex doll for anyone who can afford her. I just love her!
---
Linnet

Price: $1,250 on SexDollGenie
Next up, we have Linnet. With her messy hair and cute titties, she is a sight to behold. She looks like that hot neighbor girl after spending the night in your bed and being fucked all night. But, unlike that neighbor, she will not run off with the other neighbor across the street first chance she gets. She will be ALL yours, forever. Her stunning appearance, coupled with her relatively inexpensive price tag make for a pretty impressive sex doll deal. Her bright skin and raven dark hair are an incredibly sexy combination, wouldn't you agree?
---
Palmira

Price: $1360 on SexDollGenie
With an appearance that combines Eastern and Western elements, Palmira is absolutely dazzling. She has nice tits, a perky little ass, and her legs are super sexy. If I didn't know any better, I would guess that she costs over $2000. But, in reality, she costs about half of that. I can't wrap my head around how her creators managed to design such a realistic doll for such a cheap price, especially in this economy. In any case, she most certainly deserves a place of honor amongst the best cheap sex dolls in the world.
---
Lisha

Price: $1499 on SexyRealSexDolls
It's debatable whether the $1499 Lisha belongs in the "cheap sex dolls" category, as $1500+ is already a pretty standard price point for regular dolls. However, I chose to feature her nonetheless, because that big and juicy ass of hers just could not go unmentioned! She was one of my latest sex doll purchases, and while I am not a huge fan of looking at her gaping-wide mouth, I am most definitely a fan of sticking my cock in that mouth. And, I am an even bigger fan of sticking my cock in that ever-so-sweet ass of hers. If you like big butts and you cannot lie, then Lisha is the best cheap sex doll for you.
---
Kurumi

Price: $1039 on OvDoll
As a beauty from Japan, Kurumi will fulfill all of your wildest fantasies. She is relatively short at 125cm, and her breasts are rather small, but nonetheless, she is a delightful one to look at. If you like her style, then she could be a good cheap love doll pick for you. Personally, I am not a huge fan of her body structure, but I know a dear friend who bought her a while back, and he could not be happier. Therefore, I thought she deserved a place in this list of the best cheap sex dolls nonetheless. She is likely one of the cheapest Japanese sex dolls out there.
---