According to research, less than 10% of women aged between 15 to 44 years use condoms as their main contraceptive method. Even at that, most of these women are in their teens and early 20. Additionally, about 71% of sexually active men don't like using condoms, for various reasons.
Let's face it, covering your penis with a rubber kind of feels like gulping a green smoothie – it may not be the most intriguing idea, but it's good for your health. Combine that with all the myths and misconceptions out there about rubbers, and using them becomes pretty unappealing. However, despite condoms having a bad rap, the Lelo Hex Condom is one reason why you need to start using rubbers.
In this condom Review, we'll take a good look at the Lelo Hex and reveal everything from the packaging to the materials. I'll also reveal how the condom feels on your penis while telling you what I like about it, as well as what may disappoint you.
The Hex condoms were launched in 2016 by Lelo, a Swedish company known for their sophisticated and super sleek vibrating sex toys. The Hex condom was followed by a big PR campaign, touted as the first major innovation to condoms since the '70s and the world's first re-engineered condom. Furthermore, the condom promised an increase in both the grip and resistance to tearing. That means less spillage, less breakage, and more pleasure while promoting safer sexual practices compared to the standard latex condoms.
When I first heard about the new Lelo Hex condom, I must admit I was a little skeptical about trying it. Like all the other condoms I had used, I didn't particularly have anything good to say about them, but I still chose to give them a try. Well, let's just say the Hex condoms surprised me in a good way. Here is why: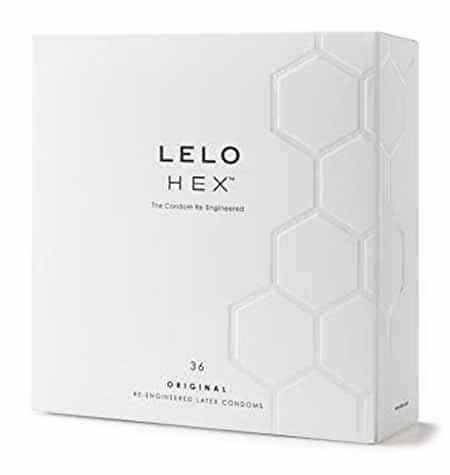 The first thing I noted about the new Lelo Hex condom was the packaging. Marketed as a high-end product, the condom's packaging highly reflects its status. Unlike other condoms which feature gaudy graphics on the packaging, the Hex is a packed in a clean white box which holds several units wrapped in a white cover as well.
As you'll note, the condom's wrapper is strong, heavier and thicker than most condom wrappers. That probably doesn't increase the quality or efficiency of the product, but this simple marketing strategy is one of the top reasons why I decided to try the Lelo condom. In fact, the condom's packaging is comfortable and discreet enough to store it in plain sight.
The main difference between the Lelo Hex condoms and other brands in the market comes down to their material. Nevertheless, the condom is built with latex material just like the vast majority of condoms out there. However, what makes the latex unique is its revolutionary hexagonal structure, inspired by graphene.
So, what exactly is graphene?
By definition, graphene is a carbon allotrope with a two-dimensional atomic-scale, with atoms arranged in a hexagonal design that looks like a honeycomb. However, the Lelo Hex isn't built with graphene, though its structure imitates this high-tech and super-strong material.
Before using the condom, I felt like this honeycomb thing was just a marketing stunt from Lelo, but it turns out I was wrong. When tested against two other ultra-thin condoms from popular global manufacturers, it was clear that the Lelo Hex is different (honeycomb or not). These condoms are both stronger and more elastic than other condoms I have used.

Some women love being a cam model, while others feel like it ruined their life. What kind of person does it take to thrive in this type of industry? It takes all types really. There are some women who found confidence when they started camming. Others embrace their sexuality and see it as a way to promote sexual positivity.
So, how do you know if you have what it takes to be a cam girl? In our opinion, it takes someone who is friendly, a bit of an exhibitionist, comfortable with their body, and has the drive to thrive in this saturated industry.
If you think you've got what it takes to be a cam girl, check out our tips and tricks on how to make good money as a cam girl.
Looking like any other condom out there, except for the unique honeycomb design, the Lelo Hex is very easy to remove from its package. Like all the other you've used, you can quickly roll the Hex on your cock and start enjoying a good time with your partner. Additionally, this hexagon condom is highly elastic, allowing it to fix even the girthiest penis.
Well, while I tried the condom with an average size penis, I found the HEX easier to roll in the dark without even looking. By just feeling the condom out of its package, I could easily tell the right way to insert it without looking. Additionally, the condom fits slightly more snug than other brands, but it's a good thing since it doesn't feel restrictive.
The best thing about this hexagonal condom is that they deliver more pleasurable sensations than other brands that I've tried in the past. And though it's not as fun as going natural, it's a no brainer to wear one, with AIDs and STDs on the rise. Additionally, the Lelo Hex offered amazing sensations when I first plunged my cock into my partner.
While sensually plunging my cock inside her, I felt the walls of her vagina tightening the grip and stroking my cock into sexual ecstasy. Unlike most rubbers, the Hex condom brings a feeling of openness and freedom. It felt as we were having unprotected sex, except we fully covered. Amazing!
Aside from STD protection, I like using condoms because they reduce the sensations and allow me to be a beast in bed without blowing my load too fast. However, I could experience almost 95% of the sensations with the Hex condom. Moreover, the sensations were so unhindered that I had to hold strongly to make it through the finish line. Simply put, it's an experience I can get accustomed to.
While I can't fully describe my partner's experience with the Lelo Hex condom, I can confidently say that the first time was a great success. As I plunged my penis inside her wet orifices, her body was moving with the sensual bliss, and she was moaning the entire time. Furthermore, she kept begging me to go deeper and harder, even while I was slowing down to avoid blowing my load too soon.
While I normally don't like bragging about my sexual prowess, I can say she enjoyed using the Lelo Hex more than other condoms. That was quite a booster for my sexual self-esteem, keeping in mind that I'm not a brilliant performer in bed. More importantly, she confessed that she couldn't tell if I was wearing a condom based on the sensation.
While the first round only lasted for about 8 minutes, we were both crumbling after experience sexual bliss. Before our night was over, we had already used two more condoms from the pack – which was quite unusual for me, but very satisfying. We both loved it!
Lelo Hex Condom Review Summary
While the Hex condom performed well for my partner and me, here is a summary of everything we liked and also the turn-offs:
Pros
It's super strong – With its revolutionary honeycomb design, this hexagonal condom is virtually indestructible even with rough sex. From my experience, it allows full-on thrusting and pounding like no other.
It's surprisingly thin – While its sturdy modern design might make you think that the Hex is a major mood killer with extra-thick panels, it's not. This helix condom is made with ultra-slim panels enclosed in 350 hexagonal cells which channel any unwanted stress through the structure.
Offers realistic sensations – With normal latex condoms, you can expect your sexual pleasure to be diminished to a certain degree, significantly numbing the pleasurable sensations. However, the Lelo Hex condom offers the most realistic sensations I've ever felt while wearing a rubber.
Designed to quash excuses – By now, we all know that condoms are the best contraceptives in stopping the spread of STDs. Nevertheless, people still create excuses to avoid wearing them because they break too easily, limit sensitivity and are prone to spillage. However, the Hex condom takes care of all those issues.
Cons
They are expensive.  The most expensive condoms I have ever tried by a long shot. That's about it in terms of negatives as far as I am concerned!
Where to buy Lelo Hex Condoms
If you want to get a pack of this revolutionary condom, you can order the Hex from the official Lelo website. The condoms are currently available in packs of 12 and 36, retailing at about €20 and €35 respectively. Even better, Lelo ships the orders worldwide for free of charge when you order products above €50. Additionally, the Lelo website uses a secure 128-bit encryption protocol to protect your personal information while shopping.
Is The Lelo Hex Worth It?
When it comes to buying condoms, I've never given it much thought. To me, they all seem to get the job done, and therefore I pick the brand that looks simple and attractive to my eyes. Nevertheless, the Lelo hex was pretty impressive. The condom is more flexible, stretchy and stronger than any other condom I've seen and it also offers the most realistic sensations thanks to its thin structure.
Overall, the hex condoms are a cut above other latex condoms, earning an average rating of 4.8 stars on a 5-star scale. I absolutely love them, and I've made them my go-to condoms for all my sexual adventures!