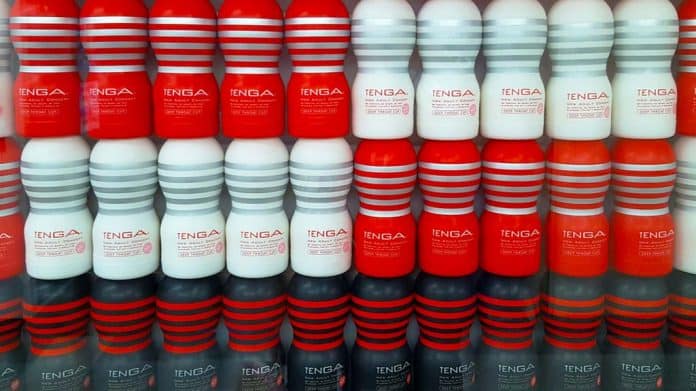 In this review of all the best Tenga Eggs and Flip Holes, I will show you which Tenga products are worth your hard-earned money, and which of them are just empty eggshells. But firstly, you might be asking – what is a Tenga Egg?
Tenga Eggs are famous Japanese male masturbators which were first released in Japan in 2005. These mysterious Japanese egg toys were quickly greeted with widespread critical acclaim. The inventor of the Tenga – a car mechanic by profession – was Mr. Koichi Matsumoto, a Japanese man with a vision for a new type of sex toy. Since that time, Tenga has become an international sensation. The Tenga corporation, still headed by Matsumoto himself, has a yearly revenue of over 45 million USD, and it's by far the most successful Japanese sex toy brand.
Now that you have an idea of what Tenga is, let's get right to the meat of this Tenga review:
---
Tenga Review – The Best Tenga Eggs & Flip Holes
This review of Tengas is split into several parts. In the first part, I will highlight my favorite type of Tenga products – Tenga Cups and Flip Holes. In the second part, I will highlight the best Tenga Egg textures. And, in the final section of this Tenga review, I will answer all of the most common questions I get asked regarding buying Tengas.
Navigate the table of contents if you would like to skip to a specific section:
---
The Best Tenga Flip Holes
After achieving unprecedented international success with their famous eggs, the Japanese corporation Tenga quickly started working on an upgraded version of their sex toy, in order to carry their flag further. This led to the invention of Tenga Flip Holes and Tenga Cups, which are new and improved versions of the classic eggs. Even the best Tenga Eggs will only last you five uses at best. However, Tenga Flip Holes will last you years without showing any signs of wear-and-tear. This is why I will recommend Flip Holes as the best Tenga products for most of you out there. So, without further introduction, let's get started with this Tenga review, shall we? The absolute best Tenga is the…
---
1. Tenga Flip Hole
This bad-boy right here is the Cadillac of male masturbators. If you want the most luxurious, most intense, and overall best Tenga egg, then this is it.
Price: $89.99 on Lovehoney

The Tenga Flip Hole is one of the newest additions to the Tenga franchise. It may look similar to the traditional Tenga Deep Throat Cup from the outside, but in reality, it's so much more. Don't get me wrong – I love my classic Tenga Eggs. However, the Tenga Flip Hole blows them all out of the water with its futuristic design, excellent build quality, and reusability. The Flip Hole is obviously more costly than the cheap Tenga eggs you can get for less than $10. But, in the long run, it makes way more sense to purchase the Flip Hole. It's built to last, and you will save yourself a ton of money in the future, by not having to buy new Tenga eggs over and over again.
In terms of comfortability, it's also my favorite Tenga product. The middle frame is easy to get a grip on, and it's made from a soft material. Why is this important? Well, it's very practical to have a soft middle section because squeezing it allows you to add or remove pressure whenever you want. Depending on your mood, you might prefer a strong or weak grip. With the Tenga Flip Hole, the choice is in your hands (literally).
Also, the biggest problem I have with regular Tenga eggs is the fact that with lube, they become too slippery. I keep losing my grip and even the best Tenga Eggs are always popping out of my hand during use. I was glad to see that with the Flip Hole they have solved this issue in a simple but effective way. If you want my recommendation for the best Tenga you can find, then this is it. If you're anything like me, then there is no way you will be disappointed by the Flip Hole.
---
2. Tenga 3D Spiral
The best Tenga product for those of you who like masturbators that have simple designs and incredible power. An excellent budget choice.
Price: $42.99 on Lovehoney

The Tenga 3D Spiral is my second favorite product from the Tenga franchise. The spiraling patterns inside the masturbator bring sensations that are powerfully ecstatic. I would describe it as sort of a mix between an enthusiastic blowjob and a two-handed handjob. It brings sexual stimulation from absolutely all sides, especially when you combine different movements together when using it.
I will share you a secret trick – lube yourself up and try twisting the 3D Spiral around in a circular motion while moving it up-and-down on your shaft.
This combined movement feels fucking amazing! Even the up-and-down movement by itself is super stimulating, but the twisting motion is the icing on the cake. Not many masturbators are able to make me cum quickly anymore, but the 3D Spiral is so intense that it absolutely always makes me cum within one minute. The only reason why I prefer the Flip Zero over the 3D Spiral is the outer design. The Flip Zero is much more comfortable to hold, thanks to the handle. In terms of intensity and performance, though, they are both fantastic, though. You really can't go wrong with either of them.
---
3. Tenga Deep Throat Cup
Classic Tenga product designed to resemble the feeling of a passionate blowjob. It's a good budget choice. However, it's outshined by its modern alternatives – the Flip 0 and the 3D Spiral.
Price: $12.99 on Lovehoney

If you're at all familiar with the history of Tenga Eggs, you will have heard of the Tenga Deep Throat Cup. After all, for many years this was the go-to Japanese egg toy for all men. It was able to compete with even the best Fleshlights, for a fraction of the price.
Maybe you're asking why it only got the bronze medal of the best Tenga Eggs if it's such a revolution of a sex toy. Well, the reason is simple. The Deep Throat Cup was a fantastic product when it first launched, but the world of sex toys is sort of a wild jungle. The old and experienced Tenga Deep Throat Cup has lost its throne to younger and stronger competitors, like the Tenga Flip Zero and the 3D Spiral. But, I don't want to discredit the Tenga Deep Throat Cup completely. It always was, and probably always will be, one of the best Tenga products ever made. It's cheap, it's effective, and it's iconic.
---
4. Tenga Air Tech
The Tenga Air Tech is very similar to the Deep Throat Cup in its design. It certainly brings some upgrades to the classic Onacup. However, it's just not enough to justify a triple price increase, if you ask me.
Price: $39.99 on Lovehoney

As the first honorable mention, I would like to feature the Tenga Air Tech. It was created to be a replacement to the classic Tenga Deep Throat Cup, with an improved design which allows for easier gripping in the middle. The Air Tech, similarly to the Deep Throat Cup, comes in various different sizes, which you can choose from depending on the size of your penis. The different sizes are Gentle, Regular, Strong and Ultra. The one I linked to is the Tenga Air Tech Ultra, which is built for bigger sized men.
Now, why did the Tenga Air Tech not make it into the top 3 of the best Tenga Flip-Holes? The answer is rather simple. It just isn't enough of an upgrade to the Tenga Deep Throat Cup to justify such a steep increase in price.  It's definitely an advantage that the design is easier to get a grip on, but it's just not enough. Don't get me wrong – it's just as great of a Tenga egg masturbator as all the others. But, as a Tenga reviewer, I have to take into consideration the price point as well. And sadly, this is the weakest aspect of the Tenga Air Tech. With the Tenga Flip Hole, you can feel where your money is going, but with the Air Tech, I can't say the same thing.
---
5. Tenga Flip Zero
The new and upgraded version of the Tenga Flip Hole. It's luxurious, powerful, and well-built, but somehow, I still found myself ditching it in favor of the regular Tenga Flip Hole.
Price: $104.99 on Lovehoney

The Flip 0 was designed to be an upgrade to the Tenga Flip Hole, with an improved build quality and a new internal design. However, to me personally, it's more of a downgrade rather than an upgrade. The build quality is sturdy and luxurious, no doubt, but the black "handle" in the middle is a major dealbreaker for me. As I already described earlier, with the Tenga Flip Hole, you have a soft middle part. It allows you to control exactly how much pressure you want your penis to have during masturbation.
With the Tenga Flip Zero, however, you end up having less freedom of movement, as the whole thing is covered with hard material. Because of this reason, I found myself choosing the old and best Tenga Flip Hole over the Flip 0 almost every single time. The Flip 0 is a high-quality product without a doubt, but it's outshined by its predecessor, the Tenga Flip Hole.
---
The Best Tenga Eggs
The first things which come to peoples mind when mentioning "Tenga" are usually these classic Tenga Eggs. These are these famous male sex toys shaped like eggs which initially put Tenga under the international spotlight. But, what is the best Tenga Egg? This portion of my Tenga review was created to answer exactly this question. Without further ado, let's get right to it. The very best Tenga Egg texture out there is…
---
1. Tenga Egg Wavy
For me, the Wavy is the most enjoyable and overall best Tenga egg texture. The wavy internal design feels ecstatic and super intense. Sometimes even too intense.
Price: $11.99 on Lovehoney

The Tenga Egg Wavy is my go-to pick when I am in the mood for a quick, powerful and ecstatic massage. It's the best Tenga Egg texture I have ever seen, which is full of different waves, ridges, and ribs. I'm pretty sure that when the folks over at Tenga were designing the Tenga Egg Wavy, they had just one thing in mind – to create the most intense sensations possible. Without a doubt, they achieved this goal. The Wavy is the best Tenga Egg for all you sex-crazed lunatics out there! Sometimes even I am scared by the intensity of this thing, so if this is your very first Tenga toy, you might want to consider something a little milder to start off with. May this serve as a warning – this thing is intense!
---
2. Tenga Easy Beat Egg Lovers
The Easy Beat Egg Lovers is not only a great Valentine's Day gift for your boyfriend thanks to its hearty design, but it's also one of the best Tenga Eggs ever made.
Price: $12.99 on Lovehoney

I thought long and hard about whether to put the Wavy or the Easy Beat Eggs Lovers as my number one pick as the best Tenga Egg. Finally, I went with the Wavy thanks to its powerful performance, but I have equally as much love for the Tenga Egg Lovers. It has a cute design aligned with hearts, which makes it a super cute gift for your significant other. Trust me, this $13 cheap Tenga Egg will make him much happier than any piece of clothing you will find in a department store. He will likely be confused at first, as to why you're gifting him one egg for Valentine's Day. However, I guarantee that once he has had a small taste of this very special egg… he will be begging for more.
---
3. Tenga Egg Stepper
The softest Tenga Egg in existence. If you love silky smoothness and soft caressing, then this will be the best Tenga Egg texture for you.
Price: $11.99 on Lovehoney

Although the Stepper is not as intense as the other Tenga male toys on this list, it's certainly one of the most unique ones out of all of them. The super soft texture inside of it makes you feel like you're fucking the softest pillow in existence. It's a pleasant feeling, without a doubt. The only reason why I did not rank it higher on this list of the best Tenga eggs is simple – I love intense male masturbators. The Stepper is just not as intense as the alternatives on this list. If you take power and intensity out of the equation, though, you could easily call this the best Tenga Egg in existence. It feels so-so soft!
---
4. Tenga Egg Thunder
The Thunder is another Tenga Egg designed with sheer power in mind. It's not as powerful as the Tenga Egg Wavy, but it's still effective overall.
Price: $11.99 on Lovehoney

THUNDER! As you might guess from the name, this Tenga Egg was designed to bring men to their knees with its intensity and power. But, is this just marketing or is there any actual substance to this daring name?
Well, so and so. The Tenga Egg Thunder actually sort of achieves this, as the orgasms you can achieve with this bad-boy really are knee-shaking at times. But, I can't help but compare it to the Tenga Egg Wavy, as they are both designed for the same purpose. And, when it comes to pure power, the Wavy definitely takes the cake. If you already own the Tenga Egg Wavy and you want to try something new, though, then the Thunder is the best Tenga Egg for you. It's something a little different.
---
5. Tenga Egg Twister
This is a Tenga egg texture which swirls around like a whirlpool. It's enjoyable, but not as much as the top picks on this list.
Price: $11.99 on Lovehoney

The fifth and final Tenga Egg texture which deserved a feature on this list is the Twister. Just like the Wavy and the Thunder, it was designed to create intense stimulation in the head of the penis. The Twister achieves this intensity with its twisting and swirling internal patterns.
Although I did enjoy the feel of the Tenga Egg Twister, I can't say that it's the best Tenga Egg, when there are such fantastic alternatives out there. For what it's worth, it's a very enjoyable little toy, but I would recommend you to check out the first four picks on this list if you want the best experience possible out of your Tenga eggs.
---
How to Choose The Best Tenga Egg?
This is not so easy to answer, as the needs of one person can vary significantly from the needs of another. There are some things you should take into consideration, though, when trying to decide on the best Tenga Eggs for yourself:
Is reusability important for you? If yes, then consider choosing one of the best Tenga Flip Holes at the beginning of this Tenga review. Unlike Tenga Eggs, they are built to last for years.
What is your budget? If you are on a very tight budget, you might want to consider one of the cheap Tenga Eggs in this Tenga review, which cost only around $11. They are an excellent starting point, to see whether Tenga Eggs are the right toys for you. Once you have tried all of the best Tenga Eggs on this list, you can save up money for a while and get yourself a Flip Hole eventually (or you can just stick with eggs, to each his own).
How much intensity and power do you want from your Tenga? If you want a mellow masturbation experience, you can go with something like the Tenga Egg Stepper. But, if you love strong sensations and knee-shaking orgasms, you will prefer a product like the  Tenga Flip hole or the Tenga Egg Wavy.
I realize that what is the best Tenga egg for one person, might be a terrible choice for another. Therefore, take everything I say with a grain of salt, and make your own decisions accordingly.
---
How to Use Tenga Eggs?
There is nothing complicated about using Tenga Eggs. All you need to do is:
Remove the outer plastic casing from the Tenga Egg, thus revealing the actual Tenga Egg and Tenga lube inside of it
Remove the inner plastic casing and open your Tenga lube package
Cover the Tenga Egg with plenty of lube (you might be tempted to be scarce with the Tenga lube, but trust me – the more lube you use, the better it will feel)
Stick your dick into the opening of the Tenga Egg and stretch it until the end (don't overstretch, though – this can cause your Tenga Egg to break)
Start moving the egg up-and-down, while adding some circular movements to the mix (circular, twisting movements around the penis head are the icing on the cake – they feel amazing)
After cumming, remove the Tenga Egg, turn it inside out and wash it with regular soap and water
Repeat!
The whole process is pretty straightforward. Once you start trying the best Tenga Eggs out by yourself, you will probably learn some tips and tricks of your own. After all – different folks, different strokes!
---
Are Tenga Eggs Reusable?
According to official instructions from Tenga, no. Their eggs are only meant for one-time, disposable use. But, it's natural they would say this, because after all, if people throw away their Tenga Eggs after each use, they will end up buying way more of them.
From my experience, though, if you take good care of your Tenga Eggs, you will get plenty of uses out of them. How many times can you use a Tenga Egg, exactly? Well, that depends on you and your habits. As for me, the most uses I have gotten out of a single Tenga Egg has been about ten.
There are a few Tenga tips and tricks I can recommend for you if you want your eggs to last a while:
Wash your Tenga Eggs after each use, by flipping them inside out and rinsing them with soap and water.
Don't overstretch your Tenga Eggs while using them – they are primarily meant to stimulate the head of the penis, not the entire shaft like many people think.
After using and washing your Tenga Eggs, keep them inside the original eggshells they arrived in. This will protect your Tenga Eggs from physical damages and becoming dry.
These tips and tricks are only meant for the actual EGGS. If you have a Tenga Flip Hole or any Tenga cup, you won't really need to care for it like a baby. Those things are designed from the ground-up to be reusable for years. Obviously, you should still wash them after each use though for hygienic purposes.
---
Where to Buy Tenga Eggs?
The answer to this question depends largely on where you live. As most of my readers are from the U.S.A, I linked to the Tenga Eggs sold by Lovehoney. Their prices are a bit more expensive than the prices you will see in Japanese stores such as OtonaJP. However, if you take into account shipping costs and delivery time, it makes much more sense to order from Lovehoney, if you are a U.S citizen.
When it comes to Tenga products sold on Amazon, I would generally recommend you to avoid them. Amazon tends to be full of Chinese fake copies of famous sex toy brands. Sadly, Tenga Eggs are no exception in regards to this. Tenga itself is even struggling with this. They have sent out warnings about fake products on their own website.
You might save yourself a few bucks by getting a cheap Tenga from Amazon. But, the lack of a warranty and the danger of getting a false product should make you think twice. Just get the real thing from an authorized re-seller. Don't support the counterfeit market with your money.