Gay dildos are a type of dildo for men which are often overlooked because of their name. But, in reality, the best anal dildos are super powerful, and an absolute necessity in the sex toy collection of any serious man due to their unique stimulating properties. Today we will be finding out which are the top gay dildos to look for in 2022.

Being a bisexual man myself, I know how overwhelming the process of choosing a good gay dildo can be. However, I hope that with the help of this guide, the process of choosing the best will become at least a little bit easier for you.
So, why even buy an anal dildo? I will share my thoughts on this.
For gay or bisexual men, anal stimulation can show you a world of unlimited sexual pleasures. While that's true, it's not always easy for a gay man to enjoy an orgasm during intercourse – even when having real fun with a partner. One person always tends to end up as the "receiver", and the other as the "giver". That is sort of why I have started to lean towards solo masturbation with the help of a gay dildo. They just make anal stimulation easier for me, and more comfortable.
By using a premium gay dildo, you can have fun masturbating and stimulating your P-spot without having to rely on anyone to take you there. With a partner, you can also use this male sex toy to spice up your bedroom life and enjoy a mind-blowing sexual experience. While with a partner, I like using the gay dildo to tease him a little before we start riding. However, you can also try hardcore gay dildo riding or anything that makes you horny.
Today, we'll look at the best gay dildos that will leave you screaming in pleasure – whether you are having fun alone or with a partner. But before we get there, let's first get a clear understanding of what's a gay dildo:
When exploring anal pleasures, there are various types of male sex toys that you can use to stimulate your p-spot. However, only a true ass-dildo can create the illusion of having a real cock inside your ass!
 These prostate dildos come in different sizes, shapes, and guises. Nevertheless, it can often be a stressful and painful experience for first-time users who use dildos with an average cock size or larger.
Here are the best prostate dildos for both beginners and advanced users to enjoy maximum anal pleasure:
Best Dildo for Gay Men: Blush Hard On Realistic Dildo
Made with a realistic pleasure skin that smoothly slides in your body, Blush's skin dildo is the best way to enjoy the pleasure of a cock without a partner. It's one of my personal favorites. Plus, it's really cheap compared to other top gay dildos.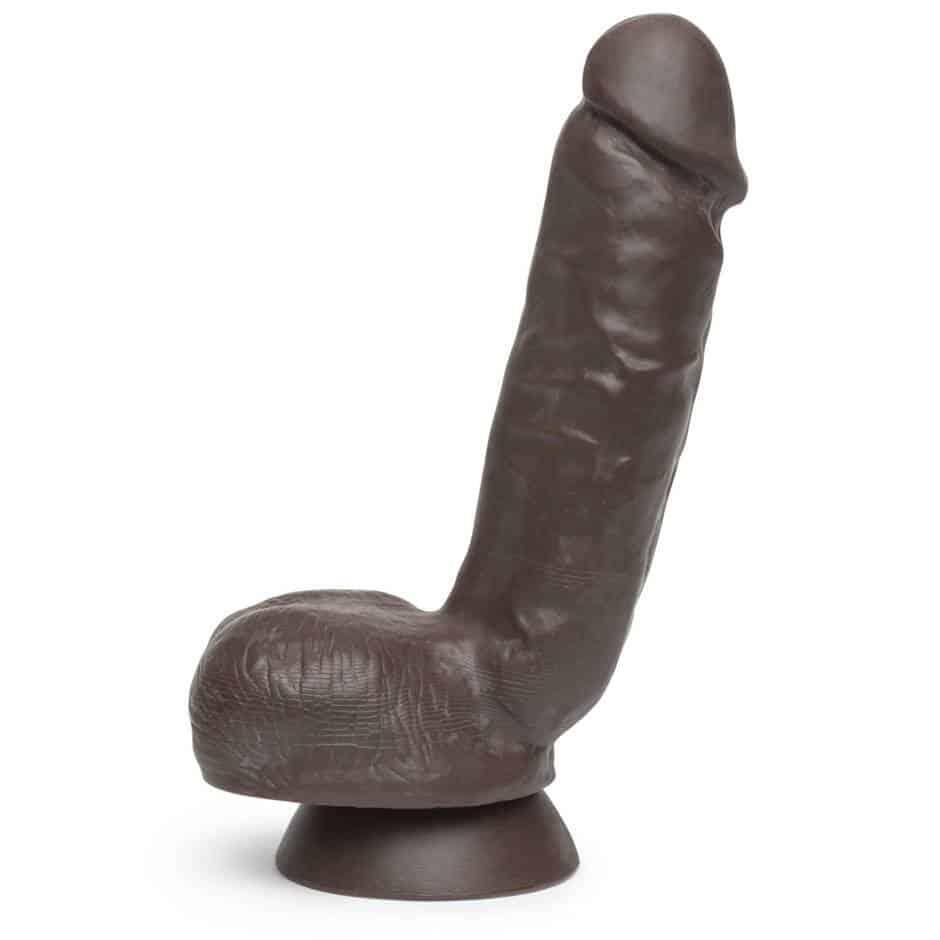 Price: $36.99 on Lovehoney
This flexible and satisfying dildo has a strong grip thanks to its veiny shaft and a bulbous head that gives you an incredible internal massage. If you are anything like me, you'll also enjoy the dildo's external stimulation from its solid balls. The feeling you get when the soft balls rub against your own feels incredible – I totally recommend it for all gay men.
With a flexible design, this lifelike anal gay dildo stimulates all your sensitive spots in any position. Even better, its ultra-realistic finish ensures that you are fully satisfied while masturbating or playing with a partner.  I like to pop it in warm water for a more sensual experience, but you can also put it in your fridge for a few minutes for a cooler experience.
While it's not as realistic as the next gay dildo on this list – the RealCock 2, I still decided to give Blush Hard On's Cock the top-rated spot as #1 as it's more than 10x cheaper. For the price, it really is incredible.
The dildo's virtual-touch texture heightens its sensation
Suitable for experienced and advanced users
Hand-crafted for a full penis with testicle detail
Size (7 inches) might be unsuitable for beginners
Most Realistic Gay Dildo:
Dirk by RealCock 2
Also deemed the most realistic dildo in the world by our writer Emily, the RealCock 2 is a sight to behold. It's very costly, but for the price, you do get the absolute best quality on the market. If you're looking to stick to one quality purchase, this would be it.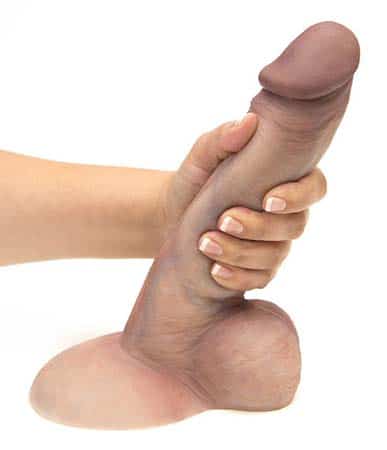 Price: $499 on RealDoll
Do you enjoy anal penetration with solid, large cocks? And, do you want the most realistic dildo experience money can buy?
If you do, the Dirk by RealCock 2 is the best way to enjoy a huge dick without losing control. As the most realistic gay dildo out there, the Dirk boasts of a flexible life-like material and excellent construction. It features sil-slide technology with triple layering to make the outer skin and testicles insanely authentic.
Made with medical-grade platinum silicone, the RealCock 2 will feel just like a real dick while inside your butt, allowing you to enjoy breathtaking orgasms. With a 6.25-inch girth and 8-inch insertable length, this realistic gay dildo provides an extra-filling sensation while stimulating your anal muscles. Nevertheless, I would choose Adam's Cock's over the RealCock 2 mostly because of its price, though they are both worth every penny.
If you can afford it, the RealCock 2 really is the best dildo for gay men. Period. Don't take out a loan for this one, though! The Adam's Cock can perform just as well if you learn to use it.
Weighty and realistic sensation
Medical-grade platinum silicone material
6.25-inches girth with veins on the shaft
Update! They now offer 3 different skin tones: fair, medium, and dark
Best Beginner's Gay Dildo: Doc Johnson's Crystal Jellies Anal Starter
The Doc Johnson has a flexible and tapered shape which makes insertion super easy and comfortable. For those of you who have little to no prior experience with gay dildos, it's an excellent pick.

Price: $16.99 on Lovehoney
Giving 'crystal maze' a new meaning, the Crystal Jellies Anal dildo from Doc Johnson is specifically designed for first-time anal play. Thanks to its tapered, slim and flexible shape, it works perfectly with your body's contours to easily navigate your hidden labyrinth with pleasure. 
The Crystal Jellies Anal dildo is realistically shaped with lovely raised features to allow you to enjoy enhanced anal pleasures. I like how the suction base sticks firmly in your butt, making the dildo a safe anal toy for sex and foreplay. Furthermore, the dildo's textured shaft enhances your orgasmic stimulation. That said, this dildo for gay men gets a 4.7-star rating out of 5.
If you're a newcomer and you don't require total realism from your dildo, then the Doc Johnson is a fantastic option for you.
Its petite size makes it perfect for beginners
The textured shaft enhances stimulation
Flared suction base enables hands-free use
Flexible and soft jelly works offer maximum pleasure
It starts to smell if left unwashed
Best Prostate Dildo: Tantus Charmer 6-Inch P-Spot Dildo
Capable of massaging the prostate with pinpoint accuracy, the Tantus Charmer is a another fantastic gay dildo for both beginners and experienced men. It does require some practice in order to use it efficiently, though.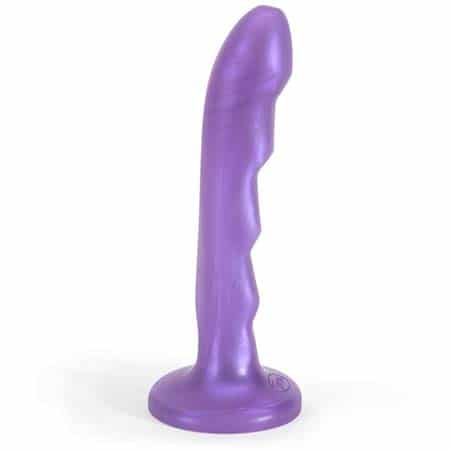 Price: $44.99 on Lovehoney
Designed to stimulate your prostate gland, the Tantus Charmer is a beginner's best companion while exploring anal pleasures alone. This 6-inch prostate dildo allows you to keep the fun to yourself by using a series of 4 nodules on the shaft to give you incredible penetrative pleasure. With a partner, I like using it as a dildo or pairing it with harness for strap-on play and pegging.
As the best prostate dildo on the market, the Tantus Charmer can also charm experience users to enjoy dazzling orgasms. Though it doesn't have a suction cup for hands-free operation, it's great for solo play and makes you orgasm hard. Considering its performance and price, I can give this prostate dildo a 4.6-star rating out of 5.
Curved shaft with four raised ridges
Incredible p-spot stimulation
Dildo For Experienced Gay Men: Lifelike Lover Luxe
This one is big, juicy, and thick. That is why I recommend the Lifelike Lover Luxe to only the most experienced gay men out there. I like it, but sometimes I wish it felt more realistic.

Price: $39.99 on Lovehoney
Do you want a male anal sex toy that has mastered the art of seduction?
Well, this 8-inch realistic gay dildo is the perfect solution for you. With a tapered head and intricately raised veins, this gay anal dildo delivers breathtaking sensations. The strong suction cups at the base ensure that you can make all the moves you want while it's in place. 
Made with Sleek, soft and luxurious silicone, the Lifelike Lover Dildo is the epitome of anal stimulation. When enjoying a solo play, you can use the base to guide it right where you need it or stick it to any flat surface using the suction cup.  I can rate the LifeLike Lover at 4.1 stars out of 5.
Strong suction cups for hands-free operation
Smooth silicone for intense stimulation
Meaty balls and intricately raised veins offer authentic sensations
Great for couples and experienced anal enthusiasts.
It's a little too big for a beginner to handle
Gay dildo For Advanced users: King Cock
This black gay dildo should be considered only by those who know they can handle big black mass inside of themselves. It's super sexy - but it's no easy feat!

Price: $44.99 on Lovehoney
If you need a black dildo with a monstrous meaty girth, the King Cock's 8.5-inch dildo is an excellent choice for you. This huge gay dildo is ideal for advanced anal enthusiasts, taking your experience to a whole new sensual level. 
Built in a ball-free design, you can easily plug the King Cock dildo onto a smooth surface or use it with a strap-on to enjoy satisfying penetration sensations. I like how comfortable it feels when sliding in your ass, giving you a smooth, slippery insertion when used with lashings of water-based lube. The King Cock's dildo gets a 4.6-star rating on a scale of 0-5. Here is why:
Textured and girthy enough for an excellent internal sensation
8.5-inches insertable length for satisfying penetrations
Strong odor if not well cleaned
Vibrating Gay Dildo: Desire luxury Rechargeable Strapless Dildo
Although it's rather pricey, the Desire Luxury does offer some significant advantages over its competitors. It can be used as a strap on, and it features dual stimulation.

Price: $99.99 on Lovehoney
If you are craving for some strap-on anal sex action, then look no further. The Desire Luxury rechargeable dildo is a strapless double-ended dildo ideal to anal play with a partner. It's built with premium silicone material, featuring a posable pony for an easy fit and perfect angle for anal bliss.
As a vibrating dildo for gay men, the Desire luxury dildo is ideal for pegging adventures and shared arousals. I like tilting the pony to get the best angle and fit, allowing me to explore the full-range patterns and vibration speeds. You will also need to slather the dildo with your favorite water-based lubricant for the best experience. With that in mind, I can give this vibrating dildo a 4.4-star rating for various good reasons:
Eight vibration patterns and 12 speeds
Fully waterproof exteriors
Features luxurious lockable storage with a discreet charger
60-minutes unlimited playtime with a single charge
It takes 2 hours to charge fully
The controls need improvement
Gay Double-Ended Dildo: Doc Johnson Crystal Jellies
For double penetration, there really is no better choice than the Doc Johnson. However, for solo play, it's not ideal.

Price: $29.99 on Lovehoney
The Doc Johnson's crystal jellies double-ended dildo is an amazing male sex toy suitable for couples and solo play. You can use this flexible bad boy to enjoy a double penetration with a partner or challenge yourself by taking all the 12 inches alone. The clear jelly dildo delivers a super-sized satisfaction, while its textured shaft enhances the stimulation.
This gay double-ended dildo is firm enough for smooth insertion but bendable enough to offer you an enhanced versatility. Its smooth rounded heads guide it through your body during anal penetration, creating a wave of sensation that builds up into an orgasmic crescendo. For the best experience, I enjoy using plenty of water-based lube before inserting it. 
Based on its performance, I would give the Doc Johnson's gay double-ended dildo a 4.4-star rating on a scale of 5. Want to know why?
Textured shaft enhances your stimulation
Perfect for double penetration
Rounded heads for easy insertion
Its flexible shaft maximizes the pleasure
Biggest Gay Dildo: King Cock Mega Girthy Dildo
The King Cock is a truly huge gay dildo which should only be considered by the biggest, baddest gay men out there. If you think you are ready for it, then the King Cock might just be the best gay dildo for you.

Price: 129.99 on Lovehoney
Boasting of a 14-inch insertable length and an eye-watering 10-inch girth to match it, this is the biggest dildo that you can find out there. As a giant gay dildo, the King Cock's dildo is ideal for seasoned anal enthusiasts as well as anyone who enjoys playing with super-girthy toys. 
With a strong suction cup, this mega gay dildo is perfect for hands-free anal exploration without a harness. The dildo is also adorned with authentic skin texture and well-angled veins for optimum pleasure. I like to use this one with plenty of water-based lube to allow it to slide in easily without getting stuck. 
Phthalate and latex free for safe play
Authentic skin textures and veins
Strong suction cup for hands-free pleasure
14-inches insertable length for an extra filling sensation
It's a little pricey compared to other gay dildos on our list
Gay Squirting Dildo: The Big Shot
The Big Shot will leave you covered in cum, just like a real penis. It's pricey, but it's super fun to play with.

Price: 129.99 on Betty's Toy Box
Have you ever had the satisfaction of spraying and soaking your partner with hot jizz? 
Well, if your answer is no, then you need to have Evolved Novelties' Big Shot squirting dildo. This unique gay dildo lets you experiment with all the tactile and visual elements of a kinky piss play while you are in total control. 
 To create an authentic fetish with the Big Shot, I like to fill the enclosed bottle with a water-based lube, synthetic piss or warm water. This squirting gay dildo features a realistic 8-inch cock with balls to indulge your water-sports kinks. Additionally, it features a vibrator and all it takes is the press of a button to shoot the fluid of your choice.
Overall, I can rate this squirting dildo at 4.6 stars out of 5. Let's see why:
Realistic 8-inch cock for intense penetration
Ideal for experienced users and beginners alike
Removable suction cups for stability
Rechargeable and user friendly
Can be difficult to clean
Now that we've seen the best gay dildo that can help you explore anal pleasures, let's see how you can use it:
Lube – Before you start inserting the dildo in your butt, you need to cover it with a lubricant to make it slide easily. I also like putting a little lube in my ass to make it smoother. However, the type of lube you choose will depend on the material of your dildo. Keep in mind that some lubes may spoil your toy if not compatible.
Start Slow – If you are first time user, you should know that it will be painful if you shove the gay dildo up your ass. However, you can start slow by gently sliding the toy easily, while allowing your muscles to relax before you go deep. The good thing is that you have total control.
Find a rhythm – Once you insert the dildo, you can start stimulating your muscles by finding a rhythm that makes you feel comfortable. From here, the rest is all up to what you want to achieve.
How We Chose the Top Gay Dildos
When choosing a dildo for gay men, it all comes down to why you need it. If you are preparing to take bigger cocks comfortably, then you need to choose a slightly bigger dildo than your normal size. You may also want to consider the safety of the material and also the shape of the dildo before you start looking at the price tags.
Considering all these factors, I would recommend Adam's Cock Pleasure Skin Dildo for its flexible design and incredible internal massage. However, you can also find other units that suit your needs best if you are looking for something specific.