Choosing the best black dildo might seem like a fun and kinky mission at first. However, once you really start to look at the endless options in various sex toy stores, you will quickly realize that choosing the best is not so simple after all. Some black dildos are absolutely massive, some are squirting, and making the right choice can be impossible without any close friends who are black dildo enthusiasts.
This is where I come in – I would be more than happy to be your black dildo enthusiast friend! After all, my collection of them has exploded into over a dozen during the last few years. Admittedly, I have not tried every single black dildo in the world. But, despite this, I think I can consider myself to be somewhat of an enthusiast.
Introductions are not my strongest point, so I will just get down to the real part of this black dildo review. Here are my top choices:
Best High-End Black Dildos ($80+)
---
Vixen Mustang – The Best Black Dildo Overall
As its name would suggest, this is the freaking Mustang of black dildos. It's pricey, but it also has a super luxurious design, thanks to its silicone body. This is the best black dildo in my collection, without a doubt.

Oh. My. God. The Vixen Mustang… it's a true masterpiece, a piece of ecstasy in my bedroom. It may not look that impressive from the photo, but let me tell you… it feels absolutely incredible when you get your hands on it. Most of the black dildos on this list are made from rubber or PVC, but this one is the real deal, it's a silicone black dildo. Not only does the skin of the Mustang feel ultra-realistic, but the silicone body gives the shaft of this big black cock just the right amount of softness. It's not too stiff, not too rigid… it's just perfect in every way imaginable. I should mention that it's a rather small black dildo, though, measuring 7 inches long. If the smaller size does not bother you, then this is the best black dildo you can buy. However, if you want a truly huge black cock in your bedroom, then check out the…
---
The Drencher – Huge Squirting Black Dildo
The Drencher will leave you covered in cum by the time you are done with it because it's a unique type of dildo – a dildo filled with cum! I covered this bad-boy in my best squirting dildo review, where it got the second place. It's huge, it's cum-filled, it's sexy… what more do I need to say?

I won't go into the kinky details here, as I have already covered The Drencher in my past review, but what I can tell you is this – it's an absolute monster. If you are looking for a huge black dildo which will fill you with cum whenever you want, then this is THE dildo for you. This 10-inch black dildo will always leave you begging for more. It may be pricey, but it's superb. If you take the price out of the equation, it's definitely THE best black dildo ever made. I should emphasize the fact that it's a rather huge black dildo, though, so if you are a first-timer, I recommend the Vixen Mustang as a better choice for you.
---
Real Feel Deluxe Big Black Vibrating Dildo
This is a truly huge black vibrating dildo. Measuring 12 inches, this beast of a black dildo will leave even the most daring of girls filled and stretched to their maximum. This is the best big black vibrating dildo I have ever found.

Oh boy, the Real Feel Deluxe. I am experiencing some sort of a PTSD while trying to sum up my experiences with this huge black cock. After all, when I first tried to enter this beast inside of me, I became so traumatized that I stopped halfway. Only after about two days did I build up the courage again to go for a second run with this big black vibrating dildo. On the second try, I did manage to fit it inside of me, but what can I say… I think I have never been the same after that fateful day. If you want the absolutely biggest black dildo you can find, then this is exactly the dildo for you. But let me warn you – if you don't have experience with huge dildos, then the Real Feel Deluxe is definitely NOT a good starting point for you. It's freaking crazy (but… for some reason I still love it to death).
---
First Mate Silicone Black Dildo
The First Mate series of silicone black dildos are small, cheap, and effective. Well, "cheap" is relative, but you get the point – for the price, these are another excellent option.

Although I was not a huge fan of the First Mate series at first glance, I quickly fell in love with them once I actually got my hands on one. The silicone body feels very premium-quality, the skin texture is realistic, and the large range of color choices is very welcome. Personally, I preferred the overall feel of the Vixen Mustang silicone black dildo, but to each her own. I know for a fact that plenty of my girlfriends are head-over-heels in love with their First Mates. I can't blame them – these are some superb black dildos.
Best Cheap Black Dildos (<$80)
---
Dick Rambone – The Best Budget Black Dildo
An absolutely massive black dildo measuring 16.7 inches. That's right – 16.7 goddamn inches! Good luck fitting this beast inside of you. It's the best black dildo under $60.

Oh. Dear. God. It's the Dick Rambone! An absolutely massive black dildo, which even I can't fit inside of myself comfortably. I have tried and tested many bigger-sized dildos in my lifetime, but the Dick Rambone is a crazy challenge even for me. As far as the quality goes, it's an excellent black dildo, especially considering the cheap price. If you want the best black dildo under $60, and you are not afraid of big toys, then the Dick Rambone should be right down your alley. It's an absolutely beast.
---
Doc Johnson Bam Black
Another one of the best black dildos for the money. If you want a sexy, 10-inch long huge black cock which can be stuck to a wall, then the Bam Black was designed for you. It's just superb.

I have always been a huge fan of the Doc Johnson brand of dildos, and the Bam Black is definitely no exception in regards to this. It's one of the most realistic black dildos I have seen, it's one of the biggest black dildos I have seen and most importantly… it has a reasonable price tag. Usually, when you want to get a high-end dildo, you have to say goodbye to at least $100 from your bank account, but thankfully, this is not the case with the Bam Black. For the money, it's absolutely the best black dildo I have ever tried and tested.
---
Black Thunder Dildo
The BLACK THUNDER! Not only does this dildo have a kick-ass name, but it's also one of the most realistic black dildos in the world. The Black Thunder dildo is one of the best black dildos in the sub-$100 price range.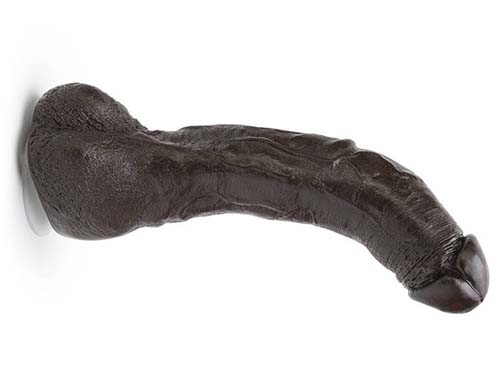 The Black Thunder dildo is not the largest. The Black Thunder dildo is also not the thickest. However, what the Black Thunder is, is super realistic. No other black dildo in its price range comes even close to the overall feel and realism of the Black Thunder. It's truly a black, sexy piece of art. It has a stretchy skin texture, and even though it's made from PVC, it still manages to bring absolutely superb quality to the table. Generally, I prefer silicone black dildos, but when it comes to the Black Thunder, I could not feel any cheapness or discomfort at all (which I usually associate with PVC dildos). It's one of the best black dildos in its price range.
---
King Cock
The King Cock! It's not only the best black dildo in terms of its creative name choice, but it's also excellent in terms of performance.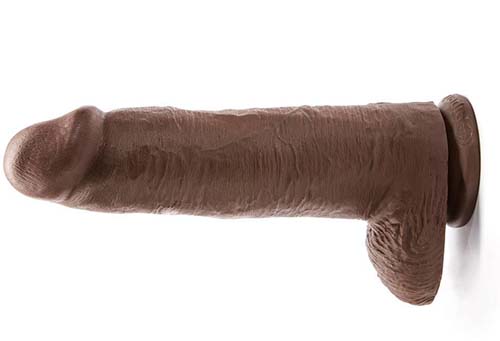 What can I say about this black dildo from King Cock? Well, it's pretty freaking amazing. As you would expect from the King of Cocks. I have been a huge fan of the King Cock franchise of dildos for a while now, as many of my readers might know already. After all, a King Cock also deserved the title of the best big dildo in one of my previous reviews. The King Cock dildos do tend to be rather huge, though, so they are not always a suitable pick for first-timers. This is also the case with the King Cock black dildo I am talking about in this review. It's big, it's thick, it's black, and it's gorgeous.
---
Black Double Dildo
Here we have a unique specimen – a double-ended dildo! For naughty fun with your partner, it's an excellent pick. It's truly huge, though, so don't even think about defeating this beast solo!

This huge black double dildo is 16 freaking inches long. 16… inches. I can't even wrap my head around that. It's good that this thing is double-ended, though, because I had enough trouble fitting the 12-inch black dildo Real Feel Deluxe inside of me. I can't imagine fitting 4 more inches. I really can't! Admittedly, I have not tried this black dildo yet because I have no one to share a double-ended dildo with, but I know some of you out there are looking for gay black dildos, and this is exactly what you were looking for. It's the best gay black dildo, simple as that. I can imagine how much fun you will have with this giant between the two of you! Just be sure that your partner is as naughty as you are. Otherwise, they might be truly traumatized by this beast!
---
UR3 Small Black Dildo
It's a rather small black dildo made from TPE. It feels very soft, stretchy, and unintimidating. If you are a first-timer and you want an easy-to-use black dildo, then the UR3 is a good pick. But, it's a bit pricey.

The UR3 is a great all-around black dildo for beginners. It has a small size, which makes it very easy to jump into. And, it has a soft texture, which helps with making insertion considerably easier. However, the only aspect I have to complain about is the price – this is supposed to be the best black dildo for beginners, but in this case, why is it almost $60? It's not made from silicone, so this can't be the reasoning behind the price. It's sad, really, as the dildo itself is of great quality. It's just not good enough to justify $60, in my opinion. For beginners, I think the black dildos from the final category of this black dildo review will be a better overall choice: